Arcam UDP411 Universal Disc Player Upgrade
Upgrade your purchase with these options:
Delivery is charged at cost.

overview
Why do we upgrade equipment?
Almost any Hi-Fi component can be upgraded to higher performance using our techniques and components. The two things go together – the know-how and the right component. Over the last 30 years, we have developed our knowledge of where the biggest problems lie and how to overcome them to unleash better performance from a given piece of equipment.
Arcam UDP411 BDP Upgrade
Launched back in 2015, the Arcam UDP411 is a real jack of all trades. Although discontinued it was highly regarded for its excellent video performance for Blu-ray discs and DVD and for its CD, SACD, and networking streaming audio quality.

The UDP411 gained a bit of cult following more as a CD spinner than anything else. For two-channel sources, the preference was for the Arcam's analogue outputs, despite HDMI offering up to 24-bit/192kHz. A Burr Brown PCM1794 DAC offers a pristine two-channel performance, aided by sub-regulated power supplies for the drive, audio and DAC boards.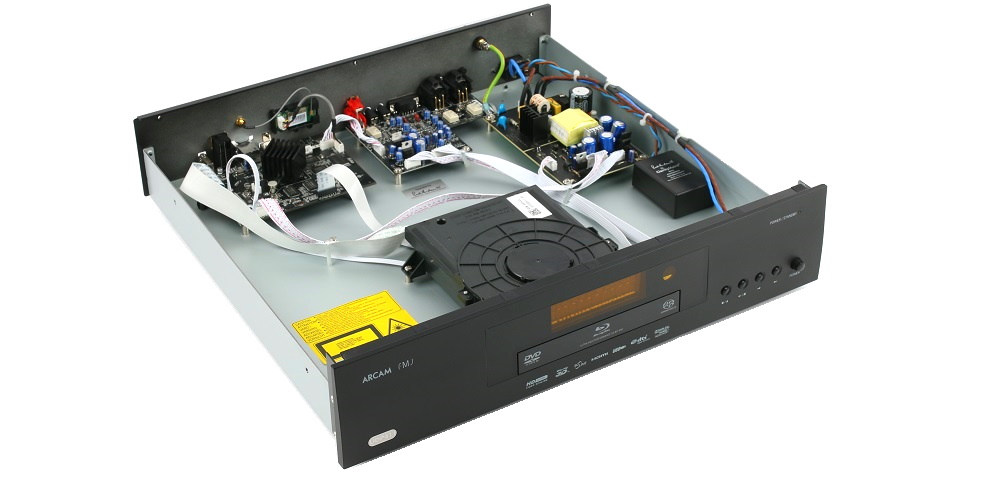 This provides a great platform to upgrade! Our upgrades build on the strengths of the player. Everything you love about the sound remains – it just gets so much better.
Component Upgrades
39 significant component upgrades/changes are made across the power supply, digital and analogue circuits. Upgrades include Kimber Kap capacitors and Russ's favoured audio grade Panasonic capacitors which give a smooth and detailed sound.
Internal re-wiring is taken care of with Kimber pure copper TCX cable.The unit is completely disassembled to gain access to key areas of upgrade.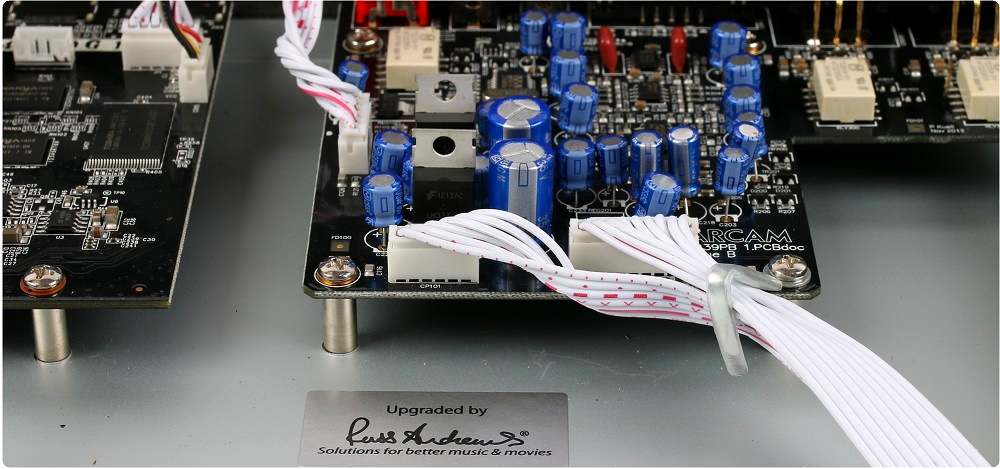 For the majority of the capacitor changes, we use Russ's favoured Panasonic Audio Grade caps. Where possible, we will endeavour to use the superb Kimber Kaps. Post upgrade, the unit is then soak tested for 24 hours.
Power
To clean up and give the power supply an upgrade we fit a new IEC socket wired with Kimber pure copper TCX wire to the transformer. A ClarityMains™ mains filter is also fitted.

Different Model?
If you don't have exactly the same model as listed above, but a very similar unit, then it's highly likely that the same or similar upgrades will apply. But we can't guarantee that until we have the unit here for inspection. Get in touch and let us know what you have.

How the service works
Equipment upgrades are proving hugely popular. During peak times there may be a wait of several weeks before we can carry out the upgrade. So before we get your equipment here, it must be booked in so we can ensure a speedy turnaround of the upgrade. Once you have placed your order, we will contact you to arrange a suitable week and getting the equipment here.
In Person
For those of you who are local enough or if you fancy a trip to the lakes, you can drop off your equipment personally and then collect it when it's complete or we can ship it back to you.
By Courier
We can arrange a courier collection of your equipment for an additional cost. We currently use UPS.
To make things easier, we can offer several collection options.
1. We can arrange a specific day for the courier to call and collect your equipment. Someone will need to be available all day at the collection address as we're unable to arrange a time slot for collections.
2. Dropping off at a UPS Access Point. UPS use a network of local shops to deliver and collect parcels from and to. We can either post you a collection label or email you the label (you will need to print the label at home/work). Securely box up your equipment, affix the collection label to the outside of the box and take it to your preferred Access Point where you will be issued a receipt.
UPS Access Points can be found here (link opens in a new window), simply enter your postcode to find your nearest one.
---
---
Please note this is just an upgrade modification, it does not include the Arcam Blu-ray player
Overall product rating

5

/

5

reviewed by

Neil. Shrewsbury




02 Jul 2022
Yes, I recommend this product.
My Arcam universal player is 5 years old, so I thought time for a mid life update. RA were very professional in their service. Watching films there was a noticeable improvement both to picture & sound quality. For audio, into a Luxman headphone amp and Beyerdynamic T5 headphones the improvement was just jaw dropping. A massive increase in dynamics, clarity & musicality. So all very highly recommended at a good price.

The only downside was the chosen UPS delivery service, with which I wasted three whole days on unfulfilled collection/delivery times. That really does need to be improved on to avoid reputational damage by association.