Upgrade your purchase with these options:
Delivery is charged at cost.

overview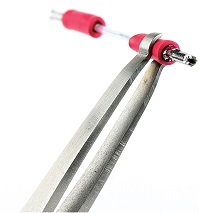 Cartridge Tweezers
These cartridge tweezers are a must-have item in your turntable set-up toolbox. They are designed solely to aid fitting cartridge leads and tags – the tip is cleverly formed in the shape of a cartridge clip, making it easier to connect or remove them from your cartridge. They are non-slip and they clamp gently on the clip, helping you to position it on the cartridge pin. Ingenious!