Upgrade your purchase with these options:
Delivery is charged at cost.

INFORMATION
Jumbo Cone Feet are designed to be glued or bolted to metal cased equipment, or fitted in place of spiked feet on speakers or equipment racks, point down. Or, use them freestanding and points up. Just choose your preferred method of fitting. The bigger the Cone Feet the better the support, and these are the best!
Set of 3 cones

6mm or 8mm insert size

Improve the stability of your Hi-Fi or Home Cinema

Also available in sets of four

Can be glued, bolted or screwed to your equipment, or used freestanding


Sizing

Jumbo cones measure 55mm in diameter and 30mm in height. However, due to the handmade nature of the cones, sizing may vary by a very small amount. Each set of cones we make up, are matched in both height and diameter.

Fixings include Threaded inserts and a Bolt option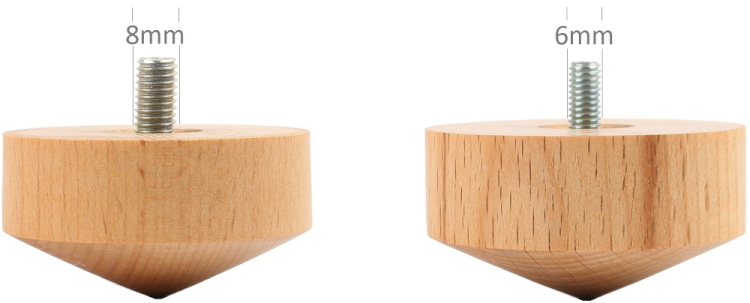 Our Opinion
Placing Jumbo Cone Feet under your Hi-Fi or Home Cinema equipment gives a large and immediately obvious improvement. The sound becomes clearer, cleaner more dynamic and much more stable and 'solid'.

Sizes of Cone Feet



Mini: 18mm diameter x 10mm high

Small: 25mm diameter x 18mm high

Big: 37mm diameter x 20mm high

Jumbo: 55mm diameter x 30mm high

Due to the handmade nature of our cones the above dimensions may vary by a fraction or so. However, each cone is matched with ones of identical size when made into sets or three or four.
Overall product rating

5

/

5

reviewed by

Alan Wilcock




15 Nov 2023
Yes, I recommend this product.
My system had recently developed an annoyingly boomy bass on certain recordings. Sufficiently annoying that I was contemplating spending over £300 on corner bass traps. Luckily I phoned RA and spoke to Peter who talked me through some initial potential remedies but also asked what my speakers were standing on. I advised that I had cork feet from another supplier. He suggested getting 4 oak cone feet and I ended up ordering two sets of 4 jumbo feet. On delivery I initially placed them point up before deciding on attachment. Astonishment does not come close to describing the result. Immediate resolution of bass boom but also improved sound overall. Now fixed properly with 8mms bolt. So I saved about £200 and don't have large cylinders in the corners of my room. Just get these if you don't already use them.
PS I have had over 40 orders from RA over approx 17 years and pretty much all of them have brought about improvement in my
system.