length:
Upgrade your purchase with these options:
Delivery is charged at cost.

overview
4PR
4PR – The reference for affordable loudspeakers. The first speaker cable Kimber designed. Developed way back in 1979, little has changed today and for good reason.
4PR is available with pre-cut and stripped ends, Kimber 4mm Banana plugs or UltraPlate™ PostMaster™ spade connectors.

Specifications
8 High-purity copper KIMBER KABLE conductors
Polyethylene insulation
Pre Cut & Striped, KIMBER Bananas or UltraPlate™ PostMaster™ Spades

Basic Electrical Measurements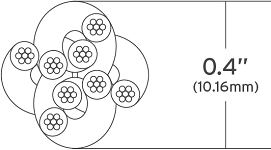 (Cp) parallel capacitance: 117 pF / meter
(Ls) series inductance: 0.23 uH / meter
(Rdc) dc loop resistance: 0.016 Ohm / meter
Optional Upgrades
We offer a number of additions and treatments to take the performance of your speaker cable to the next level. To find out more, click on the 'What's this?' link next to each icon above right.

Terminations
Kimber speaker cable is available terminated with a variety of connectors and combinations (different connectors on either end),
if you don't see the combination you require, please get in touch (info@russandrews.com or 01539 797300) and we'll look at setting it up for you to order.

Money Back Guarantee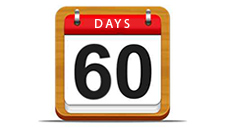 Don't forget! We are so confident in the performance of this product that it is covered by our 60 Day Home Trial with Money Back Guarantee. Buy the product and if you're not completely satisfied, you can return it within 2 months for a refund. For full details
click here.

Reviews

Stereophile magazine featured 4PR speaker cable in their 'Recommended Components' Awards 2021.
---

"4PR is excellent value for money and offers superb sound"
Read more about the Hi-Fi Choice review
here
Hi-Fi Choice also reviewed 4PR as part of a 'cable loom' along with
Kimber Tonik
analogue interconnect and
Kimber DV-21
digital interconnect in their July 2020 edition.
"It sounds so natural, composed and coherent, newer rivals bow before it"
Read more about the Hi-Fi Choice cable loom review
here
---
"the music it reproduces is as open, fast, clean and tight as the recording allows"
Read Jason Kennedy's thoughts on Kimber 4PR
here
history
4PR is where it all started. It represents the core principle of woven cable that started Kimber Kable back in 1979 and has remained pretty much the same ever since. How many things do you know that are basically the same now as they were 40 years ago? Not many I bet. The fact that 4PR is still the first step into high-end speaker cables for many audiophiles to this day, just shows how good that original design was.

What makes it so good?

Ray Kimber famously discovered the sonic advantages of crossing wires when he was installing discotheque sound and lighting rigs in the 1970s. He found that the speaker cables were acting as an antenna for noise generated by the lighting and that this noise was then being injected into the sound system. One existing option was to encase the speaker cable in a metal conduit. This helped reduce the noise but also had the unintended consequence of lowering the fidelity of the audio, as the steel was interacting with the magnetic field of the speaker cable.

Ray initially surmised that the solution to this issue could be to use counter-rotating sets of conductors to cancel this magnetic interaction effect, but then also considered that the counter-rotating sets of conductors may not pick up noise even without the conduit. He was correct, the noise was greatly reduced!What did surprise him, though, was that the final woven design was so effective that not only did it reject RFI but also had a significant effect on perceived sound quality. It was this discovery that convinced Ray to develop the cable specifically for the audio market.

Over the years this woven design has formed the basis for a whole range of Kimber Kables and is the core principle that runs throughout. This means that, although 4PR is at the start of the range, its basic design is, in essence, the same as that of the range-topping Select speaker cables. That's why it has remained in the range for all this time; simply because that woven principle is just as effective today as it ever was, and that means 4PR represents outstanding value for money.

A high end starter cable?

When you buy 4PR you're buying into a cable geometry that's unique to Kimber Kable. That's why we say that 4PR really is a budget high-end cable.

Because of the unique way it works, it brings a musical quality that cannot be replicated by standard cable designs. It is not at all unknown for owners of high quality systems to buy 4PR as a first dip into the waters of audiophile-quality speaker cable and the hang onto it simply because it sounds so good. Does that mean there's never any reason to move from 4PR? Of course not. As you move up the range, you'll benefit from the use of better materials and additional conductors. But it does mean that, no matter what level of system you own, 4PR will never disgrace itself.

The long term performer

33 years after its introduction, Hi-Fi Choice magazine gave their award for Best Speaker Cable to 4PR, stating that "For sheer musical enjoyment, no other cable tested this year is on a par with the 4PR"; no mean feat for the old guy! A year later, it also won their group test with the comment that the cable featured "many high-end virtues at a budget price, including lovely detail and very well-judged bass, plus sweetly extended treble".

A first step

If you are yet to try Kimber speaker cable in your Hi-Fi, this is the perfect place to start. It's an ideal partner for amplifiers from the likes of Arcam, Cambridge Audio, Cyrus, Naim or Audiolab – amongst many others. All of these have the potential to present a very musical performance and 4PR will help to release this. 4PR is suitable for both standmount and floorstanding speakers, though you'll find the latter would benefit even more from the additional conductors found in 8PR if they are larger models (the doubling of conductors will help to move those larger drivers more efficiently). 8PR's additional conductors are also advantageous if you have longer runs of cable between your amp and speaker.
Overall product rating

5

/

5

reviewed by

Alan T




20 Jun 2019
Yes, I recommend this product.
"
Amazing Quality For Price
"
After adding two KEF Dolby Atmos Speakers I knew I had to use Kimber cable, as used for a high end large Monitor Audio centre. I'd heard the KEF's were a good match for the MA's and this was certainly true. Changing from good borrowed QED cables to the Kimber when it arrived ironed out any significant difference between the MA centre and the new KEFs. So much so with the Kimber the main stereo MA pair and the new KEFs that sit on top appear as a seamless pair and I now use the KEFs with stereo music for added clarity and fuller imaging. It's the Kimber cable that seems to have helped obtained the full range of the KEFs.

reviewed by

Neil westerman




13 Dec 2018
Yes, I recommend this product.
I was introduced to this by Phonography in Ringwood and have loved it ever since. Best speaker cable you can get at a sensible price. I've used many others over the years but always come back to this, love it.