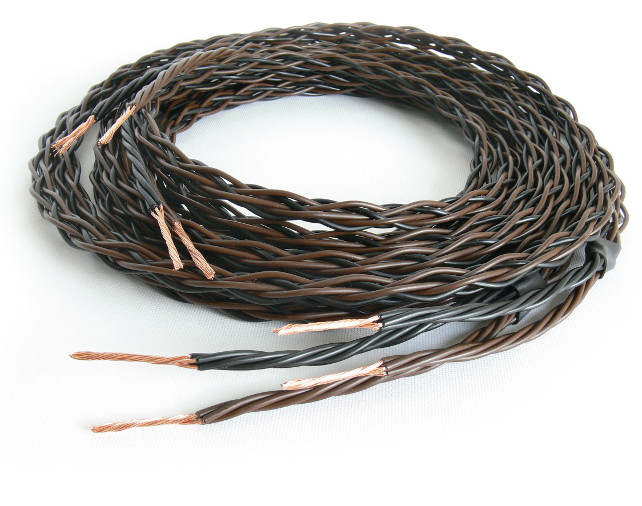 1979 to 2018. Spot the difference?



Answer: pretty well nothing. And therein lies the whole Kimber approach to cables; if something is good to begin with, don't get involved in un-necessary fiddling and tweaking just so you can give it a 're-launch'. This philosophy is unusual in our industry and was picked up on in a review of Kimber's PBJ interconnect in Stereophile magazine back in 2012.

There, Stephen Mejias wrote "The fact that Kimber's tried-and-true PBJ--not the Mk.II or v.6 or Special Edition PBJ, but the same old design--has stuck around this increasingly fickle world all this time is just one reason to take notice". When asked how Kimber has managed to keep the price of PBJ so low after all these years, Ray Kimber replied "Every product we make is priced based on actual labor and materials cost. We use the same parts in different ways throughout our products, and we don't throw out good ideas just to have something new to talk about".

"Isn't that refreshing?" muses Mejias, "at a time when people seem more interested in what's new than what's needed, Ray Kimber remains dedicated to providing high-quality products that will last for years to come".

Nowhere more is that the case than with 4PR.
CLICK
HERE
TO BUY 4PR
DISCO-TECH



In what is now nigh on a legend in the Hi-Fi world, Ray Kimber discovered the RFI reducing properties of weaving cable whilst working on lighting rigs for discotheques back in the 1970s. He found that the speaker cables were acting as an antenna for noise generated by the lighting and introducing this into the sound system. Encasing the speaker cable in a metal conduit helped reduce the noise but had the unintended consequence of lowering the fidelity of the audio as the steel was interacting with the magnetic field of the speaker cable.
Kimber's website takes up the story:
"Ray had the idea of some counter-rotating sets of conductors to cancel the magnetic interaction effect, but then also surmised that the counter-rotating sets of conductors would likely not pick up noise even without the conduit. He was correct, the noise was greatly reduced! But, Ray was also quite surprised at the difference in perceived audio quality. It was that discovery of noise elimination and improved fidelity that set him to developing cable designs."
The final woven design was so effective that not only did it reject RFI but also had a significant effect on perceived sound quality. It was this discovery that convinced Ray to develop the cable specifically for the audio market.
CLICK
HERE
TO BUY 4PR
4PR IS BORN
The culmination of this early research and development was 4PR speaker cable. That foundational design was so effective that it has remained largely unchanged for the last 37 years! So good is 4PR that you'll find it in all measure of systems, from budget to high end, making it one of the biggest bargains in the Hi-Fi market.

Why so? Well, that basic woven design is at the heart of almost all Kimber Kable, so the fundamental principle of RF rejection is there from the top to bottom of the range. As you move up, you'll benefit from the use of better materials and additional conductors, but the weave is there throughout. Does that mean there's never any reason to move from 4PR? Of course not. But it does mean that, no matter what level of system you own, 4PR will never disgrace itself.





Sadly, one of the drawbacks of sticking with the same basic design for a product is that the Hi-Fi media, above all else, like 'new'. That makes it difficult to get attention for a product like 4PR. Nevertheless, in 2012, 33 years after its introduction, Hi-Fi Choice magazine gave their award for Best Speaker Cable to 4PR, stating that "For sheer musical enjoyment, no other cable tested this year is on a par with the 4PR"; no mean feat for the old guy! A year later, it also won their group test with the comment that the cable featured "many high-end virtues at a budget price, including lovely detail and very well-judged bass, plus sweetly extended treble".
Is 4PR right for you?



4PR is one of the first cables we sold and our experience with it stretches back to 1986. If you are yet to try Kimber speaker cable in your Hi-Fi, this is the perfect place to start. It's an ideal partner for amplifiers from the likes of Arcam, Cambridge Audio, Cyrus, Naim or Audiolab - amongst many others.

All of these have the potential to present a very musical performance and 4PR will help to release this. 4PR is suitable for both standmount and floorstanding speakers, though you'll find the latter would benefit even more from the additional conductors found in 8PR if they are larger models (the doubling of conductors will help to move those larger drivers more efficiently).
CLICK HERE

TO BUY 4PR