Meridian Media Core MC200
Upgrade your purchase with these options:
Delivery is charged at cost.

overview
Unfortunately this product is no longer in production at Meridian. This page has been left available for informational purposes only.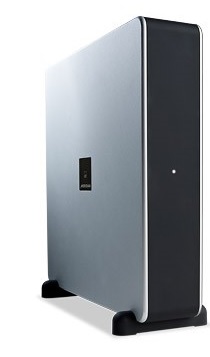 The Meridian Media Core 200 Streamer
MC200 - A Compact Digital Media System with built-in storage & multiple outputs
The Meridian Media Core 200 is an elegant, compact and virtually silent Meridian Sooloos Digital Media System that requires only your choice of controller to bring it to life. It can be operated by any of the network-based control systems available, including the iPad or iPhone App, a computer running the Control PC or Control Mac application, or a Meridian Sooloos controller such as the Control 15 or Control 10.
Internal storage
At the heart of the Media Core 200 is a 1TB hard drive, storing around 2,000 CD albums in pristine lossless quality for graphical and touch-screen access via the award-winning Sooloos interface.
So tell me.. in its simplest form, how does it work?
Inside is a hard drive that stores your music digitally. Running the show is Meridian's award winning Sooloos software. Once your music has been transferred from your CDs (we call this ripping) onto the hard drive, you then connect the MC200 to your hifi just like you would your CD player. But just like your CD player, you will need a remote control. We recommend an Apple iPad. The iPad will communicate with your MC200, vividly displaying your music collection by album cover. Simply touch the album you want and hit the play button!
Key features

Meridian's unique Apodising filter can actually fix errors in digital recordings, making any music sound more alive, regardless of its source.
Meridian Sooloos, the user-friendly music management platform embodies everything you value about music. Your collection becomes easy to manage, with intuitive simplicity and exceptional speed. It's designed with a deep understanding of music, and delivers an experience that re?ects the unique value your music library holds for you.
Traditional audio systems often require large, expensive cables to maintain their performance. Meridian's SpeakerLink uses an "Ethernet style" cable that delivers pristine digital sound and control down a single cable between Meridian components. The result is simple, unobtrusive, and cost-effective cables that are easy to install
The most fun and intuitive way to access your music
You can take control of your Meridian Sooloos system from anywhere on your network. Setup and control one or multiple zones on a range of devices, including Mac, PC, mobile, tablet and touch surface devices, and access all the features of your system with the touch of a finger.
For a seamless experience, we recommend using the Media Core 200 with an iPad, but it can also be controlled by a computer.

Multiroom
The Media Core 200 is designed to operate as part of a stand-alone system, with connection to an audio system and to an Ethernet network (Internet connection is required for functions such as Internet Radio). However you can use multiple Media Core 200 units to build a more complex system or integrate the Media Core 200 into more sophisticated installations.
The cabinet of the Media Core 200 is unusual for a Meridian device in that it is mounted vertically. This is so that the unit can operate without the use of a fan, employing only convection cooling. This minimises the noise level of the Media Core 200 and as a result allows it to be placed almost anywhere convenient.
Easily add extra storage
Now a music collection can grow almost without limit– with the security of automatic backup and the latest RAID protection against hard-disk failure.
Meridian streaming systems can now take advantage of the flexibility and reliability of a range of QNAP network-attached storage (NAS) drives. QNAP storage systems that use x86 CPUs are compatible with Meridian systems, with the addition of QPKG software for QNAP systems provided by Meridian.
A few examples of compatible drives are the TS-268L; 2 Bay, the TS-569L; 5 Bay and the TS-869L; 8 Bay. You can use 1TB, 2TB or even multiple 4TB drives!
Rip with dBpoweramp
Meridian provide a plugin for dBpoweramp's popular Music Converter and powerful CD Ripper to allow you to easily and quickly import your music collection with precise ripping and Metadata retrieval.
Digital and analogue outputs
The Media Core 200 provides a single audio zone which is available digitally via Meridian SpeakerLink and coaxial S/PDIF, and also via analogue outputs delivering fixed 2V peak-to-peak or variable output levels. It can thus easily be connected connected to any analogue or digital system.
The Media Core 200 also acts as a Core component in a Meridian Sooloos system, automatically locating and integrating itself with other Meridian Sooloos components and stored libraries found on the same network, and ensuring full interoperability.

Specifications
Storage
1TB Hard Drive

Network Interface

1x Ethernet (RJ45)

Audio Connections

Meridian SpeakerLink (RJ45)

1x S/PDIF coaxial digital output, RCA type

Analogue stereo (RCA type), 2V P-P or variable level.

Format support

The MC200 default format is FLAC

You can import WAV, FLAC, Apple Lossless, AAC, and MP3 files of any sample or bit rate upto 24bit 192k.

Audio Processing

Ultra-stable clock for lowest possible jitter

Meridian's apodising upsampling filter provides ultimate digital performance

Power

12v DC, <=36W, provided by external in-line universal supply

Fanless, silent operation

Weight

1.2 kg (2.7 lbs)

Dimensions

93 x 264 x 253 (3.5 x 10.5 x 10in) inc feet (WHD)

Finish

Bead-blasted and anodised aluminium.

Minimum set-up requirements
You will need the following requirements for the MC200 to work.


A Home Network including the interent. MC200 must be connected with a Network/Ethernet cable to a Router.

A PC or Mac is required for importing, editing and backing up your music.

An iPad for the playback of your music collection

A hifi system of some sort to play your music through.