Upgrade your purchase with these options:
Delivery is charged at cost.

overview
Michell TT PowerPak Pro
Those of you with Michell Gyrodec turntables will be pleased to know that we've developed a version of our stunning PowerPak Pro for use with it. The PowerPak Pro is fitted with the correct 3-pin socket for use with the power supply lead fitted to Gyrodec's motor. We've chosen a Neutrik socket for best performance. This makes it a simple plug and play upgrade.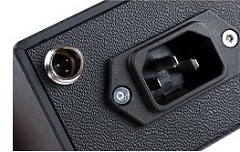 PowerPak Pro starts life an already very good switch mode power supply - the very best and most musical one we've ever found - which we then upgrade with Kimber Kap capacitors, and Kimber Kable internal wiring. For good measure, we fit a Silencer mains filter in circuit too. The PowerPak Pro is fitted with an IEC socket to allow you to connect your choice of mains cable. If you want the very best performance, it's worth having the cable upgraded from the motor. The existing cable is wired directly to the motor, but we can perform the re-wire for you; you will need to send the motor to us. Prices start at £70;
click here
to find out more.
Compatibility
The Michell TT PowerPak Pro is compatible with the following turntable; GyroDec GyroDec SE TecnoDec
Not suitable for the Orbe and Orbe SE
Specifications
High performance 60w switchmode power supply featuring Russ Andrews custom modifications
Fitted with Silencer mains filter
Incorporates Kimber Kap capacitors and Panasonic audio-grade capacitors
Internally wired with Kimber Kable
Worldwide voltage compatibility 100V-240V input
10A IEC input (mains cable not supplied
Neon power indicator
Dimensions: 80mm x 58mm x 160mm WHD
Hand assembled in the UK
2 year guarantee