Step 5 - Hi-Fi System Grounding.


Overview.

Over the past few years the market has become flooded with an aray of (often very expensive) grounding products, but the principle of providing an additional path to ground for RFI is nothing new. Russ began researching the benefits of RF grounding back in the 1970s, so we are in an unrivalled position when it comes to experience in this field.

The result of Russ's continual R&D is a unique range of grounding products which offer an excellent way of removing sound-degrading RF (radio frequency) energy from your system. They work by offering an easy path to ground for RF noise that is both on the mains earth and in the form of 'casework RF energy'.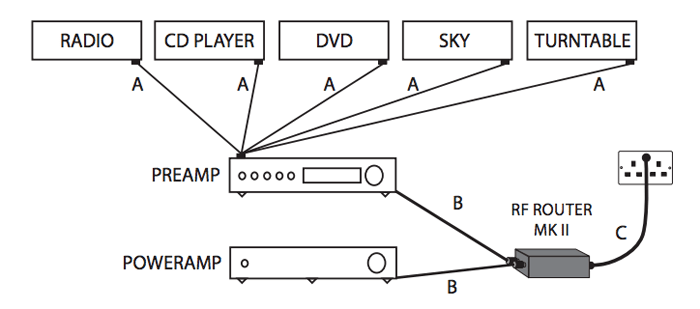 In our experience, RF grounding gives a substantial improvement in the sound, with cleaner, deeper bass and a more stable soundstage.
Russ has produced some straightforward instructions to guide you through the process:

click

here

to download our PDF guide to Optimising Your Grounding.
The RF Router MkII - the heart of the grounding system
Grounding the metal casework on your system, by running an earth cable to an earth terminal on your mains socket, Signature PowerBlock or even an additional earth spike, can bring real sonic benefits.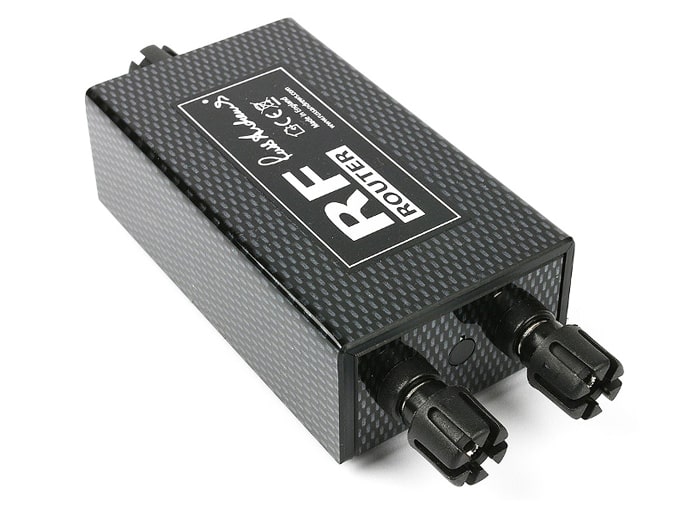 By introducing the RF Router to this setup you'll improve its effectiveness even more and, if you're using an earth rod, bring it up to current electrical wiring regulations.
The Router works by efficiently separating off RF grounding, effectively 'dumping' high frequency noise out of your system
.

The internal circuitry is frequency optimised to provide an easy route for RFI to exit the equipment's chassis down to ground....... hence the name 'RF Router' for the product.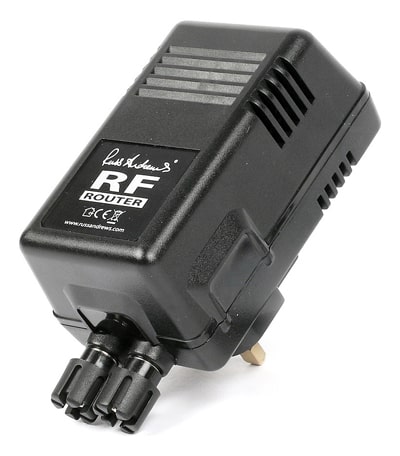 Plug in and stand-alone models.
The simplest way of connecting your RF Router to earth is to use the earth in your mains wiring. We make this easy for you with the plug-in RF Router; this mounts the RF Router filter into a plug top that you simply plug into the mains and uses the earth pin to connect to earth (see left).
This approach uses up a socket, however.
Another way of connecting to the mains earth is to fit one of our sockets with the grounding point on the front. You would then use our RF Router MkII and a wire to connect the output of the Router to the grounding terminal on the front of your socket.
Connecting to an external earth rod.
For the very best performance, connect the output of our RF Router to ground via an earth rod. This is as straightforward as it sounds – a cable running from the output of the RF Router to a rod buried in the ground outside your house.

Obviously, this involves a bit of work in getting the cabling from inside to outside, so if it's something you feel unsure about tackling yourself, speak to a friendly electrician or builder who would be able to do this for you.

It's important to note that if you are going the earth rod route, you must always connect it to your system via the RF Router: you must never connect an additional earth rod directly to your mains wiring's earth or directly to your casework.
Grounding Wires and Technical Ground Weave.
When it comes to connecting all your kit to the RF Router and grounding points - whether via your mains earth of an earth rod - we have to levels of cables.
Russ Andrews Ground Wire
To 'get you going', or if budget is tight, we offer a range of Grounding Wires and associated connectors. These are made with a low impedance, pure copper and represent a great value for money option.
Russ Andrews Technical Ground Weave
Technical Ground Weave is the preferred choice and has two keys advantages:
It is a heavier gauge, low inductance, low impedance copper Kimber cable with much higher purity. This means it provides a far better path to ground for dumping RF from your system

As with other Kimber Kable, Technical Ground Weave uses their unique woven geomerty to reject airbourne RFI being 'injected' back into the system.
Read more about the Russ Andrews Grounding System here
Click here for the next step...