Upgrade your purchase with these options:
Delivery is charged at cost.

OVERVIEW
Why PowerBar™?
If you have yet to upgrade the power to your Hi-Fi system, one of the easiest ways to do this is to upgrade the mains extension that supplies your kit. And our updated PowerBar is one of the simplest ways you can do it. PowerBar™ is a great introduction to the benefits of an upgraded mains block. Whether your preference is Hi-Fi or Home Cinema, it's raw mains power that makes it tick - and the more efficient that supply, the better your system will perform.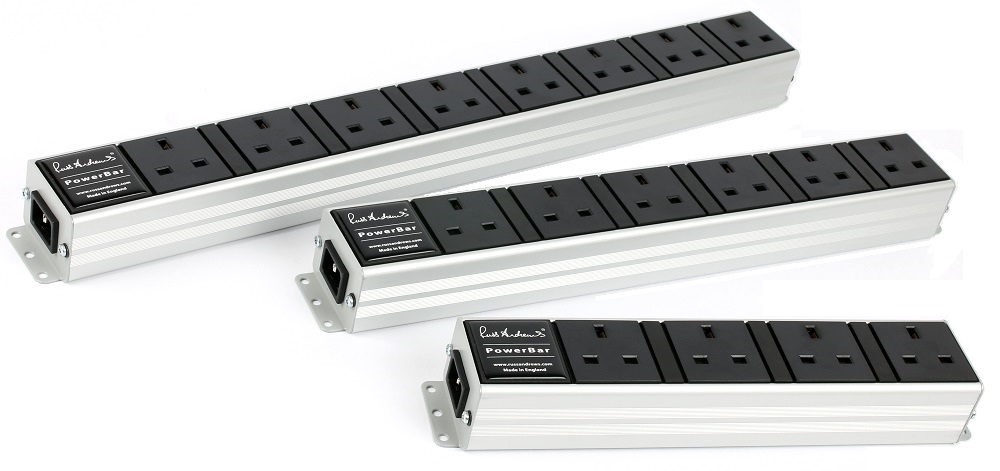 Updated for 2016 PowerBar™ comes in a new, sleek anodised aluminium housing.
PowerBar™ is designed and manufactured to give you a highly efficient power source for your equipment. Some budget audio mains blocks use inexpensive filters to try and improve sound quality, but we've found that these usually have the disadvantage of taking much of the life and dynamics out of the music. In contrast, all our effort has gone into the quality of the construction and wiring of the block to provide as clean and efficient connection as possible.
PowerBar™ is also offered with the addition of SuperClamp™, one of our spike and surge protection units. Not only does this offer protection for your system but it can also improve its performance too, because there are minor spikes and surges on the mains much of the time.
PowerBar™ features

Your choice of 4, 6 or 8 high-performance UK sockets for a low impedance connection to the mains supply. Sockets have a tight grip and a positive 'click' when a mains plug is inserted.
Sockets are individually wired with high performance cable. No cheap busbars which can compromise the connection.
IEC mains input allows your choice of mains cable for connecting the PowerBar™ to the wall socket. We recommend the YellO™ Power mains cable as a minimum, or use a PowerKord-100™ – or better – for even better performance.
SuperClamp™ option helps to protect your system from mains spikes and surges.
Sockets and extruded aluminium casework finished in black means that the extension 'disappears' visually behind your equipment rack. Brackets fitted to PowerBar™ mean that the extension can be wall-mounted, if required.
Where can I use it?
PowerBar™ is an ideal starter mains extension for any level of system. Its robust sockets mean that it is equally at home powering a high end system as it is a entry-level Hi-Fi or Home Cinema system - though we would always recommend our
X-Blocks™
or
PowerBlocks™
to get the best out of mid to higher-end systems.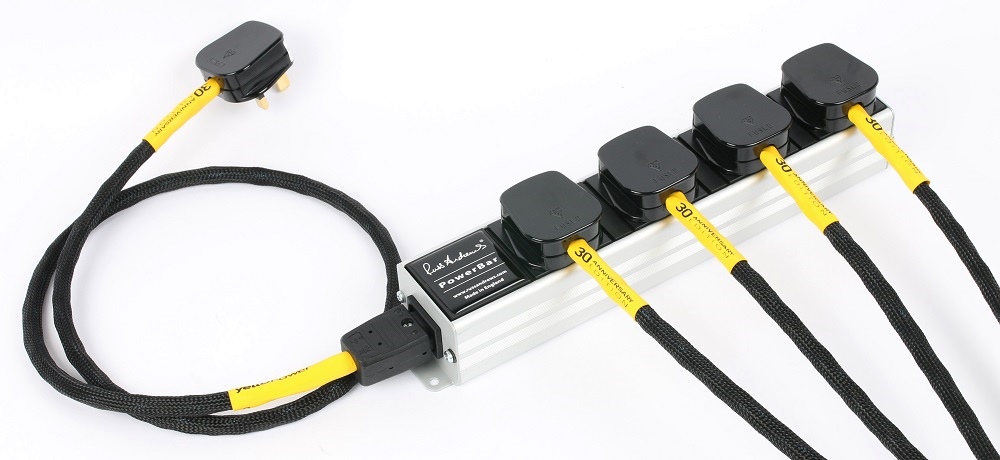 Russ on PowerBar™
"A good quality extension block will use high quality components both in the wiring and the sockets to ensure that the current flows as efficiently as possible. The music benefits by becoming more musical, more dynamic with better bass and a wider, deeper soundstage. The PowerBar™ is a perfect choice if you've yet to upgrade a basic, DIY-store extension – partnered with a PowerMax Plus™, it's a great way to improve your your system's performance"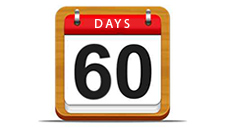 Money Back Guarantee
Don't forget! We are so confident in the performance of this product that it is covered by our 60 Day Home Trial with Money Back Guarantee. Buy the product and if you're not completely satisfied, you can return it within 2 months for a refund. For full details
click here.

Specifications
Extension is manufactured to BS5733
Wall/rack mounting brackets
SuperClamp™ option
Internally wired
Super Burn-in Lite™
10A IEC input socket
Dimensions: the 4, 6 and 8 way height and width dimensions of the PowerBar™ are the same, only the length differs. Height: 46mm width: 59mm

4 way length: 317.5mm

6 way length: 442.5mm

8 way length: 567.5mm
The above lengths include the brackets.

Overall product rating

5

/

5

reviewed by

mark carter




29 Sep 2017
Yes, I recommend this product.
I use to use a standard 8bar power block, but then a friend recommended R Andrews and i will never go back, the sound is clearer ,smoother bass deeper.Also i am safe in the knowledge that my system is secure from spikes ect

reviewed by

Steven elphinstone




13 Jul 2017
Yes, I recommend this product.
excellent nice clean crisp sound.

reviewed by

William Mclean




10 Dec 2015
Yes, I recommend this product.
Excellent mains block . Improvements in all areas of music . Definitely a keeper in my system .
Buy one , you won't regret it . Worth every penny .