Torlyte Speaker Stands 2022
Height:
Upgrade your purchase with these options:
Delivery is charged at cost.

overview
Torlyte™ Speaker Stands 2022
Lightweight, rigid wood sandwich construction.

Hand turned oak legs
Supplied with 8mm Spiked feet
We've been working on a redesign of our Torlyte speaker stands to support standmount or bookshelf-type speakers. The new stands have rectangular Torlyte top and bottom boards which means that they can benefit from our recent upgrade to the inner structure – modifications that the Torlyte Platforms and Equipment Racks already benefit from.
The latest design honours the core Torlyte properties of lightness and rigidity, but increases the strength and stiffness to improve overall performance.
There are two heights of speaker stand available – 50cm and 60cm – to suit different sizes of speakers. You should aim to support your speaker so that the tweeter is at ear height when you are sat in your listening seat.
About Torlyte™
Today's Torlyte™ is the culmination of many years of research and development. The very first design featured an internal grid design of carefully chosen wood. This meant the Platforms were incredibly light, strong and very low mass. However, this design was extremely labour intensive and expensive to produce. With the development of new materials our latest Torlyte™ combines a cutting-edge inner substrate lifting performance over the original.
Torlyte™ is designed to have absolutely minimal impact on sound quality. After all, who wants a metal stand to 'ring along' with the music.
Torlyte speaker stands are supplied in pairs. They come supplied with adjustable spiked feet which allow your stand to be easily levelled.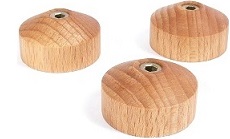 If you have a hard floor then we recommend you purchase our
Spike Boots
for protection. The base of the stands are fitted with 8mm metal inserts, so you could change the spikes for
Jumbo cone feet with 8mm fixings
, but please be aware that the edges of the cones will stick out beyond the edge of the platform.
Specifications
Lightweight, rigid wood construction
---
Platform Width 220mm, Depth 250mm
---
Height adjustable 8mm spiked feet
---
Two heights: 50cm and 60am
---
25 year Lifetime Warranty
---
Money Back Guarantee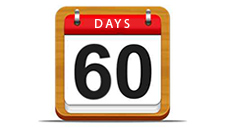 Don't forget! We're so confident in the performance of this product that it is covered by our 60 Day Home Trial with Money Back Guarantee. Buy the product and if you're not completely satisfied, you can return it within 2 months for a refund. For full details
click here.
---