Who are we?
Russ Andrews Accessories was established in Kendal, UK, by Russ Andrews back in 1986, born out of a dissatisfaction with the lack-lustre performance of many, even very expensive, Hi-Fi
systems and the desire to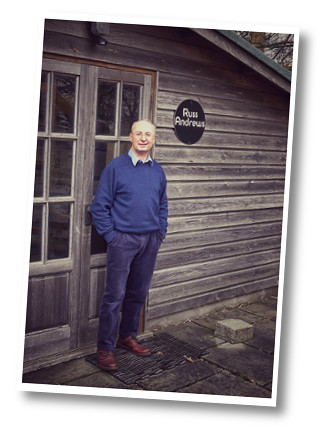 achieve real musical enjoyment from recordings (the picture right shows Russ outside "The Hut", the first home of Russ Andrews Accessories).
To our knowledge, we were the very first company to supply a commercially available audiophile mains cable in the UK, using the unique properties of Kimber Kable's woven cable to re-invigorate the music making abilities of Hi-Fi components.
Since then, we have developed a range of mains improvement products, from our PowerKords™ and SuperKords™ to our highly effective power filters, conditioners and
balanced mains supplies.
So, whatever level of system you own, we have a choice of dedicated
audiophile power products to fit your budget.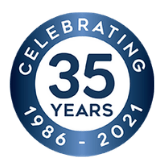 View the Russ Andrews Timeline here.
What makes us different?
We like Hi-Fi but we love music! To us, Hi-Fi is a means to an end - it's simply the most convenient way of enjoying all the pleasures of music in our own homes. But all too often we find that Hi-Fi gets in the way of the music by producing a 'sound' that lacks fundamental musicality and is simply uninvolving.

We want to listen to the music, not the Hi-Fi. That's why all our product testing prioritises listening over than measuring. We simply will not offer a product to you unless we believe that it:
a) makes a clearly audible improvement to your music (or an improvement to picture quality if you have a Home Cinema)
and
b) offers real value for money - that is, the level of improvement is commensurate with the cost.

And that's not all: we firmly believe that you should have the opportunity to make these same assessments for yourself, so that's why the vast majority of our products come with our own industry-leading 60 Day Money Back Guarantee - that's two months to try the product at home in your own system - and a Lifetime Warranty on the products themselves.
Why can't I get your products in the shops?
There are a number of reasons, but here are the two main ones:

1. Your music is important to you so when it comes to improving your system, you want to be sure that you are getting the best advice possible. Because we are the experts on our range, the only way we can ensure that you are getting the best - and accurate - advice is to make sure you hear it from us. And we won't try and sell you something we don't think you need...

2. It doesn't matter whether you are buying a new piece of hardware or a cable,

the only time you will really know how it is going to sound - and, more importantly, whether it sounds better - is when you use it in your own system at home. Our efficient mail order service gives you that opportunity and in most cases you will have 60 Days to trial the product so you can be sure it's bringing you the improvements you are looking for.
What's the link with Kimber Kable?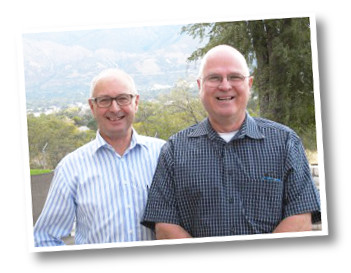 You've probably noticed we only sell one brand of cable, KIMBER KABLE. The reason is simple: because it works. Brilliantly!

Russ first met Ray Kimber and discovered how effectively his cable design solved the fundamental cabling problems back in 1985. We have been the exclusive UK distributor for KIMBER KABLE ever since, and remain convinced of the superiority of this product range - that's why we
only use Kimber Kable in our power cables
.

Click here to learn more about Kimber Kable.