Join our 1000s of readers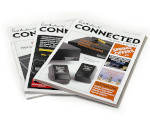 Our quarterly magazine, 'Connected to Music and Movies', has the second largest circulation of any Hi-Fi magazine in the UK. Every issue features news, reviews, articles, letters, advice and much more.

And it's absolutely FREE!
And, of course, you'll also be informed of exclusive offers throughout the year!
To join the growing number of readers, complete the form below and we will post you a copy.
How we will use the information about you
The information you provide is used to send you our brochures and newsletters and offers of other products and services we offer. We'll also send you our e-mail newsletter (if you agree).

It will not be shared with any third parties for their own marketing purposes. For more information, visit www.russandrews.com/privacy
Your Details.