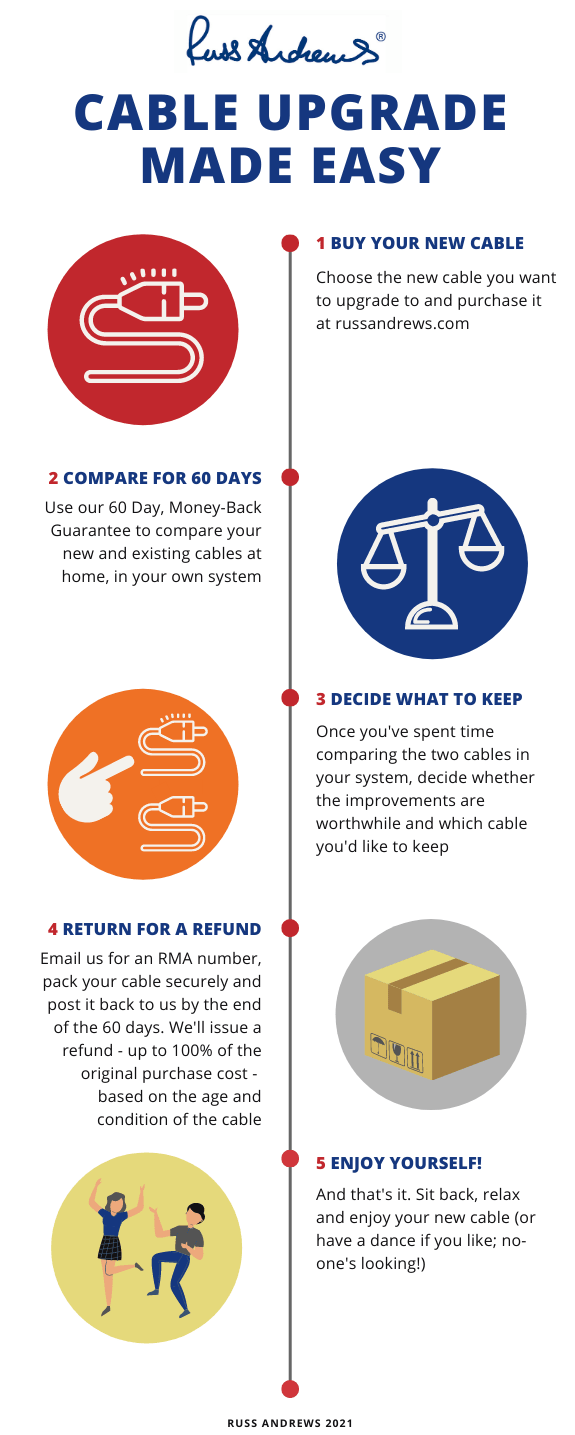 Cable Upgrade Program -

The 'No Risk' Way To Upgrade.
We understand that you don't want to waste the money you've invested in your cables, so we offer up to
100% part-exchange value
when you return your Russ Andrews cable and upgrade to a new, higher quality, Russ Andrews cable.
We recommend you order your new cable first to compare it with your existing one.
Because most of our cables come with a 60-day money-back guarantee, you'll have plenty of time to ensure you are happy with the improvement before sending your old cable back - that way there's no risk because, in the unlikely event that you're not 100% satisfied with your upgrade, you can just return it and get your money back.
Get Up To 100% Back For Your Old Cable.
When you are satisfied with your upgrade, email info@russandrews.com for an 'RMA' number and return your original Russ Andrews cable (purchased directly from us) for a part-exchange value of up to 100% against a higher quality Russ Andrews cable. For example, upgrade from a Russ Andrews YellO Power to an Evolution-100 PowerKord.

The part-exchange value of the cable depends on its condition and age. Maximum values are given where we judge your cable to be in 'original condition' (i.e. undamaged). Because cables tend to be plugged in and then left, in the vast majority of cases we adhere to the guidelines below but, o
bviously, we can't confirm the part-exchange value until we've actually seen the cable.

Non-standard cables (lengths and terminations which are not listed online) receive 10% lower part-exchange value. So, for example, if you upgrade a cable that you bought within 2 years you will receive up to 65% of the purchase price rather than 75%.
We recommend ordering your new cable first, before returning your old one, to ensure total satisfaction. When you are satisfied with your upgrade, send your original cable back to us – see Returning Items. We will inspect your old cable and decide its part-exchange value based on its age and condition. By returning your old cable, you agree to keep the new cable.
Want To Upgrade A Non-Cable Product?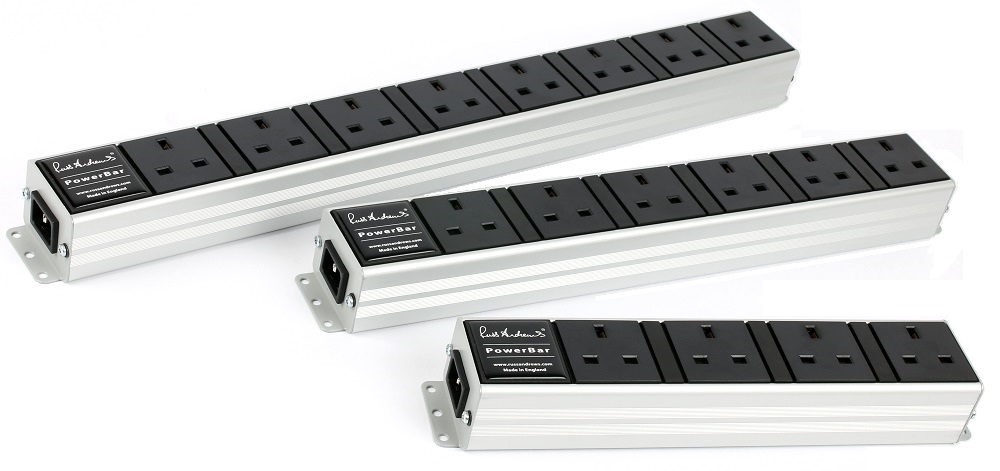 Some non-cable Russ Andrews products can also be returned for upgrade if they are part of a 'range' of products. Examples include upgrading a 6-way PowerBar mains extension to an X6 Block or a Mini Purifier with SuperClamp to a PowerPurifier.

Please Contact Us to confirm that your item is suitable for upgrade.
What happens to the cables we receive for upgrade?

We sell your old cable secondhand in the Pre-owned section of the website. Follow the links from the homepage.
Click here for full Upgrade Program Terms and Conditions.