Chord RED Reference CD Player Upgrade
Internal wiring:
Upgrade your purchase with these options:
Delivery is charged at cost.

overview
Why do we upgrade equipment?
Almost any Hi-Fi component can be upgraded to higher performance using our techniques and components. The two things go together – the know-how and the right component. Over the last 30 years, we have developed our knowledge of where the biggest problems lie and how to overcome them to unleash better performance from a given piece of equipment.
Chord RED Reference MK.II CD player Upgrade
Originally launched in 2007, the Chord Red Reference CD player set a new benchmark for audio playback. Featuring a number of innovative technologies and a design that really made it stand out from the crowd. It was revised in 2009 to the MK.II and this is the model you see here.

The MK.II version brought changes to the CD player including the now signature bubble glass porthole, allowing you to view inside, a re-clocked Philips CD Pro 2 mechanism and 176.4KHz up-sampling. The striking,14kg, all aluminium case housed a novel CD Transport mounted at a 45 degree angle with a motorised door.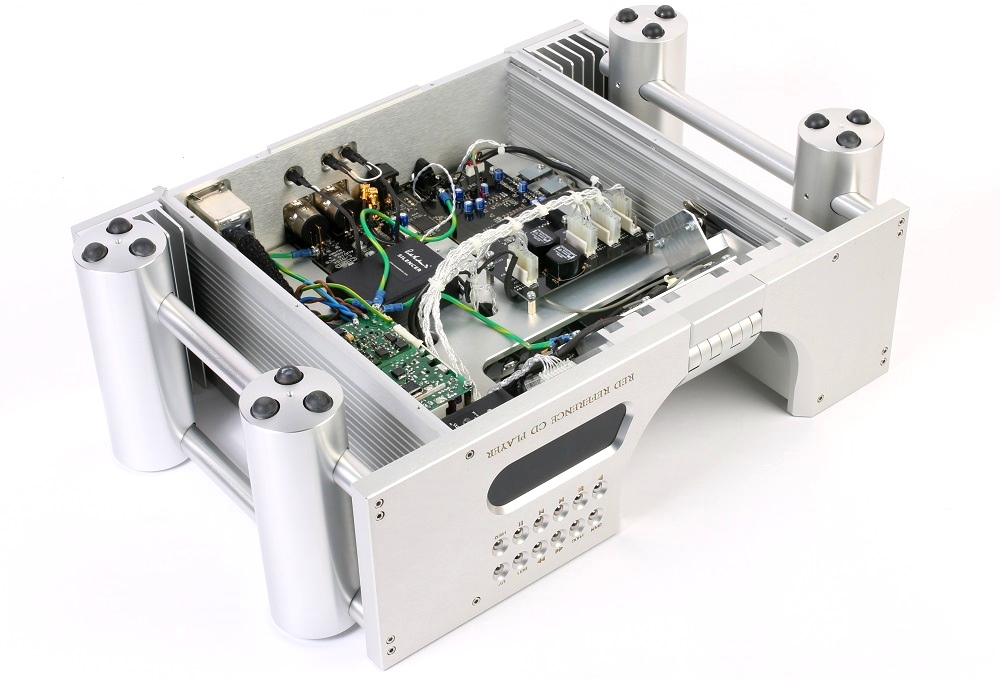 The commission to upgrade the player was that everything should be of the very highest quality available to improve its performance. We'd not heard a Red Reference CD player before, but in stock form and compared to Russ' heavily modified Meridian 808 it was hugely impressive. This level of performance provides a great platform to upgrade! Our upgrades build on the strengths of the player. Everything you love about the sound remains – it just gets so much better.
Internal wiring
Internal signal wiring is taking care of, using a combination of Kimber copper and pure silver wire. For the power, we've used copper PowerKord-100 to connect from the power input section to the on/off switch section which is connected to the transformer.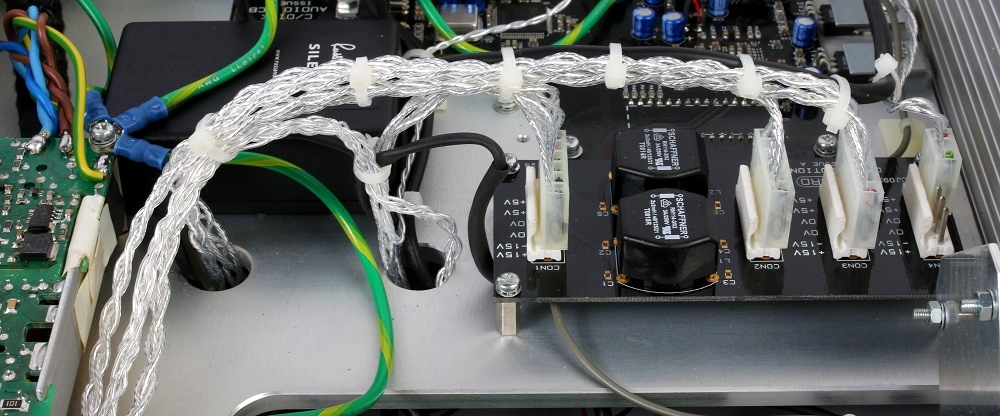 For the signal wire, we've used pure silver throughout, over three metres! A mixture of Kimber GQ (Gyro-quadratic) 4 core cable, KCAG and single strand TCSS-Ag. We also offer a cheaper option to have pure copper throughout instead of silver.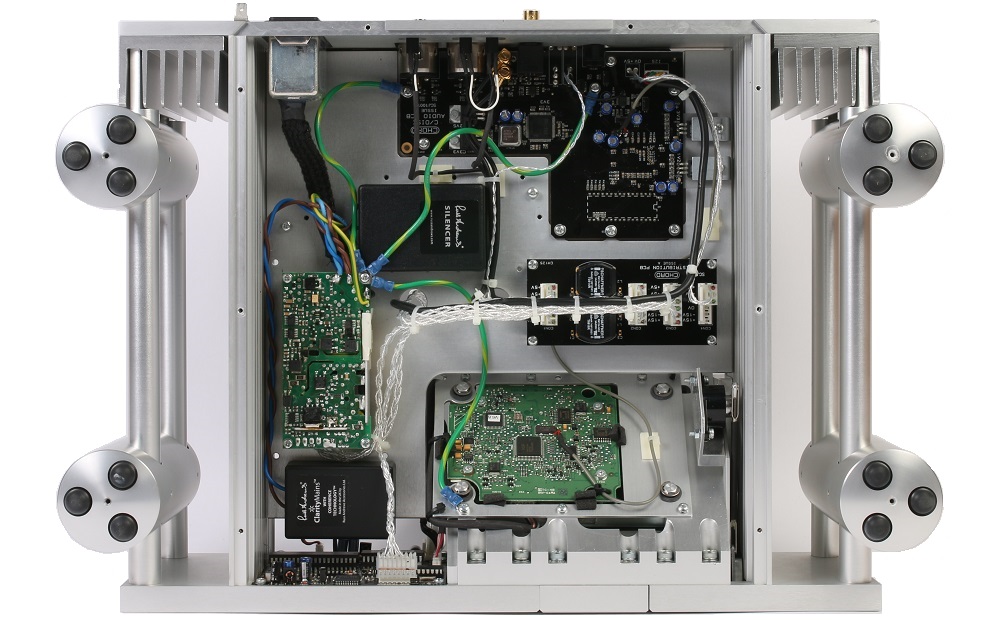 The above picture, shows the internal complexity of the Red Reference CD player. The upgrade took nearly 2 full days to complete.
Component Upgrades

44 component upgrades/changes are made across the DAC module, digital section, analogue output section, system control PCB and power supply boards.

We've used Russ's favoured audio grade Panasonic capacitors which give a smooth and detailed sound. The player is completely disassembled to gain access to all the key areas of upgrade. The transport mechanism is also serviced to ensure smooth running and accurate playback.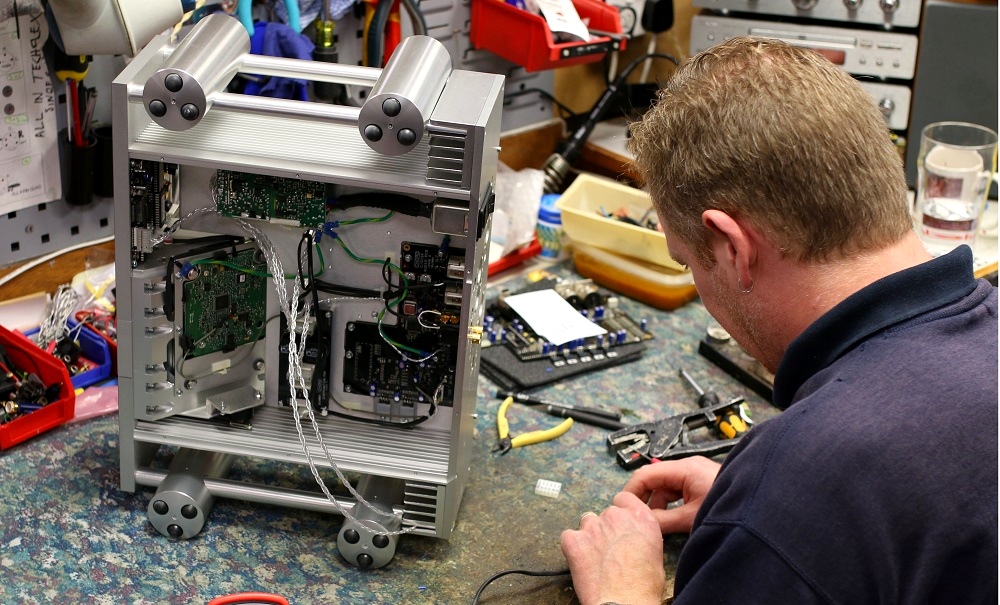 The Chord Red Reference MK.II CD player mid upgrade!
Power
To clean up and give the power supply an upgrade. Firstly the inbuilt IEC filter, based on chokes with high saturation resistance is removed and replaced with our Silencer™ mains filter. Further conditioning is taken care of by a ClarityMains™ module. Power wiring was taken care of using PowerKord-100™.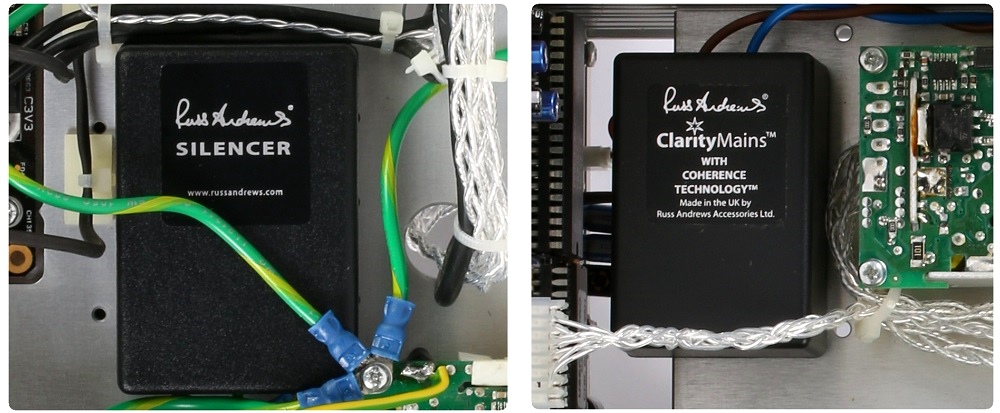 Different Model?
If you don't have exactly the same model as listed above, but a very similar unit, then it's highly likely that the same or similar upgrades will apply. But we can't guarantee that until we have the unit here for inspection. Get in touch and let us know what you have.

---
---
Please note this is just an upgrade modification, it does not include the Chord CD player.