Denon 1600NE DCD SACD Player Upgrade
Upgrade your purchase with these options:
Delivery is charged at cost.

overview
Why do we upgrade equipment?
Almost any Hi-Fi component can be upgraded to higher performance using our techniques and components. The two things go together – the know-how and the right component. Over the last 30 years, we have developed our knowledge of where the biggest problems lie and how to overcome them to unleash better performance from a given piece of equipment.
Denon 1600 SACD Player Upgrade
Every now again we get the chance to carry out a full, bells and whistles upgrade to a component. A while back it was the Marantz SA-10, this time it's the turn of the Denon 1600NE.. and what a result! Launched back in 2018 as part of range of new budget to high-end, high resolution players, the 1600NE sat roughly in the middle. Besides CD and Super Audio CD playback, the 1600NE also features playback of audio recordings up to PCM192/24 or DSD5.6 recorded on a DVD R/RW.

Featuring a revised and improved circuitry to previous models, where the signal paths have been kept as short as possible and the whole circuitry minimized. The engineers also redesigned the disc drive mechanism brackets and the chassis to eliminate vibration, the great enemy of disc players, and achieve ultra-vibration-resistant performance.
The Denon 1600NE sounded great in stock form and punched well above its price point and we were mightily impressed here at Russ Andrews HQ. But we identified quite a few key areas for upgrade. The upgrade builds on the strengths of the player. Everything you love about the sound remains – it just gets so much better.
Component Upgrades
68 significant component upgrades/changes are made across the power supply, digital and analogue circuitry, and output sockets. Upgrades include a Trichord Master clock, Russ's favoured audio grade Panasonic capacitors which give a smooth and detailed sound, together with Kimber capacitors.

The Denon 1600 is completely disassembled to gain access to key areas of upgrade. Post upgrade, the unit is then soak tested for 24 hours.
Power
Starting with the mains input, a new IEC socket is fitted, the internal wiring is upgraded to Kimber TCX pure copper wire which features our proprietary Super Burn-in process.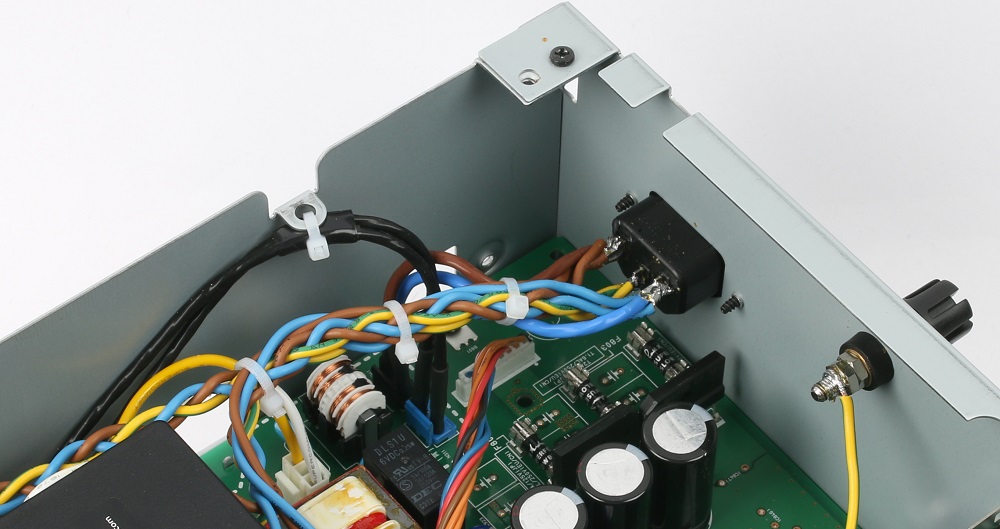 The power supply section is then upgraded with Panasonic Audiograde Caps.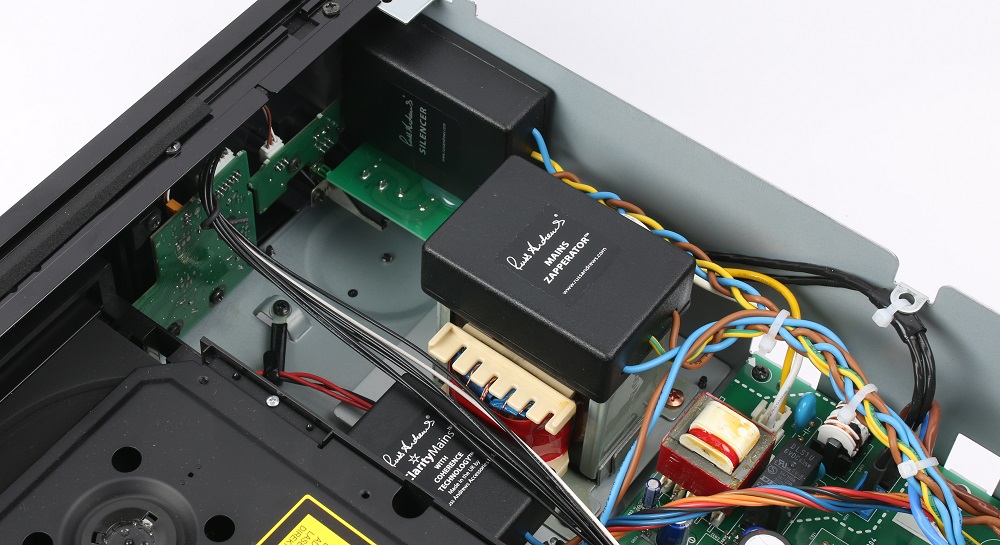 Additional mains conditioning modules are also fitted – Silencer, Zapperator and ClarityMains all designed to further smooth the mains supply.
Audio
Within the audio circuitry is where the majority of changes were made. Upgrades to the DAC and analogue output. Over 35 parts in total.

Master Clock
A major source of improved sound quality is made by upgrading the original master clock. The clock is in charge of the distribution and timing of the digital audio data. The greater the accuracy of the clock then the lower the jitter (digital distortion) is.

On the left is the upgraded Trichord Master clock we use. On the right is the original clock we've removed. Quite a difference!
Sockets
The basic sockets had to go, so we've replaced them with a pair of top of the range WBT-0102Ag sockets. A set of plastic caps were 3D printed in house to cover the holes left by the original sockets as the WBT's couldn't be fitted in those holes due to internal restraints. To ensure the integrity of the signal, pure silver from Kimber is used from the analogue output board to the WBT-0102Ag socket.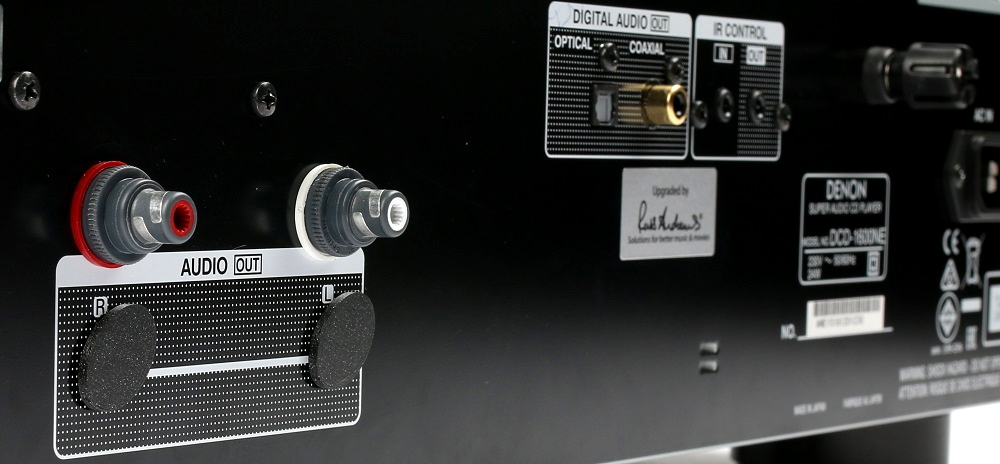 An external Grounding post is fitted to facilitate the easy connection and integration with our grouding eco system.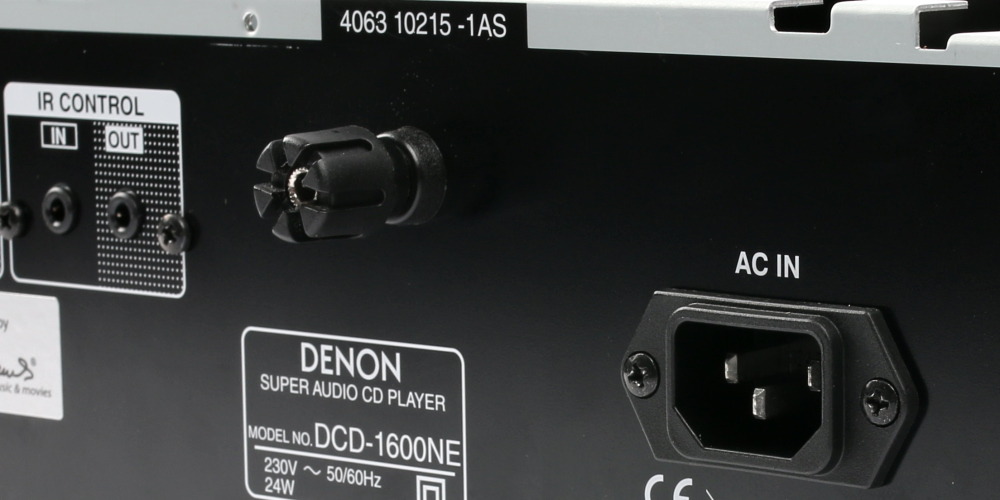 Mechanical damping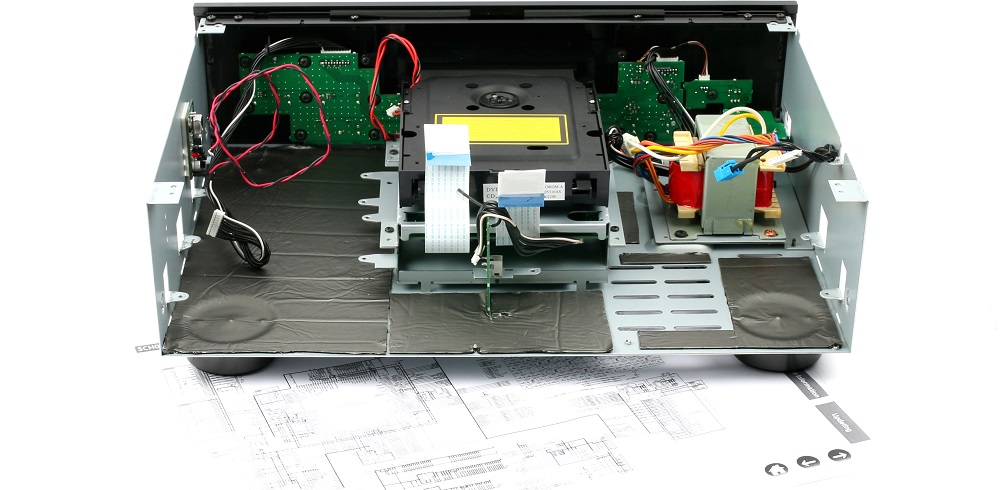 Our special sound deadening material is fitted to the base of the casework to dampen any unwanted mechanical vibration having any potentially negative effect on performance,
Different Model?
If you don't have the exact model, but a similar variant, then we can also offer an upgrade for those players too! a very similar unit, then it's highly likely that the same or similar upgrades will apply. But we can't guarantee that until we have the unit here for inspection. Get in touch and let us know what you have.

How the service works
Equipment upgrades are proving hugely popular. During peak times there may be a wait of several weeks before we can carry out the upgrade. So before we get your equipment here, it must be booked in so we can ensure a speedy turnaround of the upgrade. Once you have placed your order, we will contact you to arrange a suitable week and getting the equipment here.
In Person
For those of you who are local enough or if you fancy a trip to the lakes, you can drop off your equipment personally and then collect it when it's complete or we can ship it back to you.
By Courier
We can arrange a courier collection of your equipment for an additional cost. We currently use UPS.
To make things easier, we can offer several collection options.
1. We can arrange a specific day for the courier to call and collect your equipment. Someone will need to be available all day at the collection address as we're unable to arrange a time slot for collections.
2. Dropping off at a UPS Access Point. UPS use a network of local shops to deliver and collect parcels from and to. We can either post you a collection label or email you the label (you will need to print the label at home/work). Securely box up your equipment, affix the collection label to the outside of the box and take it to your preferred Access Point where you will be issued a receipt.
UPS Access Points can be found here (link opens in a new window), simply enter your postcode to find your nearest one.
---
---
Please note this is an upgrade modification, it does not include a Denon 1600 SACD player.
Overall product rating

5

/

5

reviewed by

Jon Carter




21 Sep 2022
Yes, I recommend this product.
Wow! This is such a super upgrade to my Denon 1600 SACD player. As the RA team quite rightly mentions in stock form this player is very good indeed. Its the Alpha processing that really helps to make this player shine, but add this full upgrade and you will hear a holographic sound to cd that I've personally never encountered before at this price point. The added Trichord master clock 4 and improvements to the already good power supply go a long way to elevating the performance of this player. This surely has to be a more cost effective way to elevate the performance of your currently owned equipment by going down this kind of upgrade route. Highly recommended.