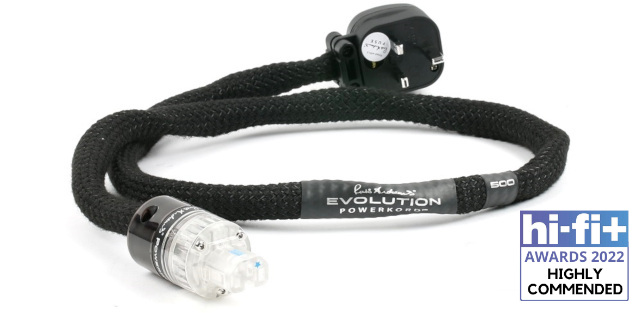 UPDATE: Evolution-500 was given a coveted 'Highly Commended' Award in the Hi-Fi+ Awards 2022, only losing out on the top spot to a cable costing over seven times as much!

Editor Alan Sircom starts by suggesting that "Russ Andrews (the man, and the company) has spent the longest time playing around with Hi-Fi, and usually for the better… somewhere down the line Russ Andrews has tried it and either improved or rejected it."

He continues by saying that this experience "provides a body of experimentation that can be brought to good use in the latest products", the Evolution-500 being a prime example.

Describing the development of the cable and the use of the new low-induced noise earth arrangement, he notes the addition of Kimber Kable's latest high purity conductors and goes on to suggest that the Evolution range can be matched to specific applications; the -100 ideal for "sources and preamps", the -300 ideal for integrated amps and the - 500 "for heavy lifting with big power amps and other high-current devices".

Whilst this is true, we always say there are clear advantages to using the Evolution- 500 on lower current-pulling devices too. It's true to say that current-hungry components clearly benefit from the -500's additional conductors due to the lowering of impedance. However, the more complex weave that these extra wires create has the effect of improving the cable's RF filtering capabilities – a feature which benefits all components.
Performance
Under testing, the reviewer says that "the performance is extremely good indeed", referring specifically to the "well-thought-out balanced presentation between good soundstaging without undermining either solidity or rhythm." He continues by praising the -500's ability to present "refinement without compromising detail" and argues that they are "capable of wielding great power with great responsibility".
---
"it punches above its weight. It's a cable of great balance... the PowerKord Evolution 500 is easily one of the best in its class."
---
One of the most telling words Alan uses to describe the character of the cable is 'poise', "both in terms of its overall presentation and the way PowerKord Evolution 500 balanced out a system. And while in less skilled hands", he continues, "words like 'poise' and 'refinement' could be code for 'boring', that was never the case".

Sitting at the top of the Evolution PowerKord range, the -500 is not a cheap cable – but, as the reviewer notes, neither is it expensive by high-end standards. In this company, he says, "it punches above its weight. It's a cable of great balance and unless you must have a design that stresses one aspect of performance or have a system that costs as much as a new Bentley and demand absolutes, the PowerKord Evolution 500 is easily one of the best in its class."





Magazine: Hi-Fi+
Issue: March 2022
Verdict: N/A

Click here to buy Evolution-500 PowerKord