In-Line WBT-0110 Attenuators
Upgrade your purchase with these options:
Delivery is charged at cost.

INFORMATION
Our inline attenuators allow you to attenuate any existing non-attenuated RCA interconnect.
The attenuating components are mounted in high quality locking nextgen WBT 0110Cu phono plugs to give a low resistance connection; they're perfect for testing different attenuation levels before buying a Kimber or Russ Andrews analogue interconnect, or adding attenuation to any other manufacturer's analogue interconnect.
How to use
Once you have assessed what level of attenuation you need, it's simple to fit the in-line attenuators to your amplifier. The attenuating components are housed in a high quality, locking WBT phono plugs. Simply plug these into the CD input on the back of your pre or integrated amp and turn the barrel to lock them in place. This provides a high quality, firm connection for you to then plug your interconnects into, remembering to ensure that the directional arrows on the interconnect are pointing towards the amp.
What level do you need?
To work out what level of attenuation you need, find out what the input sensitivity of your amplifier is (often printed in the specs as a mV figure.) Then find out what the output level of your CD player is - usually 2 volts.
Now consulting the chart below read across to find out what attenuation you need. So, for example, a CD player with a 2V output and an amplifier with 300mV input would need an attenuation level of -11dB.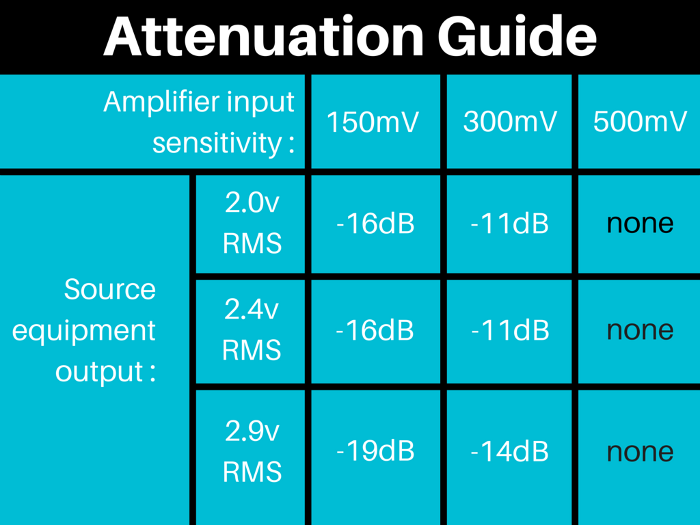 SPECIFICATIONS
Audio grade resistors

5 Attenuation levels

WBT-0110Cu plugs

Sold in pairs

Overall product rating

5

/

5

reviewed by

Michael Richards




27 Apr 2020
Yes, I recommend this product.
My system although in many respects was satisfying it had an inherent harshness. The Lockdown has given me time to listen In a more considered manner and revealed that the brightness Was not confined to the Lector CDP7 Valve CD Player but also the Marantz N704 DAP (Digital Audio Player). I called up the ever knowledgeable/ever patient John Armer at Russ Andrews and opted for their attenuators. On arrival/fitting they had an immediate effect. The harshness was gone, the bass was a little tighter and the soundstage was somewhat improved. This was all in the space of two hours since installation.
I have just ordered a second pair for the Digital Audio Player.
Thanks as Ever John!!
Customer Service Reply
Thanks for the feedback, Mike!

reviewed by

Pete Cable




11 Aug 2017
Yes, I recommend this product.
I have for some time employed Rothwell attenuators in order to calm down the output from my CD player. However, I have always felt that something was missing as my involvement in the music was not always sustained as I would have wished. I therefore bit the bullet and purchased your WBT attenuators (11db) and , wow, they have proved to be a revelation. Suddenly I found myself listening to a wealth of detail that I never knew to be present, a tightening up of bass response and a delicious sparkle to the higher frequencies. I felt I had just upgraded one of my major components rather than fitting a couple of little plugs to my amplifier CD input. Whatever your source if you can't get your volume control beyond 9 o'clock without being blasted out of your chair then attenuation is a must and I can think of no better way of achieving a thrilling improvement to your musical enjoyment than purchasing these modest little items. Well done Russ Andrews.

reviewed by

Rene Christensen




09 Jun 2017
Yes, I recommend this product.
"
Less Is More, Go For The Best
"
I didn´t want to change my systems original sound, so I went for the WBT-110 (-11db) attenuator between my CD player and amplifier.

It was a success right away, instead of soften the sound, it gave a it minor / little boost.

I have a Rothwell (-10db) in-line attenuators between my tuner and amplifier, here I like
the very slightly subdued / softening they do to the sound.

It´s difficult to generalize people´s taste,
it´s personal and depend of music- / system preference.




reviewed by

Tor Damsleth




01 May 2017
Yes, I recommend this product.
Does as advertised without degrading the sound. The volume control is much better to use and has a much larger range. Imbalance of the sound from the speakers is gone, i am a happy very customer.

reviewed by

Thomas savage




15 Jun 2016
Yes, I recommend this product.
"
Transparent Attenuation
"
After switching to balanced power I was left with the symptoms of excessive gain. The system sounded great with electronica but with something like 'ane Brun live in Scandinavia ' it was a bit shouty.

I tried other brands of attenuators but they always robbed me of too much to stay in the chain.

These Russ Andrews attenuators not only remove that 'shouty' symptom but also bring further insight into the music, more obvious trailing notes and decay and more detail... Not less as I have experienced in the past. Even more open HF and now totally clear and clean.

For those who need them theses are the ones to get, for anyone trying balanced power I would try these. The increase in gain that can happen with balanced mains can seem great but for me it was a double edged sword, but no longer.. Now it's just audio bliss!

Using at the amp inputs.

Cheers Russ!