Upgrade your purchase with these options:
Delivery is charged at cost.

overview
Why do we upgrade equipment?
Almost any Hi-Fi or Home Cinema component can be upgraded to higher performance using our techniques and components. The two things go together – the know-how and the right component. Over the last 30 years, we have developed our knowledge of where the biggest problems lie and how to overcome them to unleash better performance from a given piece of equipment.
Oppo BDP-205 Upgrade
Launched mid 2017, the OPPO-205 was the bigger (in weight and specification!) to the 203, packing quite a punch when it came to picture and sound. OPPO built a reputation for going that extra mile with build quality and functionality. Sadly the 205 was the first and last (with the exception of the 203) proper UHD player from the company.

The Oppo 205 is (was) Oppo's best player but we've identified quite a few key areas for upgrade and in our opinion well worth upgrading. Building on the performance of the Oppo 203, the 205 offers superior analogue circuitry with a dedicated stereo output in addition to the multichannel 7.1 output. Our upgrades involve replacement of over 100 parts and focus on the power supply and the analogue circuitry. Everything you love about the sound and picture remains – it just gets so much better.
Component Upgrades
Over 100 component upgrades/changes are made across the power supply, audio board and video board. Upgrades include Russ's favored audio grade Panasonic capacitors which give a smooth and detailed sound and of course that hugely important Master Clock upgrade which improves jitter (timing) performance.
Your 205 is completely disassembled to gain access to key areas of upgrade. Post upgrade, the unit is then soak tested for 24 hours.
Power
Starting with the mains input, we change the IEC socket to our upgraded version which features our proprietary Super Burn-in process and wired with Kimber TCX pure copper wiring. A Silencer™ mains filter is then fitted to clean the electricity supply prior to the power supply board. Further mains conditioning is added by the inclusion of the ClarityMains™ module . The power supply section is then upgraded with Panasonic Audiograde Caps.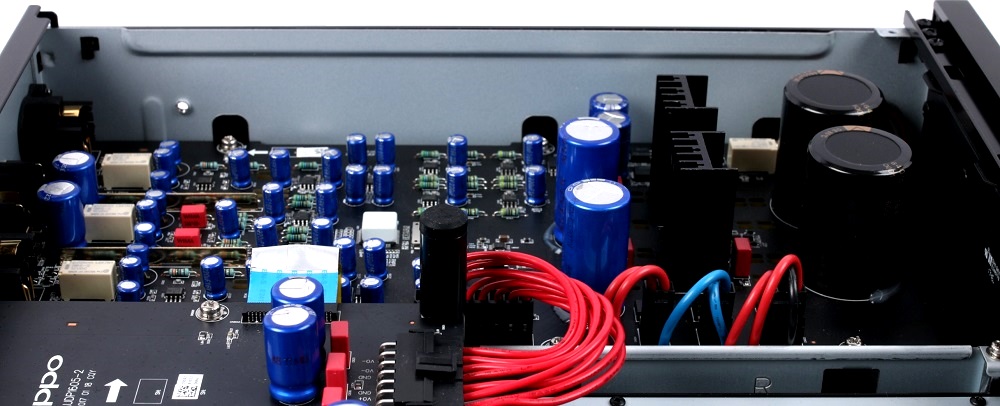 Clock
A major source of improved sound quality is made by upgrading the original master clock. The clock is in charge of the distribution and timing of the digital audio data. The greater the accuracy of the clock, then the lower the jitter (digital distortion) is.

On the left is the upgraded Trichord Master clock we use. On the right is the original clock we've removed. Quite a difference!
We remove this clock in the OPPO 205 (which is about the size of a pin head, see above) and replace it with an extremely high accuracy (+/- 5ppm) Trichord Clock 4 oscillator which in our professional opinion greatly enhances sound and picture quality of the 205. The clock is wired to the board with Kimber cable. The entire design of the component, is of course important, but if the quality of the clock is not up to scratch then the overall performance will suffer.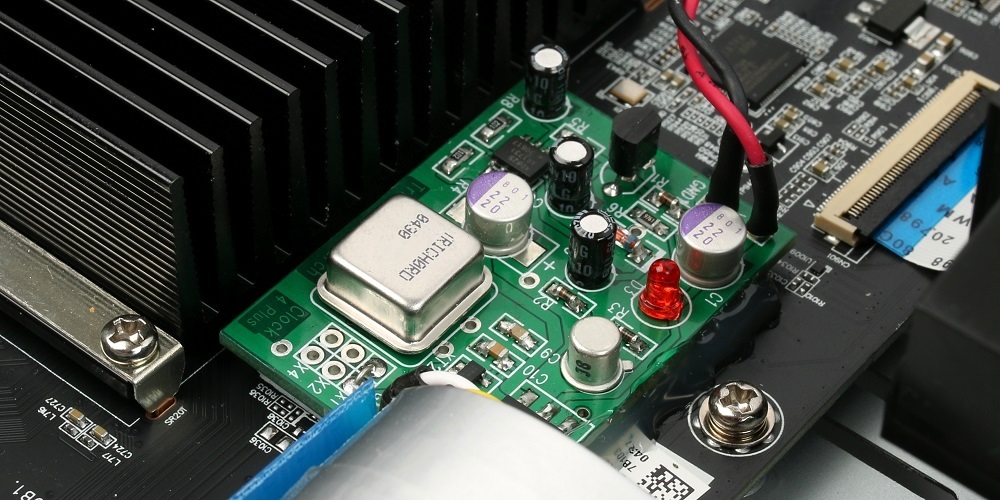 Upgrade overview
Power supply capacitors upgraded to Panasonic audio grade capacitors and Kimber Kaps

Clarity™ Mains filter

Silencer™ Mains filter

IEC socket and cable upgrade

7.1 Audio output board upgraded with Panasonic audio grade capacitors

Stereo output board upgraded

Master Clock upgraded to low jitter Trichord™ Clock 4

note: Multi region option has now been discontinued



Different Model?


If you don't have exactly the OPPO 205, but perhaps a 103 or 205, then we also offer an upgrade for those players too! a very similar unit, then it's highly likely that the same or similar upgrades will apply. But we can't guarantee that until we have the unit here for inspection. Get in touch and let us know what you have.









How the service works


Equipment upgrades are proving hugely popular. During peak times there may be a wait of several weeks before we can carry out the upgrade. So before we get your equipment here, it must be booked in so we can ensure a speedy turnaround of the upgrade. Once you have placed your order, we will contact you to arrange a suitable week and getting the equipment here.

In Person
For those of you who are local enough or if you fancy a trip to the lakes, you can drop off your equipment personally and then collect it when it's complete or we can ship it back to you.

By Courier
We can arrange a courier collection of your equipment for an additional cost. We currently use UPS.
To make things easier, we can offer several collection options.

1. We can arrange a specific day for the courier to call and collect your equipment. Someone will need to be available all day at the collection address as we're unable to arrange a time slot for collections.

2. Dropping off at a UPS Access Point. UPS use a network of local shops to deliver and collect parcels from and to. We can either post you a collection label or email you the label (you will need to print the label at home/work). Securely box up your equipment, affix the collection label to the outside of the box and take it to your preferred Access Point where you will be issued a receipt. UPS Access Points can be found here (link opens in a new window), simply enter you postcode to find your nearest one.


---
---
Please note this is an upgrade modification, it does not include an OPPO 205 Blu-ray player.