Type:
Upgrade your purchase with these options:
Delivery is charged at cost.

overview
PLEASE NOTE THAT THIS PRODUCT IS NO LONGER AVAILABLE -
Click here for the alternative
.
This page has been left available for informational purposes only
Super Burn-in is the name we give to a unique cable enhancement that we've co-developed. One of our most exciting innovations, Super Burn-In uses a revolutionary technique to treat Kimber and Russ Andrews cables.
About the process

Super Burn-in can be applied to almost all Kimber or Russ Andrews cables. Even if you have a cable that has been run in for many years, our tests have shown that there is a significant performance upgrade to be gained from this unique process.
Super Burn-In is achieved via a custom-designed and built machine that treats the cable to a specific 'recipe'. As the process is applied 'in house', we aim to process cables in 2-3 days. There are two levels of treatment that we can apply to cables; the first is standard Super Burn-in which can be applied to power, interconnects and speaker cables. The second is an enhanced level of treatment - Super Burn-in Plus - which is a two-stage process, suitable for our PowerKords and SuperKords only.
ordering
Existing cables
Simply order the quantity of Super Burn-ins you need, then contact us to book in your cable/s and also advise us when you're going to send them in. If you wish, we can arrange collection for you (UK mainland only - a small charge for the collection will apply).
Examples of what a Super Burn-in covers:
One pair of speaker cables
or
One mains cable
or
One Digital Interconnect
If you are the owner of an interconnect already fitted with attenuation or MiniZaps or both, and want to send the cable to us for Super Burn-In, we're unable to Super Burn-in the cables without a modification first. There will be a small additional cost for this. Please contact us and tell what interconnect you have and what it's fitted with.
Ordering a new cable
If you want to buy a new cable with Super Burn-in, you will find the check box to add Super Burn-in on the product page itself as shown: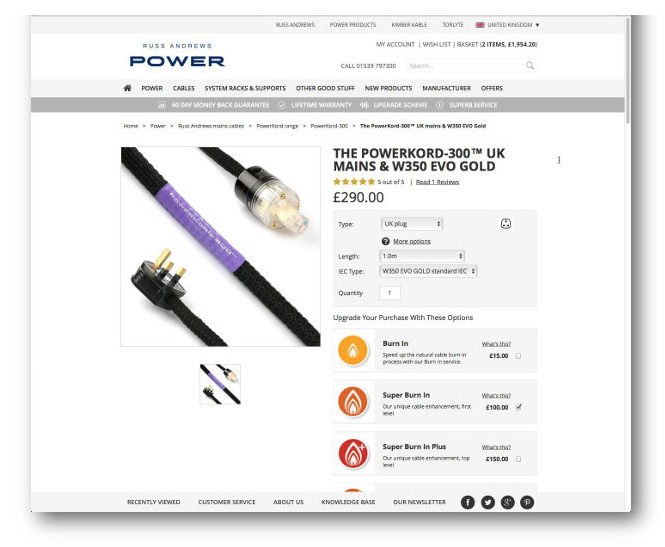 About Burn-in
When you first get a Russ Andrews or Kimber cable you may find that it does not perform at its full potential straight 'out of the box'. This is due to a phenomenon called 'burn-in'.

Burn-in refers to the process which takes place as a cable is used over time. As a signal or current is passed through the cable, its performance gets better and better. So, although you'll find that there are some immediate improvements as soon as you plug in the cable, it will get even better over the burn-in period.

As the cables burn-in you will find that they start to reveal their true potential with deep, more extended bass, a more natural midrange and a sweeter treble. This means that when you first get the cable it can tend to sound brighter and lacking in bass. That's one of the reasons we sell them with a 60 day money-back guarantee – to give you time for the cables to settle down so you can judge how they will sound long term in your system.

The natural burn-in process takes up to 500 hours - that's about three weeks of constant use, and it can sometimes take longer, especially with silver cables. To burn-in mains cables, they simply need to be powered up; interconnects and speaker cables need to have a signal passing through them (use a tuner or CD player on repeat). To burn-in interconnects you can have the sound turned down; to burn-in speaker cables you should play sound through your speakers, though it can be at low volume.

Super Burn-in, on the other hand, is a highly advanced treatment which, in our tests, not only accomplishes the natural burn-in, but significantly elevates the performance of our award-winning cables. Once a cable has been treated, we still advise you to allow the cable to settle into your system for a couple of weeks once connected.
Overall product rating

5

/

5

reviewed by

anonymous




20 Oct 2020
Yes, I recommend this product.
"
Heightened Sense Of Performance
"
I recently upgraded the three key mains cables in my hi-fi system, from Super Burn-in, to Super Burn-in Plus.

After reconnecting the mains cables, and letting everything warm back up. The bass became weightier, the sound stage became fuller, and I could here my system reaching far deeper into every nook and cranny, within each recording that I played. And previously hidden details that I'd not heard before, were now revealing themselves.

But the greatest gain, is the heightened sense of performance and musical interaction. Everything is closer and more intimate, every instrument is more present, and the timing has soared.

I could not be happier with the Super Burn-in Plus, because it has elevated the whole sound to a new level, and each recording that I listen to, is richer for it.

reviewed by

anonymous




28 Mar 2017
Yes, I recommend this product.
Have this done and truly 'hear' and absorb the music. Remarkable.