X8 PowerBlock Perfectionist
Upgrade your purchase with these options:
Delivery is charged at cost.

overview
The Perfectionist!
The X8 PowerBlock™ Perfectionist sets new standards for performance, it sits at the very top of our range of high end US outlet blocks. The perfect solution for high end Hi-Fi and Home Cinema systems. Fully wired with pure silver and fitted with eight Rhodium Wattgate™ evolution outlets... in our opinion this block offers real improvements in sound and picture quality... will last a lifetime... and is a real talking point.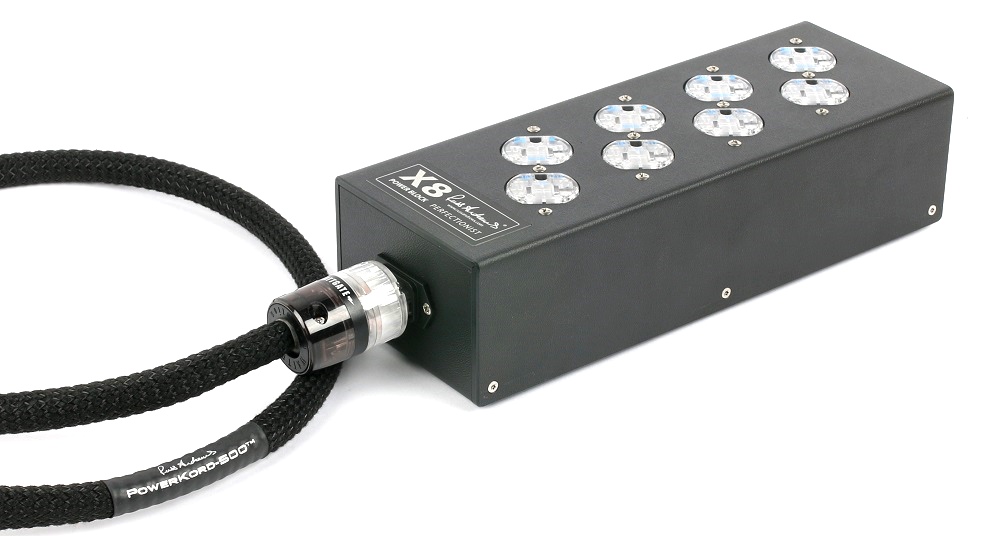 Sockets
The X8 Perfectionist model features the well-regarded, high-performance Wattgate™ W381 RH evolution outlets; The best performing American sockets we've heard. Featuring Wattgates Four Layer Plating Process, Cryogenically treated and specially treated with DeoxIT™ contact enhancer to maintain their performance and keep them free of oxidation (we use a special jig to get at the internal contacts).
Wattgate™ W381 RH evolution offer exceptional clamping pressure around plug pins for efficient contact and reduced impedance.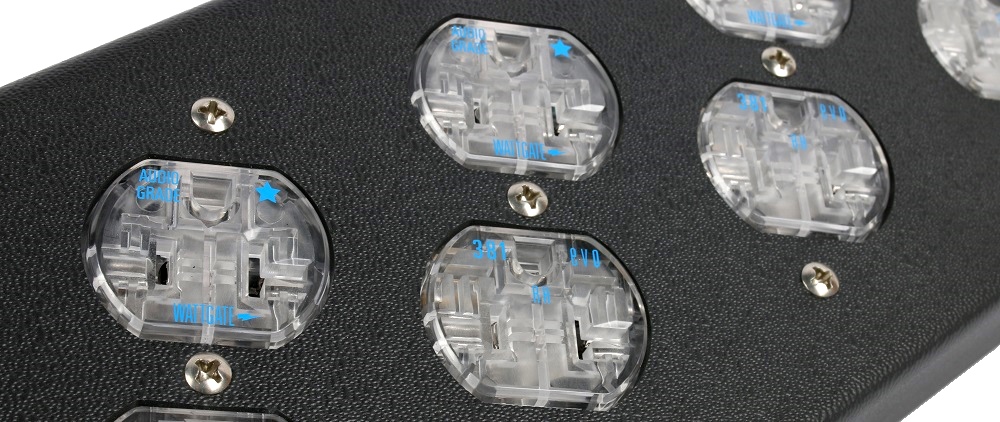 Wiring
The X8 PowerBlock™ Perfectionist is internally wired with Kimber pure silver wiring.
Spike protection

Our X8 PowerBlocks™ are all fitted with our most sophisticated and powerful MegaClamp™ spike protection. We believe that spike activity on the mains supply can degrade the sound quality from your equipment (they can raise the background noise level in amplification circuits); remove them and in our opinion the sound is cleaner and clearer.
Our MegaClamp™ components were developed for use in the communications industry; we've found that they are the most effective way of absorbing spikes affecting your Hi-Fi or Home Cinema.
Connecting to the mains supply
X8 PowerBlocks™ are fitted with a 10A IEC socket which allows you to choose the grade and length of cable you need to connect it to the wall socket. We recommend you opt for either the PowerKord-300™ or PowerKord-500™ for this application.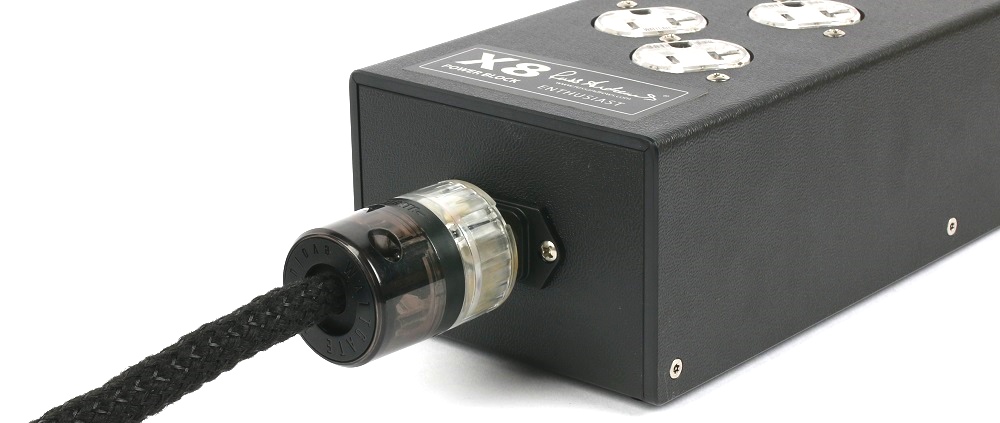 When choosing your mains cable, make sure you select the version with the 10A IEC connector. Click
here
to view PowerKords™.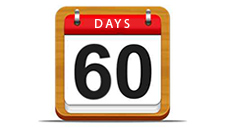 Money Back Guarantee
Don't forget! We are so confident in the performance of this product that it is covered by our 60 Day Home Trial with Money Back Guarantee. Buy the product and if you're not completely satisfied, you can return it within 2 months for a refund. For full details
click here.

Specifications
Made from impact and fire resistant UL-90-V0 ABS
Eight top of the range, Wattgate™ W381 RH evolution outlets
Internally wired with Pure Silver KIMBER KABLE
Internal MegaClamp™ for equipment protection from lightning and high voltage mains spikes
10A IEC mains socket allows you to connect your choice of mains cable
Length 300mm Height 75mm Width 110mm

And for your peace of mind...
PowerBlocks are made in UL-90-V0 ABS (a type of thermoplastic) which has been chosen specially for its sonic qualities (we've found that plastic extensions sound much better than metal extensions); durability; and the ability to resist shocks and high impacts. Additionally, the material is fire resistant and can be recycled.
25 Year Warranty
Evolution-100 PowerKords come with a Lifetime Guarantee - this means we will cover against manufacturing faults and defects for a minimum of 25 years.
Find out more