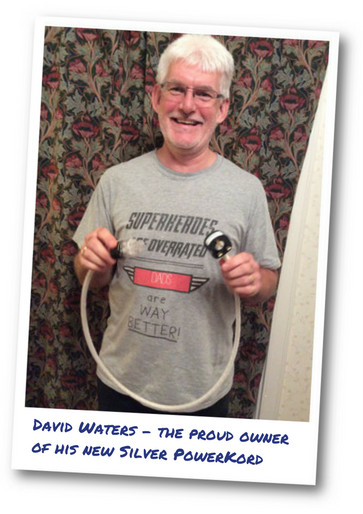 Congratulations go to David Waters from the Isle of Man who correctly answered that David Gilmour (formerly of Pink Floyd) is the owner of Astoria Studios which is fitted out with Russ Andrews, Kimber Kable and Torlyte products.

David was over the moon when I rang him to give him the good news and promised he would drop me an email once he'd fitted it into his system, so here it is:

"You made my day when I received your call on 4th November to say that I had won the 30th anniversary prize!
And thanks for the follow-up to make sure it arrived.

I have used the cable to feed my mains conditioner which then feeds everything else - I had planned to feed this with a better cable so that objective has been achieved! So far the cable has got better each day and rather than go overboard with detail all I can say is that it has improved everything! I have used RA products and tips for decades now and should not really be surprised that yet again a big improvement. I bought the mains conditioner a year or so ago and this wrought a huge improvement - so much so that I did not think I would get another big difference with any further change and especially cable. I know that this cable will probably continue to improve for a while yet so how wrong I was. So the downside now is I think the upgrade bug is coming back....

Thanks again and best regards to you and Russ.

David"

Thanks David - we're glad it's gone to a good home!