Competition 2020 Winners
Our last competition of 2020 brought in a record-breaking number of entries. We asked you to write an article for our Connected magazine about the year 2020 and what your Hi-Fi or Home Cinema, or music or movies, had meant to you.

Russ (and his wife Sue!) read every single entry and picking a winner proved difficult, but they narrowed it down to a shortlist of three. In the end, Russ decided to award the first prize of an Evolution-500 PowerKord to Taweewut Petcharat of Thailand. Russ said that "Petch described perfectly the musical improvements you can achieve when upgrading a system – and that carried over to his Karaoke system too. His enthusiasm for the quality of his system really shone through and it was clear that music has been a great part of his – and his family's – life throughout 2020."

Russ felt that the other two entries from the shortlist deserved a little more recognition than a runner's up prize, so we awarded David Foster of South Wales and Christopher Ward of Germany an Evolution-100 PowerKord.
We also awarded four runners-up prizes of ReVeel and ReleeS to Chris Trower, David Lambert, Richard Allisette and Paul Francis.
More of these entries will be published in future editions of Connected magazine, as well as here on the website.
My Dream Sound System by Taweewut Petcharat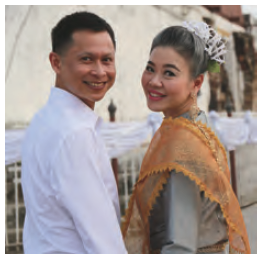 May I share my dream sound system? I have fallen in love with music since I was 14 years old in 1985 when I had my father's mono cassette radio connected to an external loudspeaker via a 3.5 mm jack output to produce left and right sound similar to stereo system. I had always dreamed of a good sound system for everyday happy and relaxing life.

Since the Christmas 2019, I have upgraded Rega RP6 turntable with Supplier AC, X6 block and PowerKord 500. Moreover, I have the VP Stylus Dust Buster and Tip Tonic Stylus Cleaner for cleaning purpose as well.

In the issue No.50 of Connected magazine, I won a Silencer by answering that the Grounding had been added to Step 1 in Russ's Upgrade Path but I had never known what it was. I studied the Grounding Guide and consulted with John Armer, one of Russ's team. Finally, I upgraded the system with two RF Router Mk2's for all sources of pre amplifier and power amplifiers chassis linked by Grounding Wire to the Router inputs and the other to power block and wall socket ground terminals. Both Router outputs are connected to Technical Ground faceplate. For Pioneer LX88 DVD player, I have Technical RCA Ground Weave connected directly to the Router input.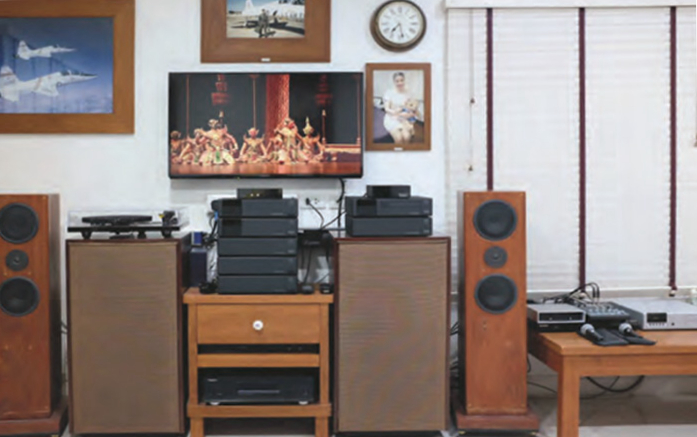 Recently, I have consulted with Peter Bevir, Head of Sales & New Product Development, who suggested that I should have had Super Socket with Earth
Terminal, 8VS speaker cables and Evolution-100 PowerKord upgraded for my full range Lowther DX3 Acousta speakers and Linn Classic.
It was to my understanding that the system I had was already well equipped. However, after it has been thoroughly upgraded, it is completely another story like
a new model which impresses me a lot. It has much
more natural opened sound with lesser background noise.
This means, I originally listened to music from Karik/Numerik CD player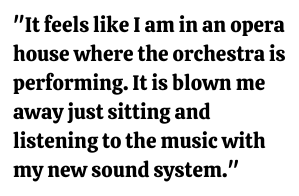 and Kremlin tuner at 33-35% volume but now I always listen at 25- 27% volume. From the turntable, I originally listened at 42-45% volume, but now I always do it at 33% volume. I strongly believe that the signal to noise ratio increases by 10-12% (The pre amplifier volume has the level as a number in the range 0-100).
This is a significant improvement in all aspects. I enjoy the clearer sound of the violin while the double bass gives a fantastic sound of the individual notes than ever and the singing voice is crystal clear, what else could I ask for? It feels like I am in an opera house where the orchestra is performing. It is blown me away just sitting and listening to the music with my new sound system.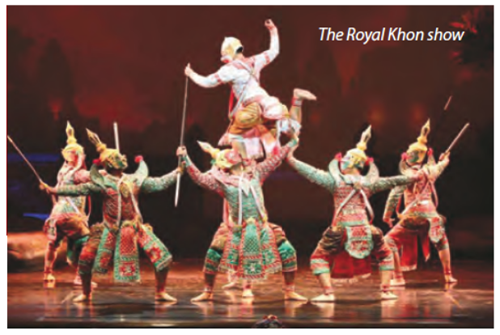 In 2020, I particularly enjoyed the system very much by watching DVD of live Thai Classical Ramayana Story Show: we call The Royal Khon show which is one of our beloved Her Majesty Queen Sirikit The Queen Mother's project. My wife [Oranut Chulajata, pictured above with Petch] and I really love the sound and vision of the show very much. I also like singing karaoke.

The main tri-amplifier active system is for live music reproduction from another DVD player which I replaced the factory built-in power cord to PowerMax Plus. For singing purpose, I have Lowther DX3 Acousta fitted with 8VS cables. I sometimes perform duets with DVD original female singer. With my old system, I had to stop singing after 12-15 Karaoke songs because I felt tired. I believed that I had used more energy to sing with the old system than the upgraded one. Recently, I have sung karaoke for two and a half hours on 19 single songs and 24 duets continuously without any fatigue. I absolutely enjoy singing much more than ever. It allows my wife and me to perform duets happily too. I can say this is the great lungs exercise during the pandemic crisis.
Additionally, I have enjoyed the original music from old records, for examples the famous award-winning Thai singer Suthep Wongkamhang (60-year-old record from my mother-in-law) and Debbie Gibson (25-year-old record which I bought when I was a USAF student pilot). I was happy every time I listened to them as they brought me back to the old days which filled with splendid memories.

My mother always loves to practice dancing for fun sometime with me as a dance duet. My wife and I prefer doing the aerobic exercise for 30-40 minutes indoor by playing the disco songs to spending time outdoor while the levels of PM 2.5 [particulates] are high.

In summary, my sound system is not ranked as one of the best yet but it has reached my dream after upgrading which I am very proud of. It truly brings happiness and relaxation to my everyday life from The Royal Khon show, Karaoke singing and old records listening. This is one of the nicest experiences in the year 2020 that I love to share.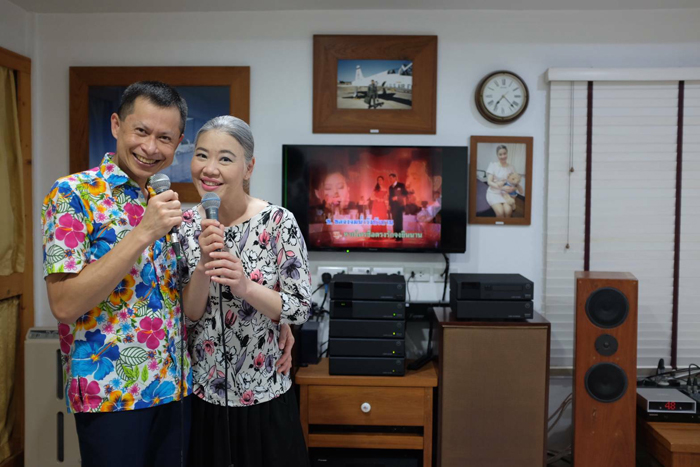 Petch with his wife, Oranut Chulajata, enjoying some Karaoke