Become a reviewer -
with 3 Chances to WIN an Evolution-100 PowerKord™
For this time's competition, we're asking you to become a music or film critic and send us a review of a piece of music or a film that you want to share with us.

The review can be positive or negative, but you should let us know what you particularly like or dislike about it. Your review can focus on the music's content and its performance, or the film's story and production values; the sound or picture quality of the release; the packaging if relevant; or any combination of these. All we ask is that it's a review of a home media release that others could find if they so wish to play at home (i.e. not a live concert or a film not yet released on home media). The release can be in print or out of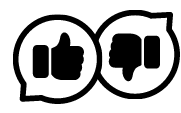 print but available second hand; and could be in any physical media format (e.g. CD, LP, Blu-ray and so on), or available on a streaming service such as Spotify, Tidal or Netflix.

For inspiration, you could look in the pages of one of the Hi-Fi magazines (Hi-Fi Choice, Hi-Fi News, and Hi-Fi Plus all have music review pages), or you could look online, or come up with your own approach. We're looking for a review to entertain and inform us in 500 words or fewer, and you can include pictures if you wish, though there is no requirement to. We will share the best of them in future issues of Connected.

Russ and the team will read all of them, and the three we judge to be the best will each receive a prize of one 1m Evolution-100 PowerKord, worth £216 – that's over £600 worth of prizes.

Email your review to:
connected57@russandrews.com
or post it to:
Connected 57, Russ Andrews Accessories, 2b Moreland Court, Westmorland Business Park, Kendal, LA9 6NS, UK.

We should receive your entry by the end of Monday, 7th February 2022 and the three winners will be notified by 18th February.


Terms and Conditions
1. The closing date for entries is 7th February 2022 and the winner will be notified by 18th February 2022; 2. The rules of entry are given in the text of the competition; 3. The winners will be chosen by Russ and the Team from all entries submitted in time; 4. No purchase necessary to enter; 5. Multiple, bulk or automated entries will be disqualified; 6. There are three winning prizes of one 1m Evolution-100 PowerKord; 7. The prize is not transferrable, cannot be exchanged for cash nor will a cash alternative be offered; 8. Our decision is final and correspondence will not be entered into; 9. We reserve the right to feature any entries and the names of entrants in future publications and publicity; 10. This promotion is not open to employees of Russ Andrews Accessories or their families, or anyone connected with the promotion; 11.The promoter is Russ Andrews Accessories Ltd, 2B Moreland Court, Kendal, LA9 6NS, UK.