Upgrade your purchase with these options:
Delivery is charged at cost.

INFORMATION
Jumbo Cone Feet are designed to be glued or bolted to metal cased equipment, or fitted in place of spiked feet on speakers or equipment racks, point down. Or, use them freestanding and points up. Just choose your preferred method of fitting. The bigger the Cone Feet the better the support, and these are the best!
Set of 3 cones

6mm or 8mm insert size

Improve the stability of your Hi-Fi or Home Cinema

Also available in sets of four

Can be glued, bolted or screwed to your equipment, or used freestanding


Sizing

Jumbo cones measure 55mm in diameter and 30mm in height. However, due to the handmade nature of the cones, sizing may vary by a very small amount. Each set of cones we make up, are matched in both height and diameter.

Fixings include Threaded inserts and a Bolt option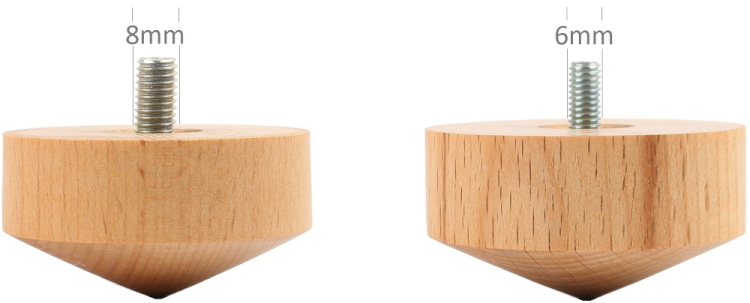 Our Opinion
Placing Jumbo Cone Feet under your Hi-Fi or Home Cinema equipment gives a large and immediately obvious improvement. The sound becomes clearer, cleaner more dynamic and much more stable and 'solid'.

Sizes of Cone Feet



Mini: 18mm diameter x 10mm high

Small: 25mm diameter x 18mm high

Big: 37mm diameter x 20mm high

Jumbo: 55mm diameter x 30mm high

Due to the handmade nature of our cones the above dimensions may vary by a fraction or so. However, each cone is matched with ones of identical size when made into sets or three or four.
Overall product rating

4.3

/

5

reviewed by

Jon Carter




13 Jul 2020
Yes, I recommend this product.
"
The Best £30 Plus You'Ll Ever Spend
"
Russ andrews new jumbo cone feet not only look superb under your equipment but are probably going to be the best £30 plus (for three) that you're ever going to spend on your equipment. Fit these to the underside of all of your components points down coupled to a Torylite platform and hear the difference! The sound becomes faster, cleaner, and more atmospheric. Drum breaks sound incredible (just listen to 'My Sharona' or anything by the Knack) Its a bigger sound too with a wider stereo separation, although bass very slightly takes on a leaner roll but it's very tight nonetheless! In my system the results have been nothing short of superb! Highly recommended.

reviewed by

Nathan




31 Mar 2018
Yes, I recommend this product.
These are well made, as you come to expect from RA, and look really nice. I have a horrible vibration issue within my set up due to the suspended wooden flooring resonating at numerous bass frequencies. I tried these as part of experimenting with a number of support products, from various well known brands, covering full isolation, decoupling and coupling. In my circumstances I have found a decoupling product works best so the oak coned feet didn't work for me as they let too much vibration into my system with instantly noticeable sound degradation. I expect they would work better if you have more stable flooring but I wouldn't dismiss trying them even if you don't as every system and it's environment is so unique. You have nothing to loose with 60days to trial them Full isolation from the floor doesn't work in my system either...go figure!

reviewed by

Brian Palmer




12 Feb 2017
Yes, I recommend this product.
I made some home made supports which worked well so as Russ's version looked better I bought them