Upgrade your purchase with these options:
Delivery is charged at cost.

OVERVIEW
Why PowerBar™?
If you have yet to upgrade the power to your Hi-Fi system, one of the easiest ways to do this is to upgrade the mains extension that supplies your kit. And our updated PowerBar is one of the simplest ways you can do it.PowerBar™ is a great introduction to the benefits of an upgraded mains block. Whether your preference is Hi-Fi or Home Cinema, it's raw mains power that makes it tick - and the more efficient that supply, the better your system will perform.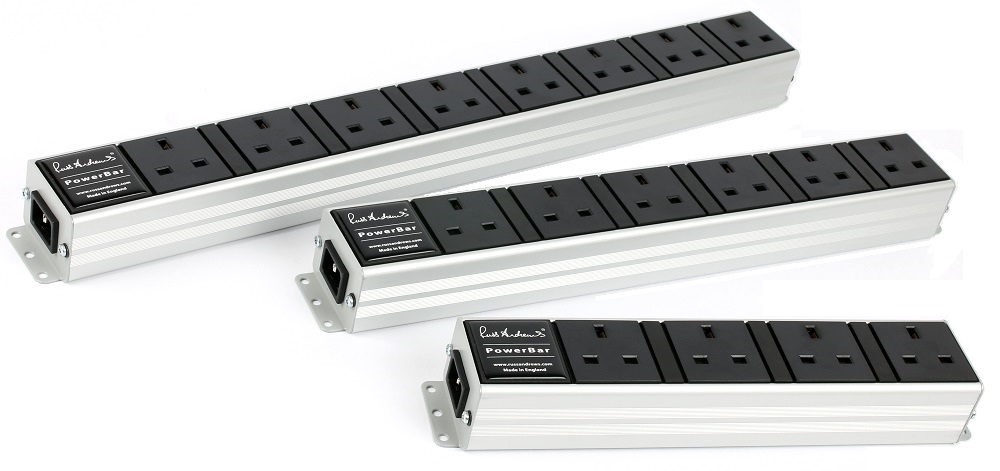 PowerBar™ comes in a new, sleek anodised aluminium housing.
PowerBar™ is designed and manufactured to give you a highly efficient power source for your equipment. Some budget audio mains blocks use inexpensive filters to try and improve sound quality, but we've found that these usually have the disadvantage of taking much of the life and dynamics out of the music. In contrast, all our effort has gone into the quality of the construction and wiring of the block to provide as clean and efficient connection as possible.
PowerBar™ is also offered with the addition of SuperClamp™, one of our spike and surge protection units. Not only does this offer protection for your system but it can also improve its performance too, because there are minor spikes and surges on the mains much of the time. We recommend factory replacement of all SuperClamp components every five years to maintain their effectiveness - click
here
to read more.
PowerBar™ features

Your choice of 4, 6 or 8 high-performance UK sockets for a low impedance connection to the mains supply. Sockets have a tight grip and a positive 'click' when a mains plug is inserted.
Sockets are individually wired with high performance cable. No cheap busbars which can compromise the connection.
IEC mains input allows your choice of mains cable for connecting the PowerBar™ to the wall socket. We recommend the YellO™ Power mains cable as a minimum, or use a PowerKord-100™ – or better – for even better performance.
SuperClamp™ option helps to protect your system from mains spikes and surges.
Brackets fitted to PowerBar™ mean that the extension can be wall-mounted, if required.
Where can I use it?
PowerBar™ is an ideal starter mains extension for any level of system. Its robust sockets mean that it is equally at home powering a high end system as it is a entry-level Hi-Fi or Home Cinema system - though we would always recommend our
X-Blocks™
or
PowerBlocks™
to get the best out of mid to higher-end systems.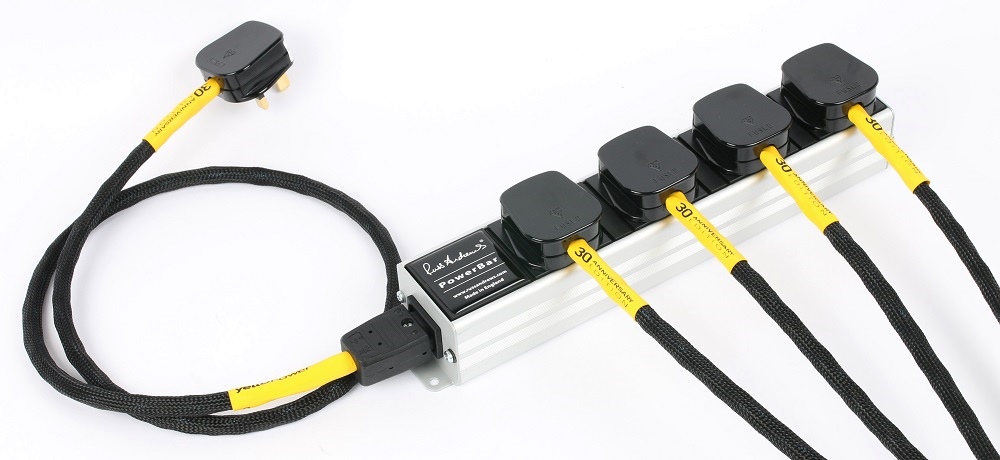 Russ on PowerBar™
"A good quality extension block will use high quality components both in the wiring and the sockets to ensure that the current flows as efficiently as possible. The music benefits by becoming more musical, more dynamic with better bass and a wider, deeper soundstage. The PowerBar™ is a perfect choice if you've yet to upgrade a basic, DIY-store extension – partnered with a PowerMax Plus™, it's a great way to improve your your system's performance"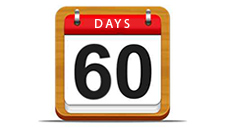 Money Back Guarantee
Don't forget! We are so confident in the performance of this product that it is covered by our 60 Day Home Trial with Money Back Guarantee. Buy the product and if you're not completely satisfied, you can return it within 2 months for a refund. For full details
click here.

Specifications
Extension is manufactured to BS5733
Wall/rack mounting brackets
SuperClamp™ option
Internally wired
Super Burn-in Lite™
10A IEC input socket
Dimensions: the 4, 6 and 8 way height and width dimensions of the PowerBar™ are the same, only the length differs. Height: 46mm width: 59mm

4 way length: 317.5mm

6 way length: 442.5mm

8 way length: 567.5mm
The above lengths include the brackets.

Reviews

"for anyone upgrading from stock cables, especially if they own a budget to mid-priced system… yellO mains cables and PowerBar S extension blocks are a great option, which I thoroughly recommend".
Read more about the Hi-Fi Pig review
here
---
25 Year Warranty
PowerBars come with a Lifetime Guarantee - this means we will cover against manufacturing faults and defects for a minimum of 25 years.
Find out more
Upgrade Scheme
We offer up to 100% part-exchange value when you return your Russ Andrews PowerBar and upgrade to a new, higher quality, extension.
Find out more.
Overall product rating

5

/

5

reviewed by

Phil McGuigan




20 Nov 2022
Yes, I recommend this product.
"
Power Bar Plus Yello Cable
"
I bought the 8 way Powerbar plus Yello cable to provide a neat supply for my mostly vintage hi fi, to go with the Purifier filter I already had. The set up initially looks expensive but is obviously well thought out and is good quality. In addition I work in electrical engineering so I have some idea of component cost and there is not a ridiculously sized mark up on these items, certainly considering their relatively low sales volume. The mains side of my system is now much neater and there is a definite improvement in sound, although I won't be taking bits out to do a comparison! Very pleased with it and will certainly be looking at other items.

reviewed by

Adrian Brand




22 Jun 2021
Yes, I recommend this product.
I've been using a competitor (and much more expensive) block for a few years, which claims to have superior quality wiring and mains filters, but I needed more sockets to accommodate new DAC and phono stage.
I was quite happy with my system's sound and, to be honest, a bit of cynic regarding many claims made about the effect of mains leads etc on sound quality.
Well no longer!
This Power Bar has transformed my system, like a veil has been lifted.
Highs are higher, lows are lower details are more err.... detailed and the soundstage is wider and deeper, blah, blah. all the usual guff.
Yeah all that's true, but subtle. However, the increased dynamics was anything but!!
I can only think the filters in the old block were compressing the sound in some way, and the RA Power Bar has liberated my system revealing the performance it was always capable of.
Amazing, and worth every penny

reviewed by

Andrew, Aberdeenshire




06 Oct 2020
Yes, I recommend this product.
"
Truly Transformational Powerbar And Yello Cable
"
Following the installing of Russ Andrews' 22dB attenuators, the recent purchase and burn-in of the 8 unit Powerbar with Yello mains cable, has been the greatest improvement to the sound of my mid-fi system. Listening to an SHM-Cd version of Abbey Road on a mid price CD player and
DAC, the detail now revealed but previously masked by the ordinary domestic double extension cable, is truly extraordinary. All nuanced bass playing of Paul and vocal harmonies are there in abundance, together with the atmospheric sounds in "Hear comes the Sun". Before upgrading any hifi unit, do consider the Powerbar and Yello mains cable and hear the difference it can make first to your system. Also try putting a hard wood chopping boards under your amplifier and turntable, especially if one has glass shelves.

reviewed by

Russell




02 Apr 2020
Yes, I recommend this product.
"
Exceptional Instant Improvement
"
I'm in the early stages of building a quality audio visual set up. I wanted a solid start which obviously meant the electrics and power needed imoroving. I did some research and went for the 8 socket powerbar & I couldn't be happier. Everything is vastly improved. Treble proving so much cleaner and not at all harsh. The bass is fuller and richer but not booming. I'm genuinely amazed what a difference it's made. It's like I've upgraded my basic equipment so I can't wait to see what it's like when I actually do. My wife was also genuinely impressed so it must be good. I strongly recommend you buy one. You won't regret it!

reviewed by

Kirk short




01 Apr 2020
Yes, I recommend this product.
Purchased this unit to replace another brand power block , as always the Russ Andrews product wins hands down

A more open presentation , clear and better grip on the plugs

Thank you to the team at Russ Andrews for 5 star service
Customer Service Reply
Thank you for your review, Kirk!

reviewed by

Dean Jordan




14 Mar 2020
Yes, I recommend this product.
"
Worth The Investment Once Again
"
This is the second powerbar I have purchased, and like the first improves the system in all aspects. Got this on a pair of Genelec 1032a studio actives and the matching Genelec sub with custom stands source input via a passive Mackie 'Big Knob'. Was always full sounding and clean but this powerbar adds something in the delivery of sound missing before. Music is less shouty, a smoother mid and top end, more grip on bass with an improvement in authority.....yes I know, audiophile speak, but it's there non the less.
Dont see the powerbar as an expensive unneeded item, more an investment that you really do need like a componant or interconnect.
At best you have a really nice power extension that improves the delivery and enjoyment of any system, at worst you still have protection and still a nice mains addition that you will have for decades if not life!

reviewed by

Michael Chapman




28 Feb 2020
Yes, I recommend this product.
I have to say from the start I was not 100% sure that something below £200.00 was going be any good. But how wrong I was the sound from my system has step up to the next league. More bass but with more definition and clarity. Sounds louder but cleaner and clearer. Just listened to Peter Gabriel's album 'SO'. It's just stunning.
Thanks to Russ Andrews for exceptionally good customer service.

reviewed by

mark carter




29 Sep 2017
Yes, I recommend this product.
I use to use a standard 8bar power block, but then a friend recommended R Andrews and i will never go back, the sound is clearer ,smoother bass deeper.Also i am safe in the knowledge that my system is secure from spikes ect

reviewed by

Steven elphinstone




13 Jul 2017
Yes, I recommend this product.
excellent nice clean crisp sound.

reviewed by

William Mclean




10 Dec 2015
Yes, I recommend this product.
Excellent mains block . Improvements in all areas of music . Definitely a keeper in my system .
Buy one , you won't regret it . Worth every penny .