Upgrade your purchase with these options:
Delivery is charged at cost.

overview

It's back!
We are delighted to announce the re-introduction of the iconic Russ Andrews
yellO
Power™ mains lead. Back in the late 1990s, the original yellO cable took the Hi-Fi world by storm; its unique Kimber braided design offered an excellent value mains cable which was a huge improvement over the standard 'kettle lead' supplied with equipment.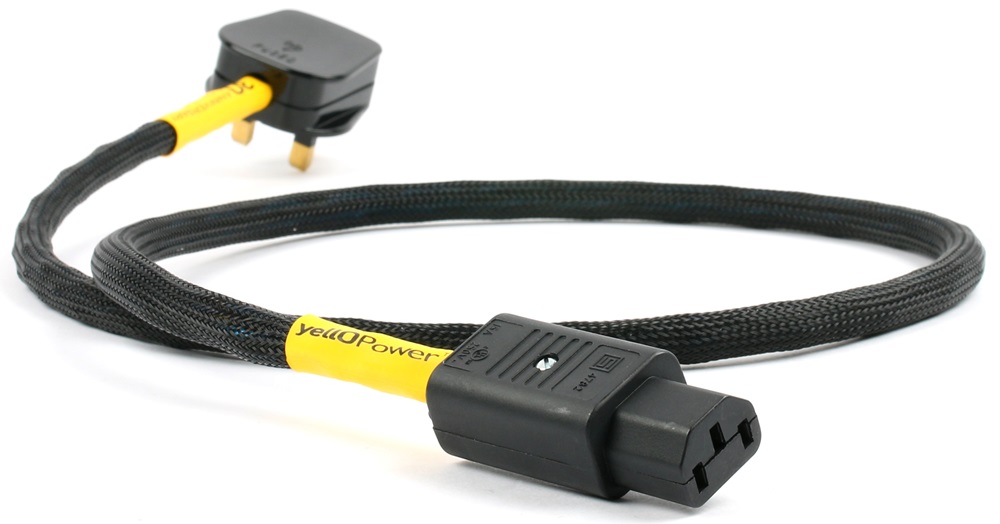 To mark our 30th anniversary in 2016, we decided to update and relaunch yellOPower™ which, once again, brought the advantages of improved mains supply to the mass market.
yellOPower™ Cable Features

8, individually insulated pure copper Kimber Kable conductors
Kimber's unique woven cable geometry for effective interference rejection
Conductor size is 2 x 13 awg (2.62mm²) for live & neutral
Insulated with PVC
Fitted with Russ Andrews Specification DCT 13A fuse
Encapsulated in a flexible, black Tecflex sleeving, with yellow heatshrinks as a nod to the original all-yellow cable
International mains plug options
Assembled in the UK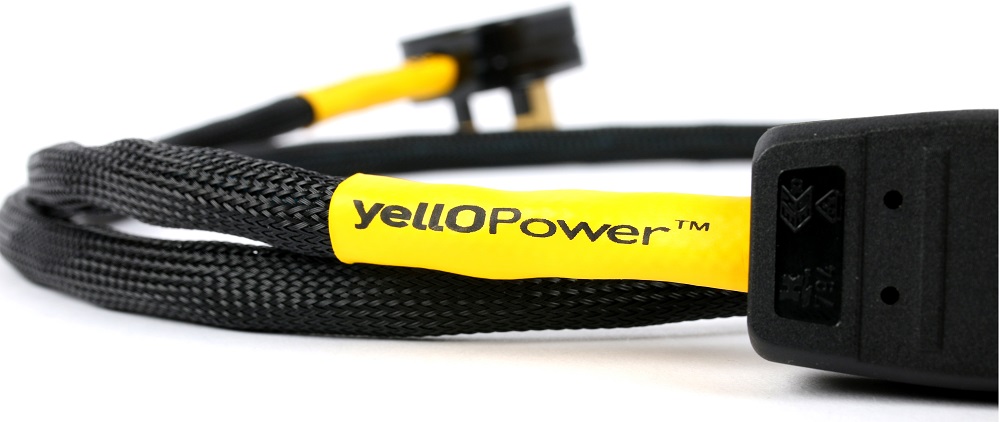 The right connection
Most Hi-Fi and Home Cinema components - such as your CD player or integrated amp - are fitted with a standard IEC, often referred to as a kettle type socket. The
yellO
Power™ cable is fitted with a high quality standard IEC plug as standard.

If your equipment has a mains lead fitted directly into the unit, rather than using a socket, use our Male IEC adapter pack -
click here
Optional Upgrades

We offer a number of additions and treatments to take the performance of your
yellO
Power™ mains cable to the next level. To find out more, click on the icons above right.
---
Money Back Guarantee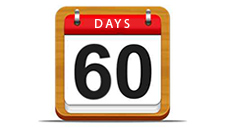 Don't forget! We are so confident in the performance of this product that it is covered by our 60 Day Home Trial with Money Back Guarantee. Buy the product and if you're not completely satisfied, you can return it within 2 months for a refund. For full details
click here.
---
Reviews

"for anyone upgrading from stock cables, especially if they own a budget to mid-priced system… yellO mains cables and PowerBar S extension blocks are a great option, which I thoroughly recommend".
Read more about the Hi-Fi Pig review
here
---

"definitely offers significant improvements over the standard mains leads"
Read more about the Hi-Fi Choice review
here
---

"performs with distinction" and "offers a calming, concise and detailed appraisal of music"
Read more about theaudiophileman.com review
here
---
Is yellO for you?
We're very confident it will be but we also offer our Risk-Free 60-day home trial so you can listen and decide for yourself.
Find out more
.
Guaranteed for life
For your peace of mind, your yellO Power comes with a Lifetime Warranty - we will cover against manufacturing faults and defects for a minimum of 25 years.
Find out more
Overall product rating

5

/

5

reviewed by

Phil McGuigan




23 Nov 2022
Yes, I recommend this product.
"
Yello Power Cable Plus Super Clamp Plug
"
Purchased a second Yello power cable, to supply a vintage mid range cd player. My system now uses an eight way Powerblock fed via a Yello cable, a second Yello cable to the cd player, a Mini Purifier that I already had second hand, plus a Super Clamp plug.
The improvements using good quality mains products, in a joined up way, are definitely tangible, certainly with cd as a source, which makes sense really. The same would probably apply to a streamer.
The improvement the Russ Andrews mains components have made are as important as changing interconnects or platforms. The result is more natural music and less hifi, if that makes sense.

reviewed by

Warren




03 Apr 2022
Yes, I recommend this product.
This is a good starting point with respect to mains cable experimentation. I was dubious. I replaced the mains cable on my phono stage (Trichord Dino Mk3), my DAC (RME ADI-2 fs) and Rel T5/i subwoofer, and was surprised at the differences made. The most surprising result was with the subwoofer, my Rel was faster, more responsive and actually sounded deeper. When connected to the DAC, the sound stage opened up a little more. However, when replacing the mains cables in a number of integrated amps (Rega io, Rega Brio & Naim NAIT 5si), I heard very little difference, if any. I've since tried multiple mains cables at price points up to £200 and still not heard a difference when it comes to these 3 integrated amps. I can't explain it! As far as I'm concerned these yellO power cables (with standard fuse installed) seem to be great for source devices. Your mileage may vary when it comes to integrated amps—worth trying though given the 60 day guarantee on offer.

reviewed by

Richard Stakes




01 Mar 2021
Yes, I recommend this product.
Sometimes it's good to be wrong! For many years I've been sceptical about the potential effectiveness of upgrading my hi fi through the mains. However, I did take the first of two plunges in this area when I bought a YellO mains block about a year ago. The improvement in both the sound stage and the clarity of recordings was almost immediately effective and to the extent that others listening made positive remarks.

After considerable v humming, hawing and vaccilation I returned to buy mains leads for my most used components last week. I am pleased to report that not only did the leads arrive less than twenty-four hours later but again there is alread after some forty eight hours a discernable improvement in the sound stage of my hifi. Altogether, if somewhat belatedly, a very impressive upgrade. Thanks to all concerned for such a positive experience

reviewed by

Rafal Gutowski




04 Jan 2021
Yes, I recommend this product.
I'm very sceptical when it comes to hifi equipment. I must admit, this cables work well. I'd say it's like a finishing touch for the hifi . I'm not so optimistic to say I could hear the sound improvement after 30min of using it but I can hear it now - after a bit longer time - few days of using it for a few hours each day . If you already invested in the equipment such as some good speakers cables, nice rca cables, anti vibration toys , you should try the mains cables too. In my case it works with the marantz pm8006, cd6007 and linear power supply for my chord qutest.

reviewed by

Howard Jones




23 Aug 2020
Yes, I recommend this product.
I purchased two power cords to use with my active speakers. These already have a rather special sound with their use of an eighth-order Linkwitz-Riley crossover network. Adding the power cords has further enhanced the sound, especially in their portrayal of imaging, dynamic range and tonal balance. I was so impressed I bought a power cord for my B&W sub. This too shows marked improvements with a tighter and more tuneful bass.
Customer service is superb and an excellent quality mail service is standard.

reviewed by

Neil




30 Apr 2020
Yes, I recommend this product.
Like some of the other reviewers I came to the upgrade of power cables lark with a bit of scepticism but a HFC review made me take a chance. Tried first on CD transport and can confirm significant improvements just as described - worth every penny. I'm now investing in more for the rest of my kit.

reviewed by

Gary




03 Feb 2020
Yes, I recommend this product.
"
Excellent Cable For New Audiophiles.
"
With an upgrade from NHT Absolute 2 to Totem Tribe Tower connecting my CXA80. I found the new speaker gives me much higher headroom for improvements. Yello is the second entry level power cord I purchased. This Yello gives much wide soundstage, more controlled mid tone, treble, and solid bass. It is clearly better than another popular AQ power cable I bought at similar price.

Absolutely recommend for first time HiFi power cord buyers.

reviewed by

Keith




13 May 2019
Yes, I recommend this product.
My first, and certainly not my last purchase from RA. Like many people I was a little sceptical as to whether I would hear an audible improvement. Within 30 minutes my scepticism was unfounded. The sound stage was better, the increased detail a revelation. A quality product that delivers a quality improvement to system. Highly recommended!

reviewed by

Keith




07 Jan 2019
Yes, I recommend this product.
Just replaced the main lead on my Rega Elex-R amplifier with this and really wasn't expecting much. How wrong was I. More depth, detail and texture is immediately obvious. I already loved my system. Now I do so even more. About to buy more for the other components.

reviewed by

Mark Townley




07 Sep 2017
Yes, I recommend this product.
"
Far From Subtle Improvements
"
I recently upgraded all the mains cables on my system: front end, amp, active sub and sub room correction module to the Yello cables. Very pleased with the improvement and it is far from subtle, transients and sharper, bass more defined and taught with the soundstage much more clearly defined. With more (electrically) noisy mains power nowadays it makes a real difference when you start putting measures in place to counteract it.

reviewed by

Paul Jarvis




30 Aug 2017
Yes, I recommend this product.
I have A very high end hybrid system, which includes Mcintosh/Naim and linn equipment.
I always used what I thought was fairly decent mains cable , that was until I purchased some Yello anniversary cables that had been cryo`d and burnt in.
On first listen my jaw dropped the difference was a revelation , and just kept getting better as they continued to burn in !
now I do not usually do reviews , but felt I really had to because these cables really were that good.
Would I recommend these cable, yes I certainly would .

reviewed by

PwT




27 Mar 2017
Yes, I recommend this product.
"
Big, Big Difference From Standard IEC
"
I recently added a network streamer to my system & was going to use the standard IEC lead that came with it after reading many, many opinions on many, many forums that cables such as those made by Russ make no difference at all. However I thought I'd look at the present state of cables on Russ's site & the YellO power cable & the quite low price caught my eye, & as it came with a two month return if not happy warranty I thought I'd give one a try. All I'm going to say is the difference really was light & day, I swapped back & forth from the YellO to the standard lead & within 30 mins had decided that whatever others the difference the Russ's cables make are huge, with massive bells on. If you have read info on the forums that a kettle lead sounds the same as for example the YellO they don't & that's an absolute – Try for yourself, get your wife (or someone else's wife) ? or whoever to swop the leads round, you will be able to tell the difference, I think!

reviewed by

Karl Todd




04 Nov 2016
Yes, I recommend this product.
"
Inky Black Background With Strong Dynamics
"
Purchased a 2 metre 30yr anniversary yello power lead for a moderately priced tuner. The Russ Andrews team were totally transparent on ordering the lead explaining the large demand for the cable meant a short delay was likely. The item arrived earlier than expected which was great. The lead looks well made and the yellow heat shrink on the ends is a nice touch. The listening test is however the only thing I'm really interested in. The improvements are immediate! Every aspect of fideity has improved. The noise floor has greatly improved alowing gentle woodwind instruments to join the party. Dynamics are superb! Percussion is very convincing. Listening to radio 3 live concerts, it's possible to pick out individuals from the audience during the applause, even the guy that claps out of time.lol
Thank you for improving my adoration of music.
Karl.