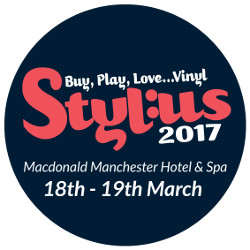 The Stylus show was held over a weekend in Manchester's Macdonald hotel. I arrived on the Sunday around 10.45am and it was very quiet. Talking to one of the exhibitors, it had been a similar situation on the Saturday. I admire Chester Group for arranging a show dedicated to vinyl reproduction and putting it on in a different part of the country but, sadly, there didn't seem to be enough enthusiasm from either industry or consumer.

Oddly enough, this was kind of a double edge sword. The advantage of a large Hi-Fi show is that there is plenty to see and listen to so you have lots of choice. This is especially useful if you are visiting with the intention of buying something new in the near future, because it gives you the opportunity to listen to a wide variety of systems. That has its limitations, of course: hotel rooms are rarely the best location for getting the best out of a system. But there's no better way to get a wide overview of products that you would never find in a single retail space.

There is also an advantage to a smaller show though: you can spend more time in each room and feel more relaxed. Both of these factors have a positive effect. Firstly, there's the lack of stress that comes with trying to work out how you are going to get round all the demo's you want to hear and all the kit you want to see. This frees the mind for enjoying the demos you do attend and allows you to take in far more of the listening experience. And secondly, you have bags of time to look at everything in the show, chat to staff from the various brands and enjoy all the demonstrations you want.

In that vein, my first stop was to spend 45 minutes listening to Sgt. Pepper's Lonely Hearts Club Band in the room that featured 'Classic Album Listening Sessions with Mr Drayton'.




Classic Album Listening Sessions with Mr Drayton
This was my first experience of a communal live vinyl session and it rather reminded me of going to the cinema. Much as the communal experience is unique to the event
- you are sharing this with others in
the
audience which adds to the liveness of the session. Then of course there's the opportunity to hear the album played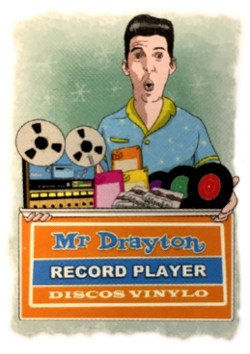 back on a good system. Again, this can be good, depending on the level of system you're listening to at home.
That's a tricky one though, and one where the comparison with home cinema breaks down. Chances are, the sound system and size of the screen will generally be of a higher quality at the cinema. On the other hand, a hotel room is not the best place to be listening and is probably a lot worse than your home. Likewise your own system will be tuned to your own preference. Even so, it didn't sound bad - better indeed than may a system I have heard at previous shows.

Where it does mirror the cinema experience, unfortunately, is in having to share the experience with others who may not treat the event in the same way as yourself - I had one chap sitting in front of me 'singing' along to every track joined by another fellow behind me who was tapping out the rhythm on my chair leg!
I suspect that where Mr Drayton presents these events in more dedicated spaces with a broader audience this could be a very enjoyable experience. I liked the way that the soundtrack was accompanied by a slide projection of various Beatles images relating to the creation of the album and its different tracks. The man himself - a former stand-up comedian - was highly enthusiastic and entertaining. Again, I think this would be even more apparent at his usual events.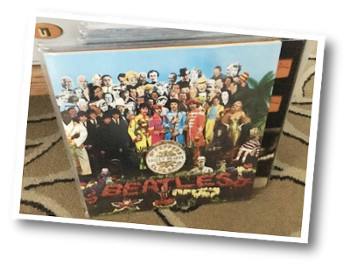 I had a chat with Mr Drayton after the session and he confirmed that his usual 'gigs' were more of a social event with a quiz centred on the album between playing the two sides and were followed by interesting and varied discussion after. It tends to attract a younger audience he reported - a highly enthusiastic group but he always has to start the session by teaching them how to sit and listen without checking their phones all the way through!

Mr Drayton holds regular events in the Newcastle-Upon-Tyne area - try a Google search for Mr Drayton's Record Player for up to date information.
So, there you have it. My first 45 minutes of the show spent in one room listening to one album. I've never done that at a show before and probably never would have if it wasn't for the knowledge that there was still plenty time to get around everything else. Maybe there's something in this small show format...




Audio Technica - VM Cartridge range.



A really interesting demo from Audio Technica highlighted to me just how sensitive a piece of equipment a turntable is. Using an upgraded version of their LT-LP5 turntable the demonstration showed how simply changing the stylus on the cartridge assembly could bring significant improvements to the sound. I think I'm right in saying that this version of the AT-LP5 will be available to buy for around the £700 mark later in the year - the point being that this was not some lavish high-end set-up so illustrated the fact that the results of these changes can be heard on very affordable systems.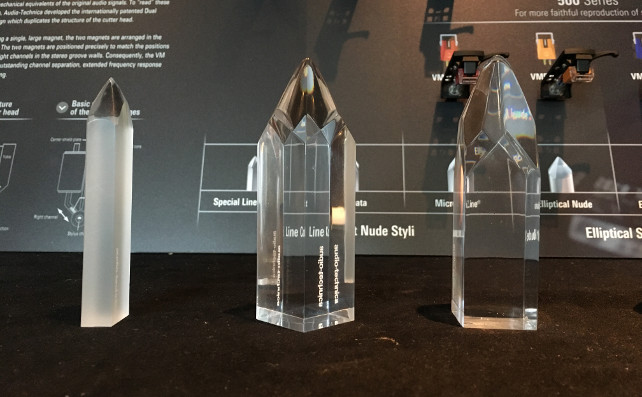 An excellent display featuring large scale replicas of the different styli presented a very clear way to understand the design and manufacturing differences between the models, but it was in the listening that this became really clear. This was aided by the fact that the main body of the cartridge remains the same throughout so the only change was in the stylus assembly itself. This was a simple affair of just detaching the assembly and plugging in the replacement - the whole process taking a matter of seconds so as to avoid long gaps between plays (which could have made it more difficult to compare).

We started with the beginning of the range in the form of the VM510CB. This utilises an aluminium cantilever with a diamond stylus bonded at the tip. It produced a perfectly listenable and inoffensive sound that you would be perfectly happy with but I suspect would equally have that nagging feeling the something was missing.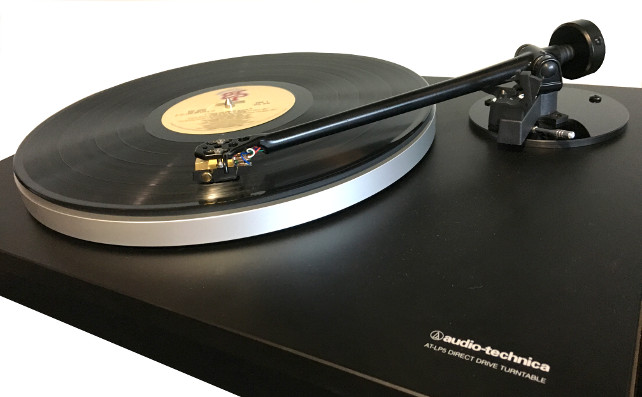 Moving up to the MicroLine range confirmed this. Here the conical stylus of the previous model was replaced by what AT term a Line Contact Stylus. According to their literature, this design has a greater ability to track the groove and allows styli to have a deeper contact with the vinyl groove. "This enables the sylus to fully reproduce all content of the vinyl record with reduced stylus and groove wear".

Whatever the theory, it certainly had a positive effect. Suddenly there was more life and 'zing' to the presentation. The extra detail meant that lyrics became clearer and cleaner and this had the effect of drawing you deeper into the meaning of the track. My ears pricked up and the overall sound became much more balanced and natural. I now wanted to know more about this album (Bobby Womack: 'When the Weekend Comes' from the album Womagic).

Next step - and to my ears the biggest - was to the Shibata model. All the benefits of the MicroLine but where did those backing singers come from?! Not only that, but the 'feel' of the recording comes out much more. You get a much greater sense of the album production values. The track feels more like a live recording with vocals and instruments relating and 'conversing' with each other. For me, this musical aspect to the presentation wasn't bettered in the demo. The next move up to the Special Line Contact was more of a sideways step rather than clearly upwards like the others. Worthwhile insights into leading edges and more definition between individual instruments and vocals, yes. But in terms of overall enjoyment of the music - listening to this one track anyway - I'm not so sure it had that X-Factor to justify a move up.
Project the sound of the room.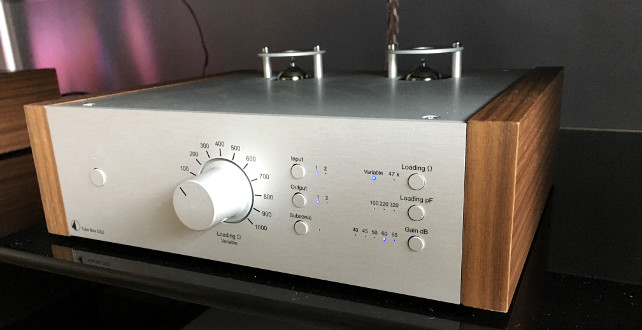 I recently edited an article for our website taken from Russ's book Sound Solutions which concerns room acoustics (click here to check it out - there's lots of interesting stuff in there). In that article, one of Russ's key points is that your system does not work in isolation from your room but in conjunction with it. This point was brought starkly to my attention in the room demonstrating a new line of components from Pro-Ject.
It's a constant problem with hotel rooms at shows - they are not designed for audio. This is often one of the contributory factors as to why visitors to audio shows can often find the sound of systems rather disappointing (that and the poor quality of mains of course). Pro-Ject were demonstrating their new SuperPack version of the Pro-Ject Classic turntable, which included an upgrade to the Quintet Red cartridge and a separate speed control. The sound was decent enough with a pleasing midrange and smooth yet detailed and articulate treble. Sadly, this was accompanied by a rather boomy bass and overall boxed in character.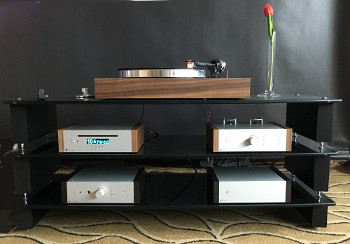 Taking a couple of steps forward and to the side had a marked effect though. In an instant, everything became more open, focused and balanced - no more of that boxiness and boom. Now you could appreciate this new range to the full. I must admit, I had been disappointed. This new range consisted of half-width components finished in silver with wooden side panels and really looked the part. My initial disappointment with their performance illustrated very well the value of experimentation with positioning your system in the room. If you are a bit short of space and looking for a smaller system, these are worth an audition.
Inspire Hi-Fi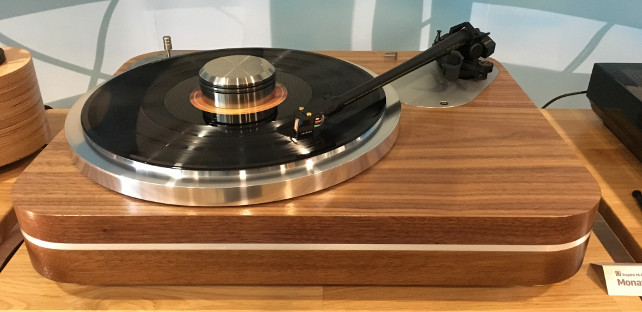 I've heard it said that vinyl can be excellent for listening to mellower music such as jazz and classical albums, but its 'soft' presentation can extract the excitement from pop and rock genres and it just doesn't cut the mustard. Well, if it's excitement and attack you're after from your vinyl, this was the room for you. Playing The Sheffield Track and Drum Record instrumental Le Ballade the system had all the punch and vibrancy you would expect from a digital system. Did that mean it wasn't really vinyl-like, that, if this was the sound you wanted you'd be better off with digital? Not really, no.

OK, so the warmth and soulfulness that can often be associated with vinyl, especially when fed through valves, wasn't how you'd describe this experience. But it did have some of that extra subtlety and musicality that's often difficult to achieve in the digital realm - especially at shows in my experience.
Sound Leisure Jukeboxes
I never fail to be surprised by the range of

world-leading companies that you can find hidden away on trading estates around the country. At a recent marketing event in Kendal, I sat next to a couple from the next estate to us from a company who's the biggest manufacturer of white boards in the UK. Somehow I thought such a business would be located in one of the major manufacturing bases like Birmingham or London but there they were, right next door.

I was similarly surprised to find that a company from Leeds has been manufacturing superb Jukeboxes for the last 35 years and is now one of the top two manufacturers in the world employing over 100 people. They even export container loads over to the USA!

The products on display looked stunning, replicating the classic design of Jukeboxes from the 1930s and 1950s/60s. Whether you wanted traditional vinyl versions or a more convenient CD set-up, all also came with a Bluetooth connection so you could also stream your music directly to the machine.

Performance-wise they had a classic Jukebox sound - not up to the exacting standards of an audiophile but that's not the point. Listening, you could imagine you were sat in a coffee bar in 1960s Soho, a sound that could be described as boxed in in normal Hi-Fi conditions but here it was 'just right'. If you can afford one - most models seem to fall in the £6,000-8,000 - you won't be disappointed.
Final thoughts...



That brings me onto a more general observation about the Stylus Show: what I did notice at this vinyl-only event was that there was no room I couldn't bear to stay in. Many shows I have been to over the years have had a number of rooms with systems that, to my ears, have sounded so harsh and strident that it hurt and I couldn't stay in the room. In this case, although some systems clearly sounded better than others, not one of them had this effect - that has to be a good thing!

It was also interesting to see that the audience for the show was very much the dedicated type of Hi-Fi enthusiast we see at other Hi-Fi shows. Nothing wrong with that, of course, but I suspect part of the desire to present a specific vinyl show would be to attract a number of those new, young vinyl aficionados we keep hearing about. I didn't see one person who fit that description whilst I was there. That, I think, is not necessarily a fault of the show per se, but maybe reflects the truth that many of the new breed of vinyl buyers are not so much interested in ultimate sound quality as we would like to believe (you just need to see the quality of the vast majority of turntables for sale on the high street to see that!).