It's Hi-Fi Jim, but not as we know it.
Being a traditional 'Hi-Fi' type, I've never been to a
dedicated headphone show before, so this was a new experience for me - and an informative one too. There are many who think that headphones are anathema: true Hi-Fi is two-channel audio using loudspeakers and that's it. If you are of that view, move on because you're not going to like what you read here.

Let me start by clearing one thing up: headphones are never going to sound the same as a traditional Hi-Fi. That would be like trying to compare a car to a motorbike - both basically have the same purpose of getting you from A to B, but they achieve this is completely different ways. To criticise a bike because it doesn't have a very large boot would be ridiculous and is completely missing the point.
Hi-Fi and headphones are both trying to help us enjoy listening and that's the only common denominator we need to consider.

Ok, lecture over.
On with the show...
The first observation I had was that CANJAM was a very different type of show to the typical Hi-Fi event. Number one, it all takes place in one large room. Because there's not the same issue with noise leakage as there is with loudspeakers - can you imagine a Hi-Fi show all in one room?! - and because headphone systems take up a lot less space, it's easy to get a wide range of exhibitors in a relatively small space. This means that visitors can get round a lot more in the day, simply because everything is so close, and because you can see everything it allows you to pick the display that has a listening station available - no waiting in queues to listen to a system in a crowded room.

This all seems to change the dynamic of the show with visitors appearing to be far more relaxed and unhurried. I was there for the whole weekend but there was plenty to keep me occupied throughout that time. Here are what I felt were the most noteworthy exhibits...
Cavalli Audio / Mr Speakers / Axios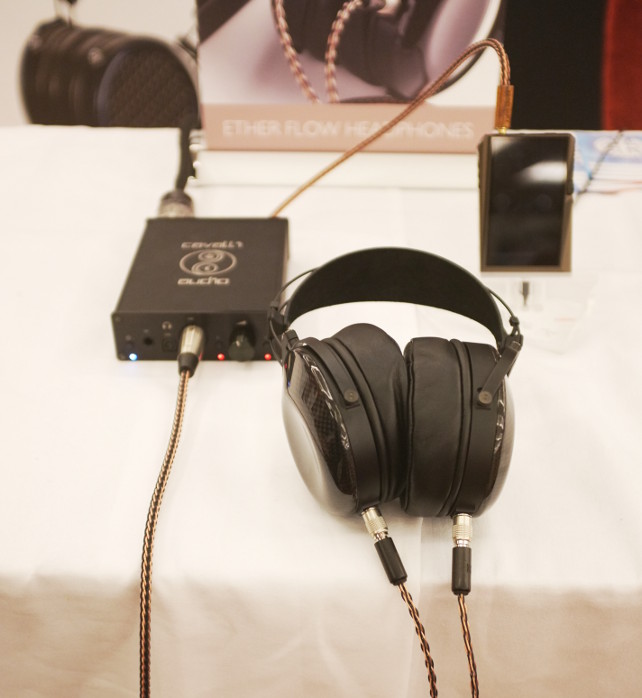 Tricky one this. My attendance at the show was largely down to supplying Russ Andrews' mains, Kimber interconnects and Axios headphone cables for their display, so I can't really be considered as neutral here. That said, I must honestly say that the combination of these three brands presented a musical performance that exceeded anything else I heard at the show. To be fair, even with two days, I still didn't get to listen to everything - one omission in particular was the MSB demo which I was unable to secure a timed slot to hear - but regardless, I would be very satisfied with this system.
They had a number of products on show, ranging from a small portable setup up to their flagship models. First up was the limited edition Cavalli Audio Liquid Carbon amp fed by an Astell and Kern Digital Audio Player through Mr Speakers Ether C Flow headphones. All connections were Kimber Axios including a mini to mini version to connect the DAP to the amp.

This is a system
small in size but big on performance and value. Yes, it's not a bargain basement system - this will set you back over £3000 for the amp/headphone/cable combination - but in the context of traditional high-end audio, that's small change. And the presentation of the music that it brings is far beyond your average headphone setup. This is a portable system that you would be happy spending hours listening to and never feel as though you needed anything better. Until you listen to the Liquid Tungsten that is...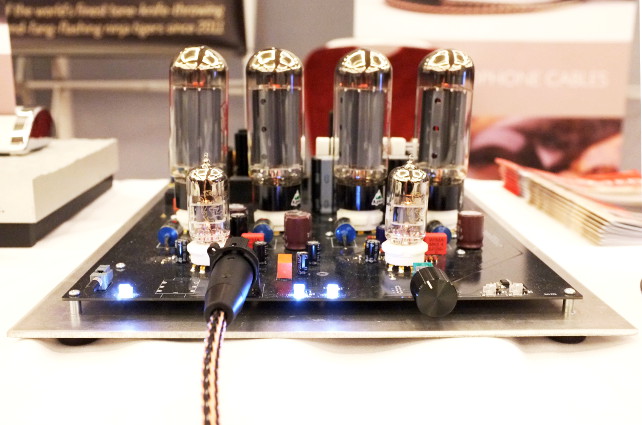 The Liquid Tungsten amp is Cavalli's new flagship model. In a change from the previous solid state range-topper, the Tungsten is a valve based amp and was on show in 'naked form' so all the internal structure of the amplifier was clear to see. Stunning though it was to look at, this paled into insignificance compared to the way it sounded. Sublime is the word that springs to mind. I have never heard headphones sound so good.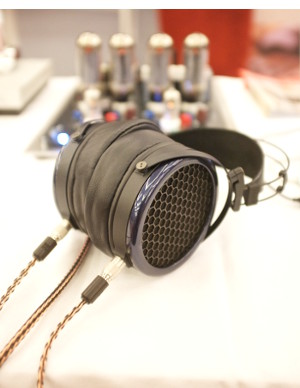 The insight the system gave to the performance, via the Mr Speakers Ether Flow headphones (the open back version of their Ether Flow model) and Axios cables, was just stunning. A PowerKord-100 fed the amp and Chord Hugo DAC with Kimber Select interconnects providing the link between the two.

It's worth mentioning here too just how comfortable these headphones are. I find this can have a major impact on the enjoyment that a pair of headphones can bring to my listening - some high end cans are really rather heavy and cumbersome and this can become rather destrative within a short space of time. These models are very comforable and extremely light for their size, and that's not even considering the superbly natural sound they reproduce.
?
Listening to 'So What' from Miles Davis's 'Kind of Blue' - a track I had listened to on a number of other systems at the show, including the Sennheiser Orpheus at €55.000 - was literally a spine tingling experience like nothing else I heard.
The combination of the Ether Flows, Liquid Tungsen and Axios conveyed the track in a historical manner that I have never experienced outside of the two Olsen systems built by Russ. By this, I mean that the replay was so intimate, so immediate, that you felt a direct connection to the actual moment the album was recorded. Given this, and especially considering what you can spend, the price tag of around £8000 for the full setup is a steal.
Rupert Neve RNHP headphone amplifier.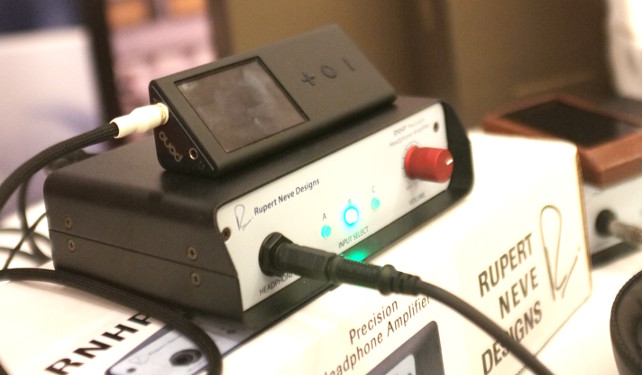 At the other end of the scale was a new name to the world of headphones although one that couldn't be more established in the professional recording environment. As their General Manager Josh Thomas said to visitors, "chances are, your favourite album was recorded via a Rupert Neve console".

Rupert Neve is a legendary pioneer of recording technology whose career spans over 80 years. He needed to make a headphone amp for his own studio use but the response from fellow professionals and enthusiasts was so positive that Rupert and his colleagues decided to develop the unit into a small headphone amp suitable for home as well as studio use.

Thank goodness he did! This little box reflects all those years of experience in a musical presentation you wouldn't expect from a circa £500 product. Paired with a set of Grado headphones - not by any means a high end model - and a Pono player, the RNHP amp drew me into the performance like many more expensive combinations could never do. I was relieved, because, to be honest, I really wanted it to perform as good as it looked. The quirky retro styling and compact size are very appealing, but so often in these cases the sound disappoints in comparison. Not here.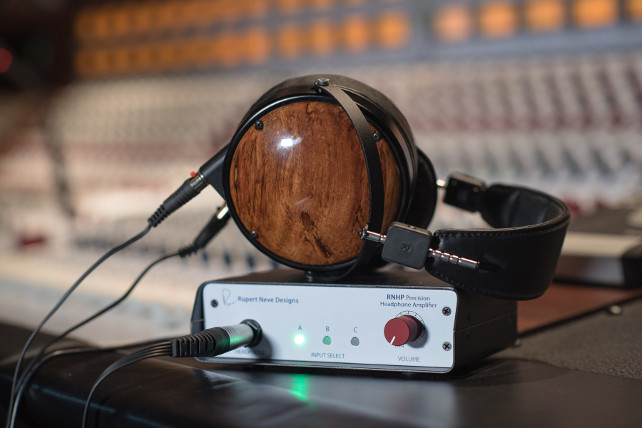 OK, if you want a forward, in-your-face sort of sound, you'll need to look elsewhere. But that doesn't mean that the RNHP lacks excitement; not at all. It's just that it manages to present different genres in an exciting way that draws you right into the performance, but without being fatiguing at all. This is an amp that somehow
managed
to
be stimulating and warm and inviting all at the same time. In that, it rather reminded me of the Cavalli/Mr Speakers/Axios grouping...
From the sublime to the ridiculous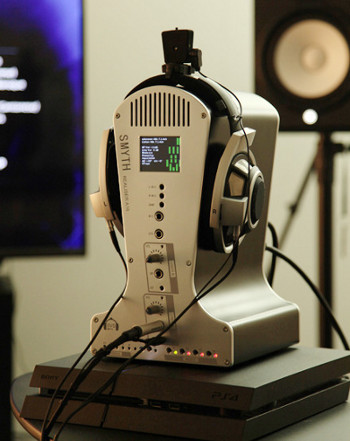 Ridiculous in a good way that is...

Smyth Research produce a product that is like no other I've come across before. It replicates the full Home Cinema experience - up to 16 channels with Dolby Atmos surround sound. OK, so what's it doing at a headphone show? Well, here's the thing; it does all this through a standard pair of two channel headphones! I know what you're thinking because I was thinking the same thing. But it does actually work.

The demo they set up was very impressive. I sat down in the middle of the room with a TV in front and 12 speakers around me, including four at high level. I was then fitted with microphones on each ear to 'calibrate' my position in relation to the speakers, turning my head to the left, centre and right following the audio signal. Once this process was finished, I was given a set of Sennheiser HD800's which featured what seemed to be a gyroscopic device. This enabled the headphones to switch on and off according to whether they were vertical (on the head) or horizontal. In the latter position, the signal was sent to the speakers. So you had a convenient way of immediately comparing the sound between the headphones and speakers: clever.

So, there I sat with the headphones on watching the beginning of Mad Max: Fury Road playing on the screen. Clearly, they weren't working properly, because the sound was still coming out of the speakers. At least, that's what I thought. Amazingly, the 'phones were working and what I was listing to was a full surround sound experience. This was very impressive indeed.

The clever processing in the Realiser A16 appears to feed signals from up to 16 channels with micro differences in the timing, allowing the brain to be fooled into thinking that the signals are being heard from different distances and angles around the room. The effect is very convincing and has the advantage over a conventional 'real' home cinema in that there are no room acoustic issues to be overcome. Effectively, you can listen in the perfect listening room.

The Smyth Realiser A16 is currently on Kickstarter until the September 10th 2016.