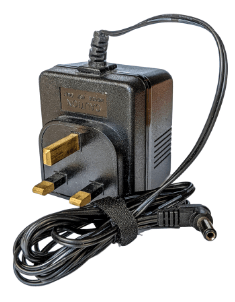 More often than not, the reason for this is to keep the manufacturing process simpler and also to save on costs (such power supplies are readily available 'off the shelf' for very little money). This allows the manufacturer to focus all their energy on the design of the component itself; trouble is, these supplies can often create a lot of mains noise and interference which has a direct, negative effect on the sensitive components inside the audio unit itself. So, what to do?

Upgrading the power supply unit (PSU) is one of the simplest and most fundamental improvements you can make. It's something that a few manufacturers recognised a long time ago, with respected brands such as Naim and Cyrus having offered upgraded PSUs for many years – think Hi- Caps and Flat-Caps with the former and PSX with the latter.

We produce a number of superior power supplies for an ever-expanding list of components. These offer vastly improved performance over the cheap and electrically noisy units often supplied as standard and are a straight swap – you just need to check whether we've made a supply for your particular component before. If we have, it will be listed at russandrews.com/choosepsu (or phone us). If your model isn't listed, don't despair; just contact us and the chances are we'll be able to make a power supply to suit. We'll show you how to confirm the specifications next…
How to choose your upgraded PSU.
The first step is to get hold of the original power supply and take a look at the label, as this lists most of the information you will need in order to assess whether a replacement is available.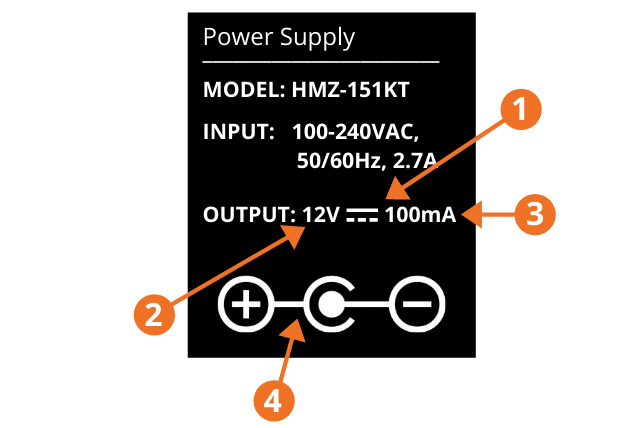 1. AC or DC – the following symbols indicate whether the supply is an AC or DC model:



2. The output voltage. This will be shown on both AC and DC power supplies and is the voltage to supply the component.
3. As well as the voltage you also need to note the current. This is most often shown in milliamps (as in the illustration here) but sometimes as amps (in this example, this would be shown as 0.1A as this is equal to 100mA). Shown on both AC and DC supplies

4. DC supplies only – the small, cylindrical plug at the end of the power supply cable will be wired with either 'centre positive' or 'centre negative' polarity. This means that the centre of the pin carries either the positive or negative pole and must be wired correctly to avoid damage.



Using this information, you can see that the PSU label shown here is for a 12V DC supply, 100mA, wired centre negative.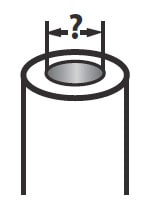 In addition to this information, we will also need to know the size of the connector plug on your existing supply. There is no standard formula for plug sizes. For example, a 12V supply does not come with one specific diameter plug and a 24V with another. This means you will need to measure the inside diameter of the plug. [WARNING: unplug the power supply from the mains before making any attempt at measurements.] This is a critical measurement and tolerances are extremely fine. For example, the two most popular sizes 2.1mm and 2.5mm differ by just 0.4mm. A Vernier caliper is best for measurement or to guarantee the right size, send your existing psu to us.

And that's it: armed with all this information, the easiest thing to do is phone us on 01539 797300 and we'll be happy to confirm all the details and ensure you get the right option for your component.
The Options.
1. DC Power Supplies.
---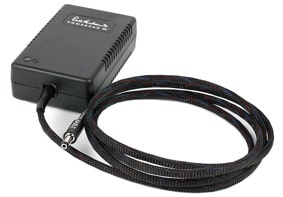 We have two options for replacement DC power supplies; PowerPak II and The Supplier DC.

PowerPak II - a 12V model and can be used on any piece of equipment that requires a 12V DC power supply no greater than 2 Amps (24 Watts) and wired with a centre positive 2.1mm plug.

The Supplier DC – our very best DC power supply - is available in variants from 5V/12A to 24V/2.5A suitable for a wide range of DC powered components. The Supplier DC features our superbsounding Russ Andrews Switch Mode Power Supply which incorporates Kimber Kap and Panasonic audio grade capacitors and also uses Kimber Kable internal wiring to link the input and output sockets to the power supply. For good measure, our Silencer mains filter is fitted as standard.
2. AC power supplies.
---
There is one, high-specification option for components requiring an AC supply:

The Supplier AC - features a precision rack-wound transformer which gives better tolerances and superior stray magnetic field rejection than some high-speed wound types. Regulation is also far superior to off-the-shelf designs – for example, manufacturing time is estimated at four times that of a high-speed wound transformer to ensure precise accuracy.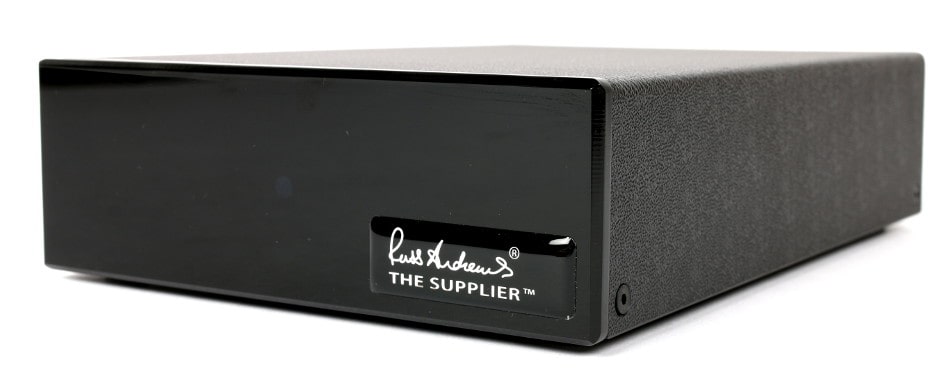 As well as accommodating an extremely high quality transformer, The Supplier AC also includes Silencer mains filtration on the input. All internal wiring is Kimber. A cool, yellow LED shows unit operation. Available in three variants: 12V/1A, 16V/1A or 24V/1A.

N.B. All our upgraded power supplies require an additional mains lead - we recommend our YellO Power or better.
Other related articles
What is a Power Supply? - Russ explains exactly what a power supply and what is does