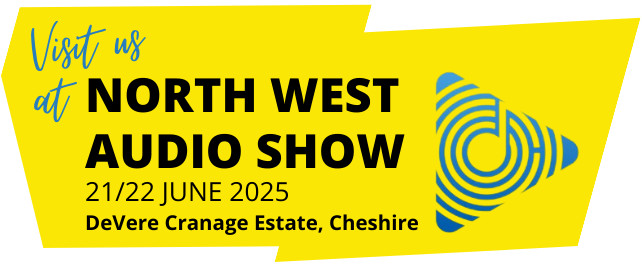 The eighth edition of The North West Audio Show will take place on the 17th and 18th June, 2023 at the De Vere Estate, Cranage in Cheshire.

Once again, we'll be there with a selection of Russ Andrews and Kimber Kable products, and John, Peter and Simon will be available all weekend to answer any of your questions.

Tickets are free but limited, so you'll need to reserve yours by clicking here.



WHAT'S ON?



Hi-Fi & Home Cinema
A fantastic opportunity for music lovers to experience the very best in audio from around the world. Whether you are interested in revisiting established household names in Hi-Fi or looking to explore more boutique manufacturers, you can rest assured that the North West Audio Show (NWAS) has something for everyone.

Many also enjoy getting the very best out of the home cinema experience and with this in mind, visitors to the show will be able to see and hear some of the very best in this sector. The organisers have also invited exhibitors to demonstrate what is available with regards to home audio and home automation.

Lectures and Presentations
The show will have a series of lively and informative lectures and presentations. Check the website for up-to-date details.

Vinyl
Whether you are looking to buy new or used, the North West Audio Show's vinyl retailers will be sure to have something that suits. These are usually situated in the main thoroughfare of the show to create a marketplace-like vibe that is always buzzy and always busy.

Headphones and wireless tech
Whether you are looking for a simple upgrade from the earbuds that came with your phone or are wanting to explore a full-on audiophile experience, the show will have something for everyone. Exhibitors will provide hands-on experience, enabling you to make informed choices when looking to purchase headphones, digital audio players, headphone amplifiers, etc.
Live Music
Scott Wainwright, a Yorkshire-based singer-songwriter and instrumentalist, will be live from 12 o'clock in the Tampus Bar courtyard on Sunday 18th.

His music draws from various musical genres including Blues, Gospel, Folk, Jazz and Hip Hop as well as various 'World' musics, such as African, Hawaiian, and Indian.

Writing and performing both vocal and instrumental pieces, Scott records regularly and now has a vast and diverse back catalogue of material.
Download the mobile App
There is a mobile app, available for iOS and Android, featuring all the key information you need to find your way around the show - download from you usual app store.
Where is it?
The North west Audio Show takes place at:
The De Vere Cranage Estate
Byley Lane
Holmes Chapel
Cheshire
CW4 8EW.

Getting There By Rail.

The nearest mainline railway stations are Crewe and Macclesfield, which are approximately 20 minutes by taxi from the hotel. The nearest local station is Holmes Chapel, just five minutes away and convenient when travelling to/from Manchester city centre.

Getting There By Road.

De Vere Cranage Estate is easily accessible from the M6 via the A50. Use the following navigation coordinates (53.211199, -2.375869) and postcode (CW4 8EW) to find the hotel. Parking is extensive and free for guests of the hotel, conference venue, and leisure club.
Click
here
to visit the NWAS website.