Russ Andrews Network Switch
Mains cable:
Upgrade your purchase with these options:
Delivery is charged at cost.

overview
Russ Andrews Network Switch
Here at Russ Andrews HQ we're continually looking at ways to improve our reference Streaming System. Computer Audio is by its very nature more complex than most Hi-Fi systems, incorporating components used in the network that are more often mass-market I.T. products, built down to a price.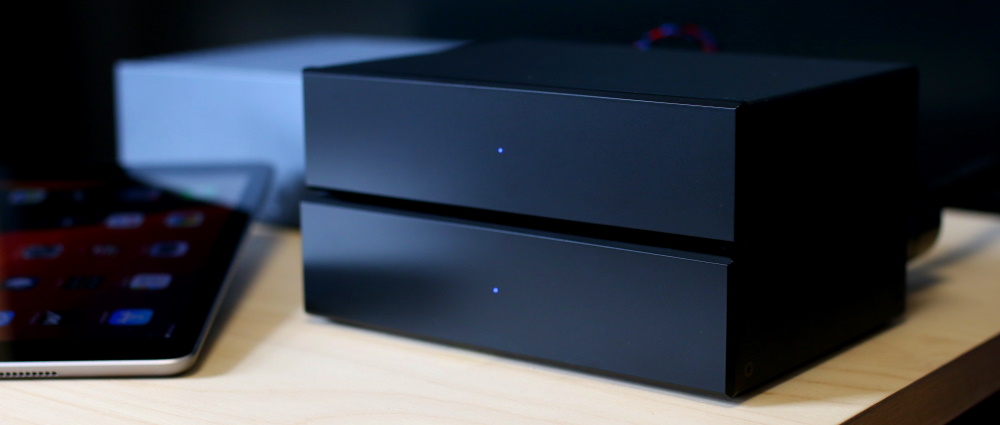 We looked at ways we could improve these network components, and indeed several customers have asked us to do just that. We have long suspected that the commonly-available network switches are a weak link, and after a period of intense R&D, we're delighted to launch our Russ Andrews Network Switch.

Custom throughout...
Our objective was to make the best switch we could. At its heart is a bespoke Trichord Clock, used to co-ordinate the timing of the digital signal; Trichord's low-noise clocks are highly-regarded when used in CD players, Blu-ray players and so on, and the clock is a custom-built one, specifically designed for this application.
The network switch also uses Russ's preferred capacitors, Kimber Kable internal wiring and is fitted with eight specially damped and shielded RJ45 gigabit ethernet ports.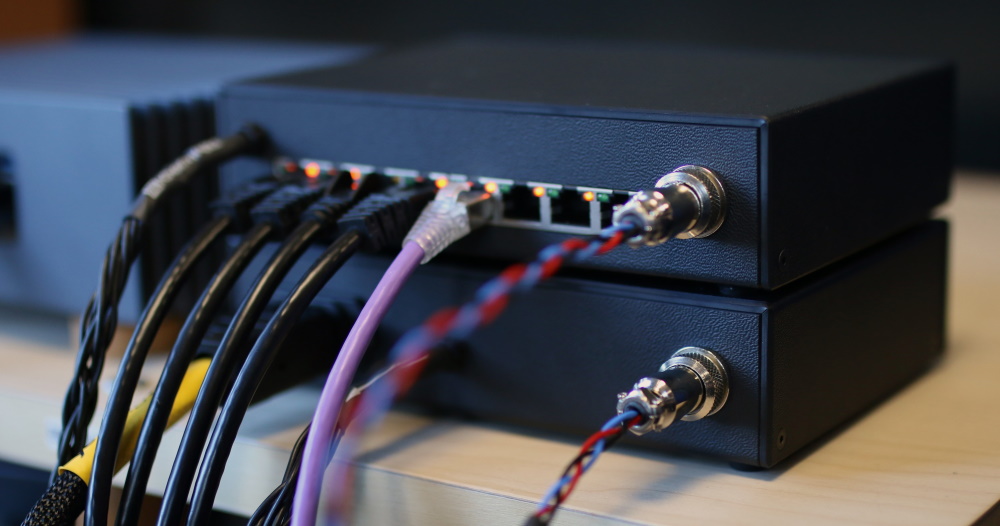 Power is key...
Considering the importance of a high quality power supply for the efficient operation of these sensitive components, the switch is powered by a separate, Russ Andrews dual-output power supply, of the same performance as our Supplier DC.
The power supply is unique to the switch – one output powers the switch itself, and the other powers the internal Trichord clock. The connection to the switch is made with a 0.3m DC lead made with Kimber's PBJ cable, with locking connections for a secure fit to both the power supply and the switch.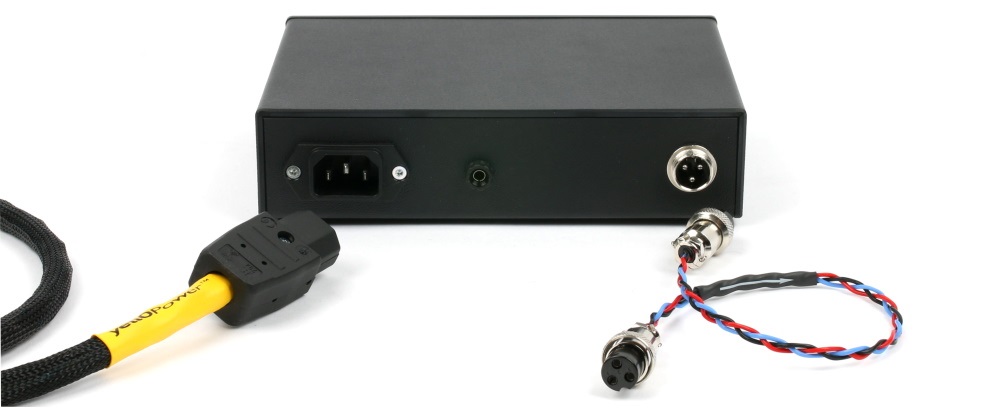 The network switch's power supply has a 10A IEC mains input, for connecting the supplied 1m YellO Power cable. We can supply the switch without a mains cable if you already have one to use, or wish to fit a higher quality one.
Technically grounded...
The switch and power supply are supplied in their own, separate custom-designed ABS cases, each of which sports a 4mm grounding terminal to make it easy to incorporate them into Russ's recommended grounding system if you wish.

Who the switch is for
This is clearly a premium network switch, but in our opinion you need to think about it as an essential component in a well-set up streaming system. Our diagram shows how it can be incorporated into a streaming network, used alongside an existing modem/router.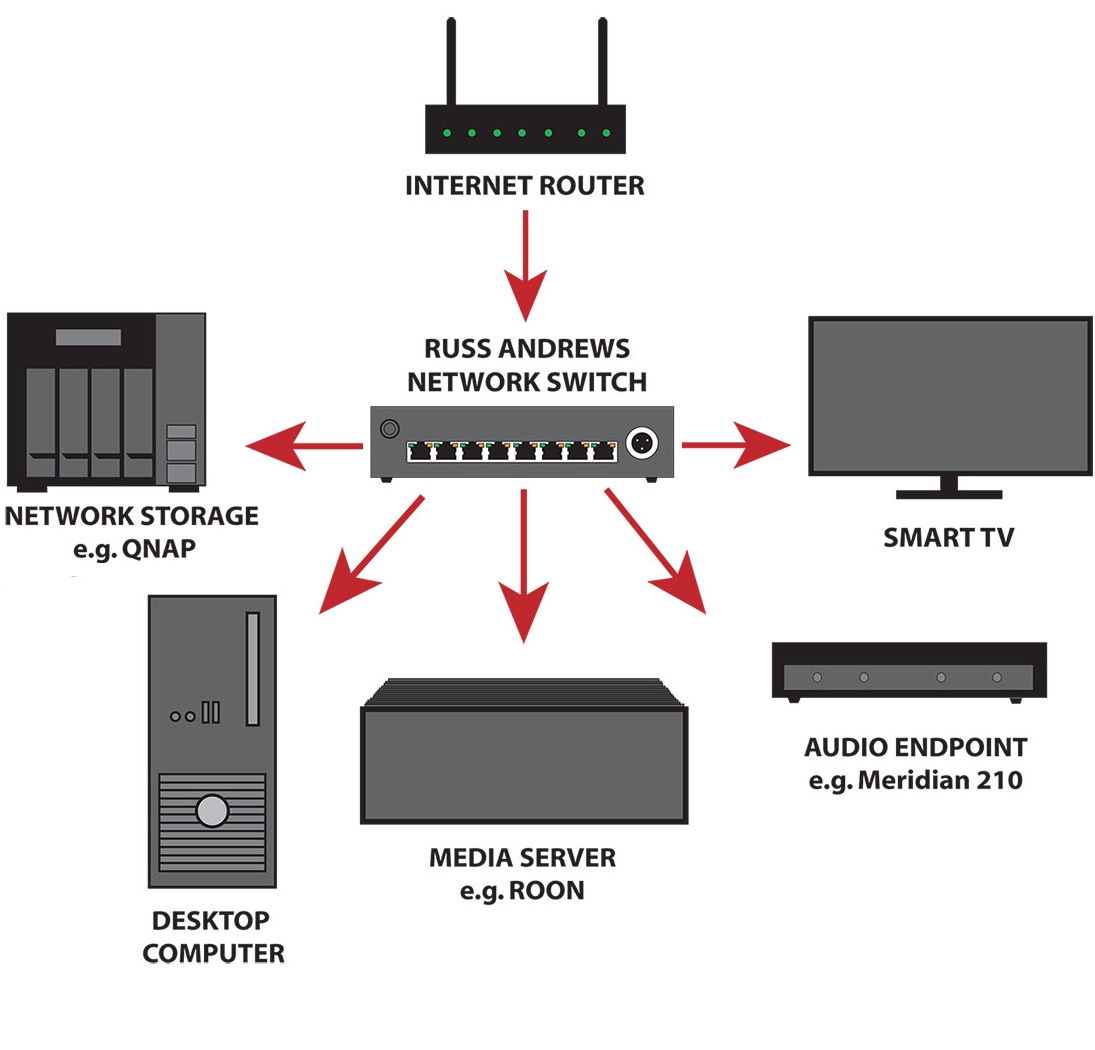 Installing the Switch is incredibly simple and requires no previous networking knowledge. It's a true 'Plug and play' device making it easy to instantly connect your devices together to create a network without fiddling with any settings whatsoever!
Specifications
---
8 RJ45 gigabit ethernet ports with additional shielding and damping
---
Custom, matching ABS cases with blue power indicators
---
Re-clocked with custommade Trichord clock
---
Custom Russ Andrews The Supplier DC with dual voltage output
---
Internally wired with KIMBER KABLE
---
4mm grounding socket
---
Panasonic audiograde capacitors in circuit
---
Russ Andrews 0.3m DC link cable made with Kimber PBJ and locking connectors
---
Supplied with 1m YellO mains cable
---
Made from impact and fire resistant UL-90-V0 ABS
---
Two Year Warranty
---
Dimension of each box: W:187mm H:47mm D:130mm
---
Overall product rating

5

/

5

reviewed by

Sean




21 May 2020
Yes, I recommend this product.
I am not new to the concept of upgrading a switch after previously upgrading the power supply on my Netgear switch with a RA Powerpak. This had a meaningful impact, but was nothing compared to the new RA Network Switch. From the very first notes there was a more analogue sound, increased musicality and detail taking the sound to a whole new level. For those that maybe sceptical about what a switch can do, you can try without risk as RA offer a refund. This is an exceptional product.