Upgrade your purchase with these options:
Delivery is charged at cost.

overview
Signature PowerBlock™
One of our most distinctive and iconic products, our PowerBlock 8-way mains extension has had a major update to celebrate its 20 year anniversary. The improvements we've made to it ensure that it remains at the pinnacle of our power extensions range – if you want the very best, this is it!
What's new?
New sockets, more wire and a new wiring layout!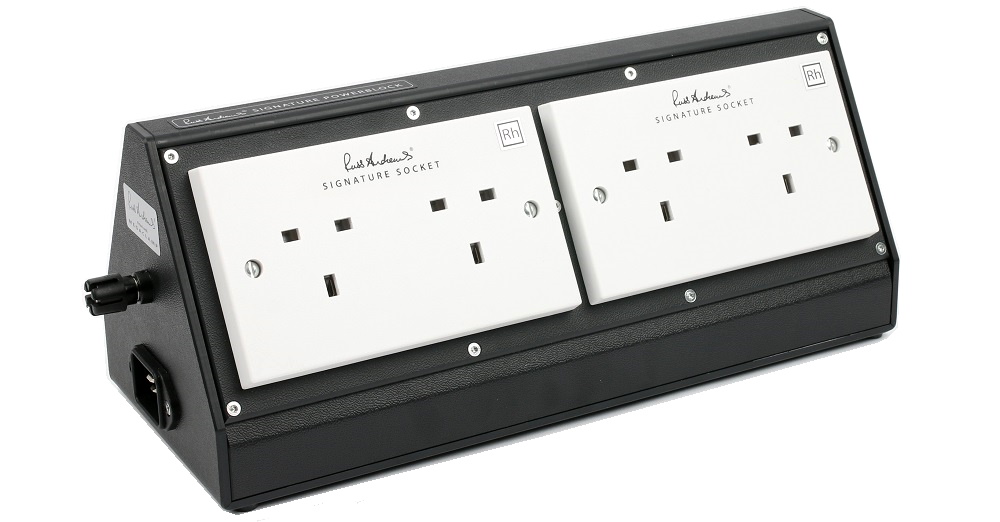 Russ Andrews Signature Sockets™

The Signature PowerBlock features four, double, 13A Rhodium plated
Signature SuperSockets
. These are the finest-sounding UK mains sockets Russ has auditioned, with high pressure, Rhodium-plated phosphor bronze copper alloy contacts. In addition, each socket benefits from our full
Super Burn-In™
process and is manufactured to BS1363. The Block is currently only available with 13A UK sockets.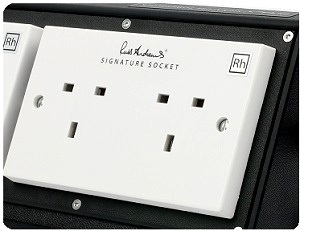 Rhodium is an exceptionally hard and tough metal making it perfect for environments where fit and forget performance is crucial.
The conductivity performance of rhodium remains constant over its lifetime, unlike other conductors that can deteriorate due to oxidation.
Wiring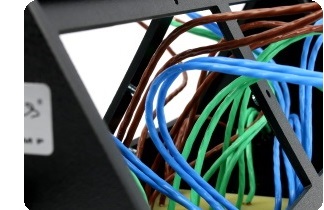 The internal wiring of the PowerBlock has also been upgraded. PowerBlocks now feature an innovative power distribution arrangement, providing an even supply of power to all outlets.
This is accomplished with a new, custom-designed internal distribution circuit board. Wiring to the individual sockets is with Kimber's high capacity
TCX
internal wire, using twin runs of wire per double socket, and twin runs are also used to the internal distribution board and outlets.
Higher performance TCX earth wire is also used than in the older PowerBlocks, and in total over 6m of TCX wire is used per PowerBlock. TCX is a heavy gauge copper cable, of the same quality as the individual wires woven together in our Evolution PowerKords™, but capable of handling higher currents.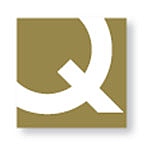 Process-Q
All elements are treated with exactly the same full Process Q treatment that we can apply to our cables. A highly advanced treatment which, in our listening tests, significantly elevates the performance of every element.
Maximum protection

The Signature PowerBlock is fitted with our
MegaClamp™
spike protection. We believe that spike activity on the mains supply can degrade the sound quality from your equipment (they can raise the background noise level in amplification circuits); remove them and in our opinion the sound is cleaner and clearer.
Our MegaClamp components were developed for use in the communications industry; we've found that they are the most effective way of absorbing spikes affecting your Hi-Fi or Home Cinema.
Additional grounding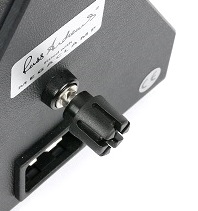 Each block is fitted with grounding terminal, to allow you to add an additional ground to your Hi-Fi system in conjunction with our
RF Router™
.
Incorporating the PowerBlock into your grounding plan can bring real sonic benefits.
We believe RF grounding gives a substantial improvement in the sound, with cleaner, deeper bass and a more stable soundstage.
And for your peace of mind...
PowerBlocks are made in UL-90-V0 ABS (a type of thermoplastic) which has been chosen specially for its sonic qualities (we've found that plastic extensions sound much better than metal extensions); durability; and the ability to resist shocks and high impacts. Additionally, the material is fire resistant and can be recycled.
Specifications
---
Made from impact and fire resistant UL-90-V0 ABS
---
Eight Rhodium plated, inverted Signature sockets
---
Internally wired with KIMBER KABLE
---
Earth terminal for attachment to RF Router
---
Internal MegaClamp for equipment protection from lightning and high voltage mains spikes
---
High current 16A IEC input socket to connect your choice of Evolution PowerKord
---
L:327mm H:133mm W:135mm
---
Connecting to the mains supply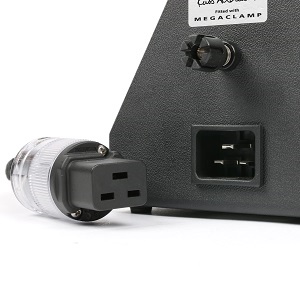 PowerBlocks™ are fitted with a 16A IEC socket which allows you to choose the grade and length of cable you need to connect it to the wall socket. We recommend you opt for either the
Evolution-300 PowerKord
or
Evolution-500 PowerKord
for this application.
When choosing your mains cable, make sure you select the version with the 16A (HC) IEC connector. Click
here
to view PowerKords™.
Adding an extra block or Mains Filtering
Signature PowerBlocks have an additional mains outlet at the other end of the case from the mains inlet. This allows you to daisy chain a second block (to extend the number of sockets) or to attach a mains filter such as our
PowerPurifier™
. The outlet is a high current 16A/20A female outlet socket. We make special Evolution-100 and Evolution-300 link cables to allow you to utilise this outlet.

Click here for the
Evolution-100 Link cables
Click here for the
Evolution-300 Link cables
25 Year Warranty
Signature PowerBlocks come with a Lifetime Guarantee - this means we will cover against manufacturing faults and defects for a minimum of 25 years.
Find out more
Overall product rating

5

/

5

reviewed by

Garry




22 Nov 2021
Yes, I recommend this product.
I traded in my ten year old purifier block for the new signature block. Instant improvement over the original block on Everything as soon as i plugged it in. Everything is much more cleaner and smooth the bass has tightend up.
Tv picture has improved as well
image more 3D dimensional and cleaner. Super product.


reviewed by

Russell McInnes




15 Aug 2020
Yes, I recommend this product.
I thought my music system was about as good as it could get but I was wrong. Very wrong!!
I have a top of the range 4 1Linn system powered by a balanced ring main and silver signature superkords all connected by Kimber select 1036 interconnects with all the filters and other enhancements that Russ Andrews sell.
It was with surprise and delight when I connected my new Signature Powerblock with double silver internal wiring upgrade. From the very first note the improvement in quality was so obvious. My wife Donna (who loves music but has no interest in the equipment)thought I was mad until she heard it. This fabulous piece of kit also enhanced the picture from my Epson 4K laser projector. Just like the music the picture was more dynamic with darker blacks and brighter colours and sharper clearer images) deeper crisper bass, clearer vocals and instruments with soaring clear highs with less distortion, bouncing rhythm and realistic wide soundstage)