Upgrade your purchase with these options:
Delivery is charged at cost.

overview
Create pure mains with the PowerPurifier™
PowerPurifier™ is a new approach to mains purification; a one-box, rackfriendly solution with the potential to combat three key areas of mains contamination – spikes and surges, mains noise and Wi-Fi interference.

PowerPurifier™ features a gorgeous, satin acrylic face and modular internal design, making it really easy to add additional filtering as and when you require.
This perfect synergy between form and function makes it unique in the market – no other stand-alone audiophile mains filter has the breadth of functionality found in the PowerPurifier™.
Intelligent design
The intelligent modular design of the PowerPurifier™ makes it really easy to incorporate our power conditioners in your Hi-Fi system. The core model delivers highly effective broadband power conditioning thanks to its UltraPurifier™ filter and SuperClamp™ surge protection. But now you can tailor your PowerPurifier™ by adding extra filtering as and when your needs and budget allow.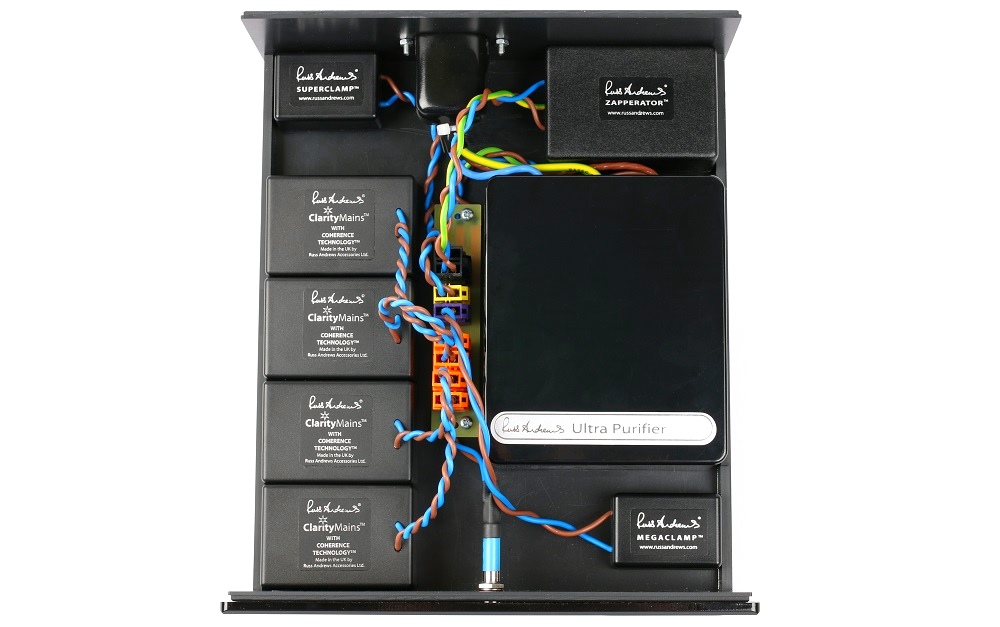 Adding extra power conditioning
Adding more filters to your PowerPurifier™ is really simple - so simple, in fact, that you can do it yourself at home!
Inside each PowerPurifier™ you'll find a bank of colour coded sockets which match the colours of the various filter modules you can add. So all you need to do is plug one of the new filter modules into the corresponding socket and away you go!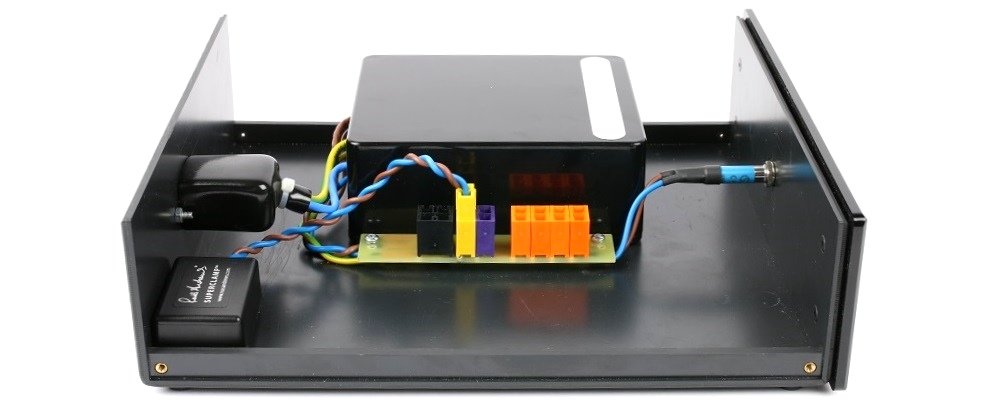 If you'd rather we fitted the modules for you; no problem.
If you request additional filters when purchasing your PowerPurifier™, we'll automatically fit them for you anyway. And if you'd like some added at a later date, simply send the unit back to us and we'll fit your new modules for you free of charge (you'll just need to pay for return carriage).

What the different filters do

UltraPurifier™
Fitted as standard to the PowerPurifier™ and delivers outstanding mains noise reduction, in excess of 80dB broadband.
SuperClamp™
Again, fitted as standard to the PowerPurifier™ for effective spike and surge protection. We recommend replacement of the SuperClamp components every five years to maintain their effectiveness; the modular design of the PowerPurifier means that is easy to do at home.
MegaClamp™

The MegaClamp™ offers enhanced spike and surge reduction and is many times more effective than the SuperClamp… plus the components don't wear out. Specify a MegaClamp in addition to the SuperClamp.
ClarityMains™

The ClarityMains™ are a different type of mains conditioner which utilise Coherence Technology. One, two, three or four can be fitted to the PowerPurifier™.
Mains Zapperator™

Mains Zapperators™ are a type of mains conditioner that is especially useful at dealing with very high frequency noise from wireless computer networks. One Mains Zapperator™ can be fitted to the PowerPurifier™.
Connecting to your system
The PowerPurifier™'s passive, parallel design delivers outstanding mains noise reduction. It's designed to be connected as close to your Hi-Fi or Home Cinema system as possible; nothing needs to be plugged into it for it to work.

PowerPurifier™ is not supplied with a mains cable
.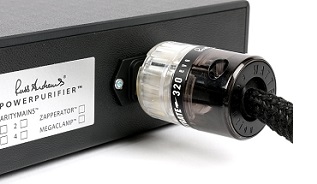 The unit is fitted with an IEC input socket for you to use your choice of power cable. We recommend using the PowerMax or the PowerKord-100, PowerKord-300, or PowerKord-500. There's a handy label on the back so you can identify which additional filters have been installed.
Money Back Guarantee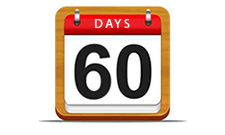 Don't forget! We are so confident in the performance of this product that it is covered by our 60 Day Home Trial with Money Back Guarantee. Buy the product and if you're not completely satisfied, you can return it within 2 months for a refund. For full details
click here.

Specifications
Common and differential-mode inductorless, non-resonant, harmonic filter technology


SuperClamp fitted as standard


User friendly, upgradeable modular design


Large gauge earth


Custom designed V0 ABS casework


IEC mains input


Satin black fascia with blue LED status indicator


Dimensions: 206mm x 68mm x 243mm WHD


Weight: 4.25kg (fully upgraded)


Lifetime Warranty (except Super and Mega Clamps)
Reviews

In addition to suppressing mains-borne noise like clicks from his fridge thermostat, the reviewer notes that "it improves the spaciousness around instruments… vocals are cleaner, with improved lucidity and presence" and there is "a gradual increase in both depth and width of the soundstage"
Read more about the Hi-Fi Choice review
here
---

"for anyone who has implemented little or no strategies to reduce noise with their hi-fi chain, implementing the PowerPurifier system will be almost revelatory"
Read more about theaudiophileman.com review
here
---

"opened up the soundstage, infusing it with space and air, enlarging the stage itself"
Read more about the Hi-Fi World review
here
---
Overall product rating

4.8

/

5

reviewed by

Alistair Martin




26 Apr 2023
Yes, I recommend this product.
I was a bit wary of spending so much on a power purifier as I thought my system already sounded pretty good. The 60 day return policy and the offer of a 10% discount made me decide to give it a try. I didn't go for the fully loaded version but added a Zapperator and one Clarity module to the base version, for just under £700 after the discount. At first I didn't notice any difference but have been fooled before by not letting things burn in. I'm now 40 days into the 60 day trial so tried listening with and without the unit plugged in. I'm very pleased with the improved clarity and sense of space with the unit in place so will not only be keeping the unit, but planning to add more modules as funds allow. I'm always wary of product reviews but the overwhelming consensus in this case can be believed, and I'm happy to add my support for a very worthwhile upgrade.

reviewed by

Kevin




24 Jun 2022
Yes, I recommend this product.
With the original purchase of the Power Purifier back in February of this year and with one clarity filter fitted, If I added 3 more would this improve the overall sound quality and could it justify the cost. Well to put it simply YES. In just 4 short weeks after adding 3 clarity filters inside, This has improved everything from the top end right down to the bass all of it has more clarity, no pun intended, combined with greater control, It's done this by reducing the noise in the mains supply and this just goes to show how dirty / noisy the electrical supply is in your home which is contaminating your system, making it sound somewhat flat and a bit lifeless, Now with this Power Purifier it sounds more alive. Many Thanks to the people at Russ Andrews for their excellent service, advice and of course for their quality products. P. S. Just got the Mega Clamp and Zapperator for the Power Purifier so another review to come later.

reviewed by

Kevin




24 Mar 2022
Yes, I recommend this product.
This has now been in my system for 4 weeks and has it made any difference. Well in a word YES. Combined with the X-Block and Zapperator the music has more air and definition to it, It's like all my music has been remastered by the artists. Everything is clearer and the bass has a bit more weight to it. I only have one clarity filter in the PowerPurifier so there is room for another three and 1 MegaClamp so start saving. I highly recommended these product's mentioned above. Again Thank You to all at Russ Andrews for their superb help and support.


reviewed by

John




19 Nov 2021
Yes, I recommend this product.
I bought this product with a Zapporator fitted. For the first seven days, I was underwhelmed ad there didn't seem to be any improvement. However, from day eight, the sound was a vast improvement. In my system, which I already have three Silencers, the bass clarity is now remarkable. Subtle when necessary, but powerful when required. Also, the background is even quieter, and overall, the sound is so listenable now, particularly large orchestral recordings and solo piano recordings. I'm hearing details - in the correct proportions - from recordings I've been familiar with for years and years. I'm awaiting delivery of a Clarity Mains. I'll see what that does and then discuss with RA any further potential improvements. Thanks

reviewed by

Garry




20 Oct 2021
"
Power Purifier Not For Me
"
I ordered and received the power purifier fully loaded. And hooked it into my russ andrews power block. I had to return the power purifier after 2 weeks. My 77inch oled was receiving terrible banding. As soon as i unplugged the power purifier the banding went away. So i had to return disappointed with this product
Customer Service Reply
Hi Garry,
Sorry to hear of your issue with the Power Purifier. This is not an problem we have come across before and we were not able to replicate the issue when you returned the product, so frustratingly we are unable to offer an explanation or solution in this instance. These things can happen from time to time with any product, and that's one of the key reasons why we offer the 60-Day Money-Back Guarantee, and we're glad you were able to take advantage of this. We always test our products in a wide variety of situations but, inevitably, we can't cover every scenario and it seems this is one of those cases. Thanks for giving it a try though!

reviewed by

Wan




18 Aug 2021
Yes, I recommend this product.
"
Excellent Mains Noise Reduction
"
Coming from an 'IT' background, I've always believed clean power is essential for stable operation of a computer, right down from the mains. So this is a non-audiophile review after 100days of burn-in (with a Zapperator installed).
The first time I plugged in to test the mains' noise (using a noise sniffer), it made EXCELLENT reduction, from 560mV down to 96mV (86% reduction), and the noise was gone. On a 'bad' day, at times the reduction isn't that much, just 1600mV to 1474mV (8% reduction), and the noise was still apparent. The high 'noise' is definitely coming from my neighbours, as I control the electrical devices plugged in my home. Overall this brings peace-of-mind on my mains without going to a balanced-mains route (I've tried 'active' mains *Purifier that doesn't work).
????

reviewed by

Darren




07 Feb 2021
Yes, I recommend this product.
Now the power purifier has the zapperator and 2 clarity mains fitted and with 3 silencers and 2 mini purifiers scattered around my listening room the music coming the speakers consists off delicate symbol highs enhanced vocals and slam in the bottom end
Amazing really as I consider my system a top end set up but the silent background and now what I understand as air around the instrument s has surprised me
Mega clamp to be added next week
I am assuming that I will get diminishing returns as I add the remaining modules as it can only improve so much but we shall see
Highly recommended

reviewed by

JOHN




03 Oct 2020
Yes, I recommend this product.
"
The Best I Have Used And The Cheapest!
"
First off I have been around the block a few times with various 4 figured priced mains conditioners. These RA ones are by far the best I have purchased and by far the cheapest. First purchased the Power Purifier with 1 extra clarity. Straight away loved the improvements to my system. Then purchased 3 more Clarity 1 Zap left the system a lone for a few days, Pressed play same Disc same volume and the sound was even better, cleaner, clearer, more realistic, bigger stage and dynamic. From the Top end to the bass everything has improved. I have now got my eye on the Abzorber, these are very addictive conditioners because they work and compared to the competition they are dare I say bargains. Highly recommended, buy with complete confidence!

reviewed by

anonymous




14 Aug 2020
Yes, I recommend this product.
I've been listening with the PowerPurifier for around 6 weeks now. It's made a noticeable difference in my system with improved imaging and, in particular, space and 'air' around vocals and instruments. This has come at a cost though: the PowerPurifier has highlighted the problems that my system has with bass control! If not for the somewhat expensive price, I'd award 5 stars. I'll certainly be adding further modules to the PowerPurifier in the future.

reviewed by

Gerald Hentschel




03 Mar 2020
Yes, I recommend this product.
"
Fully Loaded - Fully Delivered
"
I took the opportunity of a promo to order the fully loaded power purifier.
Previous kit from RA all brought (to me) apparent improvements making up for my less than ideal room and electrical set-up.
The power purifier finally however brought back the soundstage I heard in the test room when I initially bought my Amplifier/speaker combo. I also enjoy the in my mind better separation of instruments - can only fully recommend this kit

reviewed by

nigel sheepwash




12 Feb 2020
Yes, I recommend this product.
"
Wow! What A Relevation!
"
I purchased this with the optional Mega Clamp, Zapperator and a Clarity Mains Module. Straight out of the box i could hear a substantial improvement. I soon took advantage of its ability to easily upgrade by adding another Clarity Mains Module.

Now its burnt in I've spent hours going through my CD collection listening to the music again. Its so much more revealing now, and with a great sense of timing and a 3d soundstage. I thought i had dealt with all of the mains pollution but didnt know it was there till its now been removed.

Saving up now for the next 2 Clarity Mains modules. Cant wait to hear how the music really sounds when they are fitted!

reviewed by

anonymous




27 Jan 2020
Yes, I recommend this product.
Bought the fully loaded version. Expensive but worth it. Wider and deeper sound stage and more detail. Couldn't believe the improvement.

Spent all night listening to my favorite CDs hearing things i had never heard before.

with a 30 days money back guarantee you have nothing to lose.

Buy the fully loaded version you wont be dissapointed.

reviewed by

Simon Beattie




16 Jan 2019
Yes, I recommend this product.
powerpurifier%e2%84%a2 classic Review
I have purchased a fully loaded one of these with all the modules recommended for it, though initially I just had two clarity mains modules rather than the four that is included for this review. Any product or component that gives me more real music and less hi-fi will be a big plus in my book. Adding this into the system is like a major component upgrade, such is the significant performance improvement it makes. I have more holographic depth, more transparency and more natural sounding detail from the discs. Quite simply, it gets out of the way letting the purity and dynamics of the music shine. I really cannot recommend this enough.................outstanding!

reviewed by

Mr D Lewis




08 Oct 2018
Yes, I recommend this product.
I cannot believe the difference this box has made to my system. For me the biggest jump was dynamics and how open the sound has become. If anything it has made listening to music more much enjoyable. I have a Rega turntable and phono stage both of which come with wall warts. The detail which the power purifier has revealed from playing vinyl I can only attribute to the effect it must have on the wall warts and the cheap unscreened power cables they use.

I would recommend you get a power purifier without hesitation. Worth every penny. I will be investing in the zapperator module and further clarity mains modules very soon.

reviewed by

J Bramsford.




11 Sep 2018
Yes, I recommend this product.
RA has really come up with the goods again with this product. I bought the Powerpurifier with all it's modules. This product is great upgrade to your system, be patient and you'll be rewarded. A fantastic product.

reviewed by

Nathan




31 Mar 2018
Yes, I recommend this product.
"
Further To My Previous Review...
"
...which I now realise was a little premature. My PowerPurifier is now fully upgraded with all modules and provides a huge improvement in sound quality from my Naim one box system. The sound is fuller, more open and considerably clearer with better defined bass. Highly recommended.

reviewed by

Anthony




12 Mar 2018
Yes, I recommend this product.
"
You Don'T Know What You'Ve Got Until It'S Gone!
"
First of all, despite owning Russ's reference power cables and X6 Mains Extension Block's which have provided big improvements to my HIFI, I've never really considered any of the mains conditioners as I've never had any issues with mains noise/RFI before (or so I thought!).

You know the thrase, 'you don't know what you've got until it's gone'? Well it turns out that what I had was a bunch of noise in my system!!

Adding the PowerPurifier and Zapperator module to my system has lowered the noise floor by quite some margain, resulting in a deeper/wider soundstage, more detail and just a more realistic presentation.

I can only imagine how good it'll sound once I've added the 4 Clarity Mains modules! The sooner they are back in stock the better!

reviewed by

Nathan




03 Oct 2017
Yes, I recommend this product.
"
Stepping Stone To Improvement.
"
HiFi is obviously subjective and very much depends on the equipment you are using and the environment it is in. In my circumstances the standard unit did not provide the wow factor as others seem to have found. Yes there was a noticeable drop in background noise but the music itself seemed to have been suppressed too. Within my 60 days the Zapperator module was discounted. As WiFi is everywhere around us these days, with plenty of devices in my house and with nothing to lose (the excellent 60 days), I thought I would add it before making a final decision which was on course for sending it back at that point. With the Zapperator module fitted the PowerPurifier provided an instantly apparent jump in sound quality. Clearer with more dynamic punch. An upgrade easily justifying the total cost with my HiFi being a long term investment.

reviewed by

Simon Beattie




26 Jul 2017
Yes, I recommend this product.
I confess to have got excited about hearing or buying new speakers, electronics not far behind and also can the buzz from a new interconnect or speaker cable but as an experienced audiophile I'm fully aware of the importance of quality power supply so just recently purchased the Power Purifier. What came next I did not expect.........I was almost struggling to get my lower jaw back in the place it belongs, for the sonic changes I heard were of real significance. The noise floor dropped to an unprecedented black silence, the soundstage became deeper, the contrast and control of dynamics defied belief, the musicality of the system the power purifier was delivering to was truly beautiful and so tonally correct. Along with absolute silence on putting my ear to the speaker drivers this product lifted almost every aspect of my music listening. I seriously recommend this product and ironically has given just as much excitement and joy as any new speaker.
Outstanding.

reviewed by

s elphinstone




08 Apr 2017
lets you hear the detail of the music
love it
Customer Service Reply
Mr Elphinstone's PowerPurifier was additionally fitted with a four ClarityMains, a Mains Zapperator and a MegaClamp.

reviewed by

Hil Jacques




09 Jan 2017
Yes, I recommend this product.
"
C'Est Tout Simplement Beau!
"
Mon système, musique dématérialisée et au casque exclusivement, m'offrait parfois des écoutes sublimes, mais aussi des moments atroces qui me donnait envie de tout jeter à la poubelle. Suite à quelques expériences, j'ai vite mis en cause la qualité du courant.

Après recherches sur internet, je suis tombé sur les produits Russ Andrews qui me semblaient d'un rapport prix/qualité intéressants. La formule retour sous 60 jours étant un atout.

Il y a deux mois, j'ai acheté un Power Purifier de base, la modularité du produit me semblait un plus. Un mois d'écoutes plus tard, j'ai ajouté un Megaclamp, puis, il y a une semaine, un Zapperator.

Aujourd'hui, les moments d'écoutes catastrophiques ont disparu. La vie et l'émotion sortent de mon casque. C'est tout simplement beau !

Prochains achats, les modules ClarityMains , surement un X4 Block Euro, peut être un AbZorber et pourquoi pas quelques PowerKord.

Customer Service Reply
Mr Hil ordered a Power Purifier Classic and added a Mains Zapperator a month later.

reviewed by

Martyn Wood




04 Jan 2017
Yes, I recommend this product.
"
Wow!!! You Need To Try One Of These, Outstanding
"
I ordered the power purifier just before christmas, and in the weeks following, added all but the Mega clamp,with the addition of the powercord wattgate 100. Prior to this, I was considering replacing my now cd7q player as its getting on in years, but i'm glad i didn't, and went for the wise option of trying this product first. At the time in 2001 my CD player was one of the best analog, 3 dimensional sounding CD players in it price range, and it still is good, I'd say even better now by far. Sound per pound well worth a few hundred instead of a few thousand on a CD player. Let your ear's and heart decide for themselves.

reviewed by

Humphrey Platts




16 Dec 2016
Yes, I recommend this product.
"
An Outstanding Addition For Any System
"
An outstanding replacement for a 16-year old SuperPurifier in my system. I can hardly believe the rock solid sound picture putting everything firmly in place and with clarity that I have not achieved before. My Quad ESL63 speakers are enjoying making beautiful music much better than was ever possible in the 34 years I have had them.
Customer Service Reply
Mr Platts ordered a PowerPurifier Classic, fitted with one additional ClarityMains module.

reviewed by

William Ford




25 Sep 2016
Yes, I recommend this product.
I purchased the power purifier at the recent hi fi show I got home to late in the evening to plug it in so had to wait until the next day to plug it into my system. I sat down to listen and it is no exaggeration to say my jaw almost hit the floor. The change I heard was far from subtle. The sound stage had opened up considerably and there was better sepperation between individual instruments. The noise floor also dropped as well. I listen mainly to vinyl and have started to purchase old 78s this has made some of the more challenging ones easier to listen to as you seem to hear through the surface noise. Oh and pictures on my home, cinema have better definition with deeper blacks. I would highly recommend this product.
Customer Service Reply
Mr Ford bought a PowerPurifier Classic with no additional modules fitted.

reviewed by

john hannant




15 Sep 2016
Yes, I recommend this product.
I purchased this a week ago , plugged it in and sat back to listen , my god what an improvement to the sound quality , if like me you demand the very best and want to experience 3D holographic soundstage , speakers completely vanish my sound lab hybrids now sound so coherent they have completely vanished the music is simply coming threw so much clearer and believable , I left the volume at the same level I always listen to but everything appears to be bigger more realistic completely in the room incredible , I could never take this out this is a massive upgrade for only a few hundred pounds, if you want to hear exactly what your system is capable of and you have a spare few hundred pounds buy this it will be the best upgrade you have ever done , powerful pure realistic music big 3D sound stage my big sound labs have completely disappeared music has never sounded so beautiful im so happy buy one you will know what I mean its an absolute high end bargain