After a brief description of the SuperFuse - nickel end caps, silver wire, DeoxIT treatment, Super Burn-in - Paul Rigby gets straight down to the nitty-gritty of listening. The results were both significant and a surprise to him:
"Sound tests produced a notably reduced noise floor over the entire soundstage producing more articulate and recognisable pianos, clear and lucid vocals, reduced bloom on some compressed recordings within the upper mids and a punchier but more complex rock-derived bass."
Click here to buy now
Pretty impressive for a fuse hey? But he goes on:
"added to that, whilst listening to jazz the upright bass offered new and subtle manipulations. The delicate twists and turns were now easier to follow".

This is an interesting observation because bass can so easily be lost in the mix as just 'bass' rather than the character of the specific instrument creating those bass notes. Not here though...
So, is £25 a lot to pay for a fuse? Well, we're biased of course, but we'd say the R&D, work (we even hand-polish the end caps) and materials that have gone into these is what makes them perform so well. But, ultimately, it's the results that count and here Paul is very clear:
"the price of the fuse which, initially, might have triggered howls of derision seemed, after the test, to be rather low. Low, that is, considering the improvements in sound quality"
Verdict: N/A
See and buy all our SuperFuses here.
AC-24 1000 PSU for Rega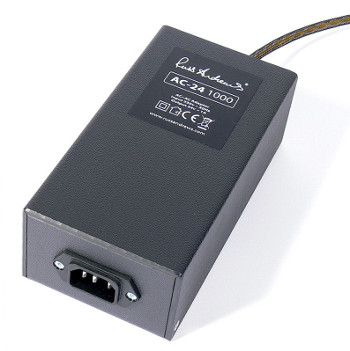 The AC-24 1000 is a superior 24V AC power supply suitable for any piece of equipment rated at 24v AC and whose current demand is up to 1000mA. The input jack size is specified for your own equipment - the version we sent to Paul Rigby was specified for the Rega RP3 turntable.
At the heart of the AC-24 is a precision rack-wound transformer which gives better tolerances and superior stray magnetic field rejection than some high-speed wound types. Regulation is also far superior to off-the-shelf designs - manufacturing time is estimated at four times that of a high-speed wound transformer.
This product is no longer available and has been replaced by the improved Supplier AC PSU - Click here for details.
So what of all this higher specification in practice?



"The sonic improvements affected by this upgraded power supply are not subtle" says Paul. "The reduction in the noise floor applies dramatic enhancements to all frequencies and aspects of the sonics." An impressive all-round improvement then. And he adds: "Treble offers greater reverb, bass more character and upper mids greater transparency"

.
It's clear that the improvements brought by this improved psu are not small. Big enough to recommend buying one if you are considering the purchase of an RP3? That's a tricky one as you'd need to compare the additional cost against a better turntable. But if you are an existing owner of an RP3 - and that's who this product is really aimed at - Paul is pretty emphatic:

"this upgraded power supply is a no brainer... [it] will seriously enhance your turntable".