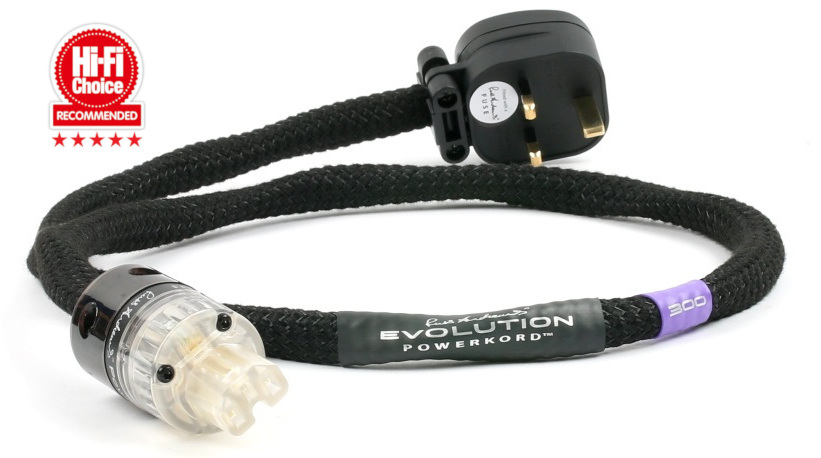 Reviewed in the April 2022 edition of Hi-Fi Choice magazine, the Evolution-300 sits right in the middle of our PowerKord range, sandwiched between the 100 and 500 models. It benefits from twice as many conductors as the 100, along with a higher quality Russ Andrews AQ mains plug, making it an excellent step up long the upgrade path (read about our Cable Upgrade Scheme here).

Like the rest of the Evolution range, the 300 features the new external, helically wound, low induced noise earth. As noted in the review, the new design typically induces 20 times less noise into the earth than the older PowerKord models.

Connected to the power supply feeding his valve preamp, and playing Clare Teal's rendition of Cole Porter's Too Darn Hot the effect of the cable is immediately obvious:

"Right from the opening blasts of the saxophones, which progress into the main vocal section, the pace and timing is spot on", he reports, and adds that "the excitement of Teal's vocals is brilliantly conveyed as her performance sparkles with energy".

Don't read that as saying the cable is over energetic though, as it's just as capable of rendering subtlety and nuance. When presenting CPE Bach's Symphony No.2 (conducted by Neville Marriner with George Malcolm on harpsicord and the Academy of St. Martin-in-the-Fields) the piece is beautifully balanced, being described as both "powerful and bright" and "effortlessly light and clear".

This prompts him to reflect that he gets "a real sense of refinement with [the] recording – a quality that is somehow being drawn out by the Russ Andrews Evolution-300 cable" which "certainly seems to elevate the performance".

Magazine: Hi-Fi Choice
Issue: April 2022
Verdict: 5 Stars Recommended
Click here to buy Evolution-300 PowerKord
Click here to read about the Hi-Fi World review