Evolution-300 PowerKord UK plug to W320 IEC
Upgrade your purchase with these options:
Delivery is charged at cost.

Overview
Evolution-300 PowerKord™
The Evolution-300 PowerKord™ uses twice as many woven conductors as the
Evolution-100
and is perfect for use with any Hi-Fi component, from sources, preamps and through to power amps. It is also effective when used with any of our mains extensions including the top-of-the-range
Signature PowerBlock
, and our
Balanced Mains Units
. Assess for yourself the improvements it can make (our
money-back guarantee
gives you 60 days to try it out).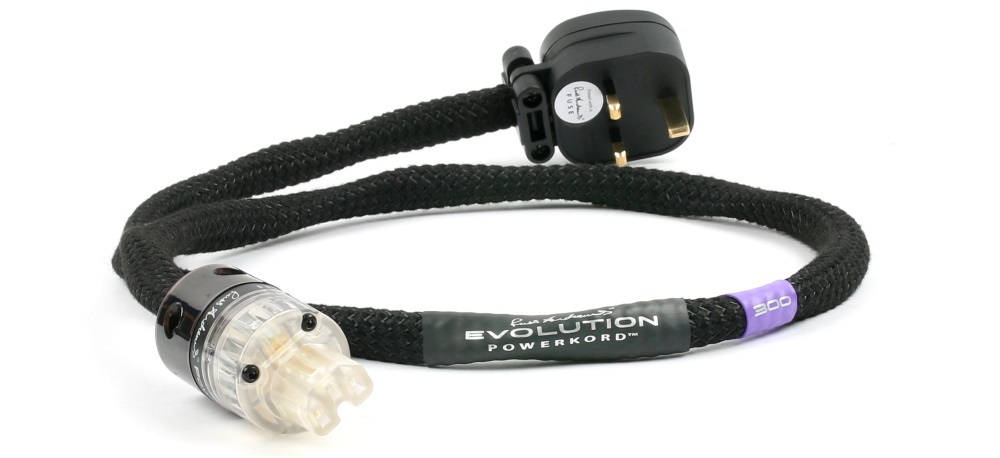 The Evolution-300 PowerKord™ with our Audio Quality UK mains plug and W320e IEC connector.
The range has evolved
The new Evolution range of PowerKords feature Kimber's new high purity copper (higher than in the previous PowerKord models) and our new earth arrangement which reduces the amount of noise induced into the earth by 20 times over the previous model. They really are an evolution of the design that we've loved for the past three decades and are the best performing PowerKords we've made.
Evolution-300 PowerKord™ Features
Evolution-300 uses sixteen separately-insulated Kimber Kable conductors, woven together to reduce Radio Frequency Interference.
Progressing from the established 'earth down the centre' woven cable design used in earlier PowerKords, the Evolution-300 features a new, low induced noise earth arrangement where the earth is helically wound around the outside of the weave.
It's not just the earthing arrangement of the new PowerKords that has improved. Kimber have been working on the purity of the copper wire used in the PowerKords' braid; the new Evolution range features a higher purity copper than the older design.
The Evolution-300 PowerKord™ is encapsulated in a Noise Reduction sleeving which uses a combination of two strand thicknesses to achieve flexibility and a soft, tactile feel to the cable.
High performance Audio Quality mains plugs and IEC connectors are used to ensure a positive, low-resistance connection to your component.

Internal constuction of Evolution-300 showing the 16 braided live and neutral conductors and the helically-wound earth.
Making the right connection

Most Hi-Fi and Home Cinema components - such as your CD player or integrated amp - are fitted with a standard 10A IEC (kettle type) socket. For these, along with our PowerBars™, PowerPurifier™ and X-Blocks™, choose the
W320e standard IEC
(pictured above, left).
If you are fitting your cable to one of our PowerBlocks™ or older UltraPurifiers™, you'll need to choose the
Wattgate W320i high current IEC
(pictured above, right).
IMPORTANT
Wattgate IEC connectors are designed to make a very tight connection to the pins of the IEC socket on your equipment or on our mains extensions - the better the connection, the better the performance. Consequently, they need to be pushed home
very
firmly. We strongly recommend watching our instructional video before fitting to ensure your Wattgate IEC is connected properly to the equipment.
Instructional Video
Captive mains lead?
If your equipment has a mains lead fitted directly into the unit that can't be removed, our Male IEC adaptor pack creates an inline IEC socket and lets you upgrade your power cable.
Click here
for more information.
International plugs available
UK, Euro and US plugs are available on all PowerKords. Other international plugs are also available -
Contact Us
for more information.

From left to right: UK, Euro and US plugs
Optional Upgrades

We offer a number of additions and treatments to take the performance of your Evolution-300 PowerKord™ to the next level: these options are at the top of the page close to the 'Add to Basket' button. To find out more about the options, click on
what's this?
next to the icons.
Specifications
---
16 high conductivity oxygen free electrolytic VariStrand copper conductors
---
Kimber's unique woven cable geometry for effective interference rejection
---
Teflon insulation
---
Helically wound, low induced noise earth
---
Flexible Noise Reduction sleeving
---
Russ Andrews edition Wattgate W320 EVO IEC plug fitted as standard. Wattgate plugs feature Deep Cryogenic Treatment (DCT)
---
Audio Quality UK, EURO and USA mains plug options
---
Hand built in the UK
---
Lifetime Warranty
---
Reviews
25 Year Warranty
Evolution-300 PowerKords come with a Lifetime Guarantee - this means we will cover against manufacturing faults and defects for a minimum of 25 years.
Find out more
Cable Upgrade Scheme
We offer up to 100% part-exchange value when you return your Russ Andrews power cable and upgrade to a new, higher quality, Evolution PowerKord.
Find out more.
Overall product rating

4.5

/

5

reviewed by

gof




30 Jul 2021
Yes, I recommend this product.
I've just used this cable on my tube power amp Class A without burn-in of the cable.
Already noticed a slight improvement in the speed.
However, I need to let burn-in after 300 hrs to get the full effect.

reviewed by

Gordon Cameron




20 May 2020
Yes, I recommend this product.
Bought to upgrade my LP12. In the time it took me to pluck up the courage to sever the old cable and fit this I made the mistake of fitting it to my CD player which had a Powerkord 100. It was such an improvement that I couldn't go back. Now I have the same Powerkord 300 serving both the LP12 and the CD, so the cable has to be switched when I change source. I need to buy a second 300 though if the 300 is so much better than the 100 I can't help wondering what the 500 would be like. The effect? A thoroughly re-vitalised collection of vinyl and CD's. Expectations truly exceeded. Buy one (or two). Your collection and your ears will thank you for it.