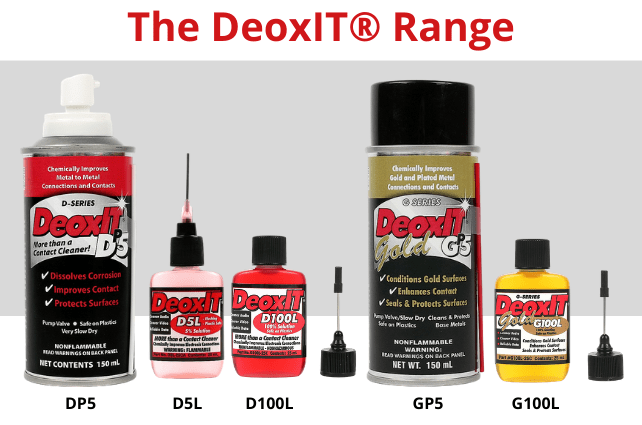 1. Why use DeoxIT®?

It's well known that contaminants on mains plugs and sockets, along with interconnect and speaker cable connectors, impede mains or signal flow, potentially degrading sound quality.

Cables with oxidised connectors can sound bright and thin in comparison to clean ones – you can improve your musical enjoyment so much more by simply cleaning the links!

Good to know...

We also supply a range of general cleaning cloths that are effective at cleaning surface contaminants from mains plugs, or interconnect and speaker cables, prior to treating with DeoxIT® and DeoxIT® Gold - check our website for details.

Click here for more information.

2. What parts of my Hi-Fi can I clean with DeoxIT®?


3. Which DeoxIT® product do I need to use?

There are basically two types of DeoxIT®: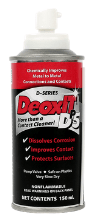 DeoxIT® D-series.
A general purpose cleaner which removes surface contaminants from all metal surfaces, including those with severe oxidation and corrosion. We supply the D-series in the following forms:


DeoxIT® G-series (Gold).
Specifically developed to treat plated surfaces (such as on your interconnect and speaker cable connectors). DeoxIT® Gold bonds onto the base metal and reduces corrosion building up between the layers of the plating.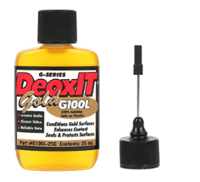 Available as: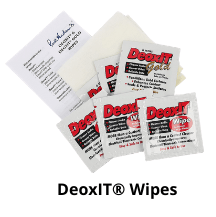 DeoxIT®
Wipes.
If you want to 'dip your toe in the water' and give DeoxIT
®
a try, we offer a small pack of DeoxIT wipes. These come as a pack of six, individually wrapped wipes; three D-series and three G-series, so there's enough to give a small system a thorough clean.
Click here to buy DeoxIT® wipes.
4. How to use DeoxIT

®
---
Warning!
When cleaning any mains-powered item, you MUST ensure that the equipment is completely disconnected from the mains BEFORE cleaning. When applying DeoxIT, ensure that the item is dry before reconnecting to the mains supply – either by drying with a cloth or by allowing a sufficient amount of time to dry naturally.
---
The key to effective cleaning is to use as little as possible
and, for all but the most inaccessible areas, you should aim to wipe the DeoxIT® from the surface you've applied it to once it has been treated
.

Use DeoxIT® D-series on all metal surfaces as it is designed to clean the surface of contaminants as well as treat oxidation. Because DeoxIT® G-series only has a 0.5% cleaning action for removing minor amounts of oxidation, compared to 20%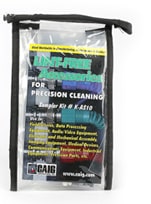 for the D-series, we recommend cleaning everything with DeoxIT® first, then going over plated materials only with DeoxIT® Gold.
For convenience, Caig (the makers of DeoxIT®) offer a Brush and Cloth Kit. The kit includes cloths, brushes and swabs t
o help get into all those awkward spots.

Buy the Caig Brush & Cloth Kit here.





Cleaning mains plugs, interconnect and speaker cable connectors and bare wire.



Before applying
DeoxIT® to any mains-powered item, ensure it is fully disconnected from the mains.
Apply a couple of squirts of DeoxIT® onto a clean lint-free cloth and wipe the plug pins with the moistened cloth. Clean off immediately with a dry, lint-free cloth. You should be able to get at most parts of the plug with a cloth.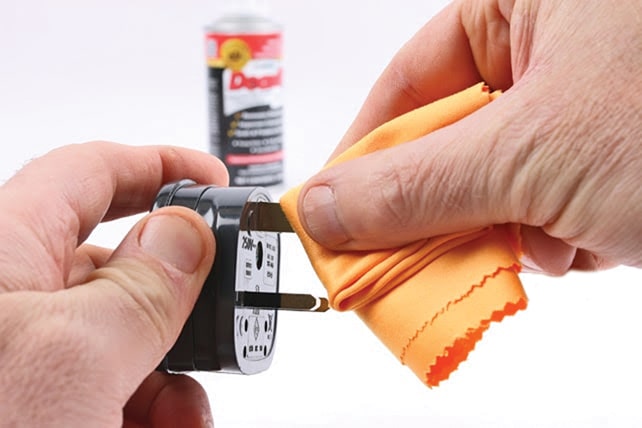 Fig1. Cleaning mains plug pins with DeoxIT DP5
Any cable that has a bare wire connection should be treated this way too. Remember to repeat with DeoxIT® Gold on plated surfaces, such as phono plugs on interconnects, and bananas and spades on speaker cables.
---

Cleaning IEC plugs, phono, BNC and XLR sockets on equipment and speaker cable binding posts.

Sockets and plugs with internal pins are more tricky because you can't get at the contacts easily to dry them off after you've applied the DeoxIT®. We recommend using the tools supplied in the Caig Brush & Cloth Kit, or similar, with a minimum amount of fluid. It's also good practice to leave the connections to dry for 24 hours before plugging in again.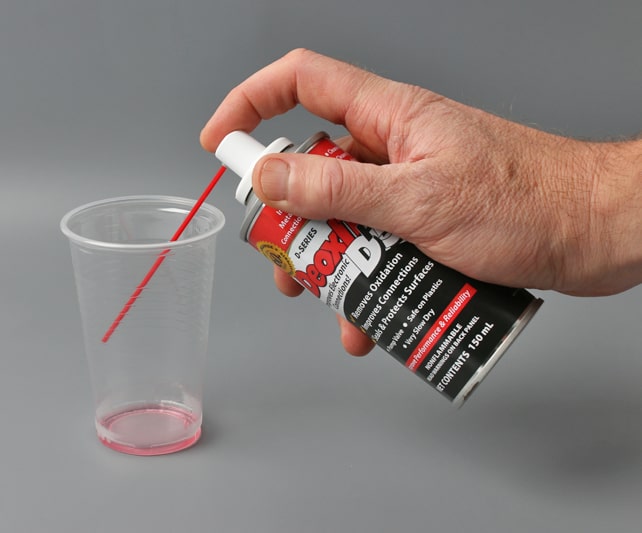 Fig2. Use a plastic cup to to hold liquid DeoxIT®

Mains IEC sockets can be cleaned by moistening a cotton wool bud with DeoxIT® and wiping the internal contacts. The easiest way to do this is to spray a little of the solution into a small cup so you have some liquid to dip the bud into (Fig 2).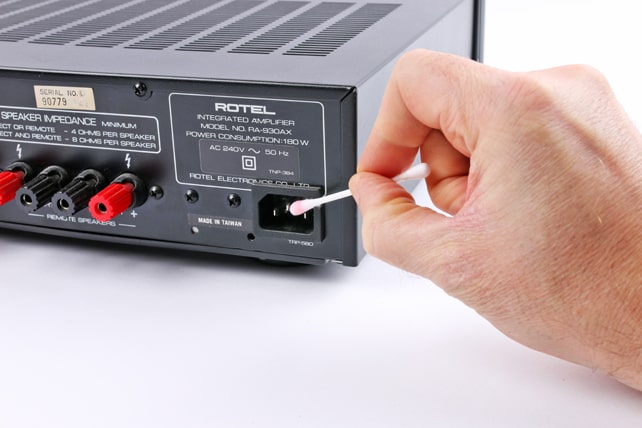 Fig3. A cotton wool bud used for cleaning IEC pins. The bud has been dipped in liquid DeoxIT®

Repeat the procedure with a dry bud to remove the excess DeoxIT® you've just applied and leave to dry for 24 hours.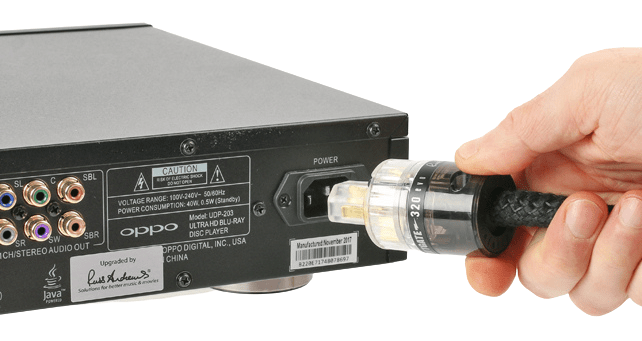 Fig 4. Cleaning a WattGate™ Female IEC

To clean female IEC plugs, insert the DeoxIT®-dampened cotton wool bud into the pins.

Alternatively, you can wipe the pins of the male IEC socket you connect the female IEC plug to with DeoxIT®, plug the IEC plug in and out and repeat. Wipe the pins of the socket dry and leave the IEC plug to dry – ideally for 24 hours.

Phono, BNC and XLR sockets and speaker cable binding posts can be cleaned with cotton wool buds or cloths and wiped dry.

---

Cleaning mains wall sockets

When we treat our sockets with DeoxIT® at the factory, we use a dedicated jig to ensure as much of the contact area as possible is covered. However, because DeoxIT® is a liquid, we do not recommend spraying the product directly into your sockets at home.

The easiest way to treat your existing wall sockets is to spray some of the fluid onto the pins of a spare mains plug and then push the plug in and out of the sockets to clean and treat the internal socket pins. You must make sure the socket is switched off at the consumer unit first, and allow sufficient time to dry before swithcing back on.


How often should I clean the contacts on my Hi-Fi?

If you are really keen, give you connections a clean every three months or so. You should try to give your connections a clean every six months as a minimum.

Click here to view all DeoxIT® products